When it comes to washing the car, some of us use a trusted bucket and sponge, while some of us get out the pressure washer. Some might even entrust others in the task of getting their four wheels gleaming again.
For those of us that love nothing more than spending quality time giving our vehicles some TLC, you can't go far wrong with taking some advice from the car cleaning pros at Autoglym. This isn't just about a simple hose down.  Whether it's polishing, waxing or washing, discover how to do a thorough job with these top car cleaning and detailing tips.
Cleaning your car exterior
When giving your car a good wash, we fully recommend the Autoglym Polar Series. These products have been specially designed to use charge interaction to boost the effectiveness of their pH-neutral chemical cleaning agents. Most cars have a negative charge, so when the positively charged Autoglym products are applied, the charge interaction attracts dirt into the formula, making it much easier to wash away.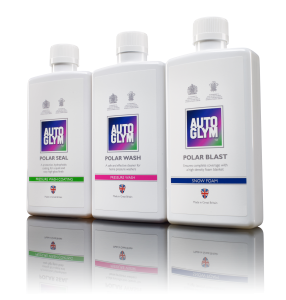 Give your vehicle the ultimate pre-wash with the Autoglym Polar Blaster which is designed to work with the whole Polar range, building products into a wonderfully thick foam. You can begin your car wash with the Autoglym Polar Blast Snow Foam to remove any initial dirt and debris, followed by the Autoglym Polar Wash to effortlessly remove any remaining dirt. Once you've removed all the soapy water, it's easier to notice any scratches, swirls, or any other stubborn contaminants. Use a  clay bar to remove everything off the surface and restore smoothness to the paint.
If you find that there are some deeper scratches, you can remove these with Autoglym's complete Scratch Removal Kit. The specially formulated Scratch Remover compound removes scratches and then polishes the area to a high gloss finish. To restore gloss on the whole car, use Autoglym Super Resin Polish and your paintwork will soon look rejuvenated.
Wax on, wax off! Don't let all your hard work go to waste. Adding a layer of wax or polish to your car will help to fend off any nasties that could land on the paint, whilst protecting your car from UV rays. Use the Autoglym Polar Seal to give your car a protective, hydrophobic coating that will leave it looking glossy in no time.
Now you've washed, cleaned, and protected your car, it's wise to keep a detailing spray handy for a quick fix to get rid of light dirt and fingerprints. Autoglym's Rapid Detailer will do the trick!
Car cleaning exterior tips
Bodywork
Start from the roof and work down! You don't want to start with the wheels and then end up washing them again when the water from the top of your car has run down.
Take one section at a time, this will give each area of the body the TLC it really needs, and then one final hose down at the end should do the trick!
Do wash off any soap or suds before they settle on the car, especially on a hot day. The soap will dry quickly and getting it off can be a bit of a bore once it's dried onto your car.
There's nothing wrong with grabbing the old faithfuls of a bucket and sponge to get the job done, but a hose or pressure washer is a much more efficient way to clean your car. Whilst saving you time, this also stops dirt from being transferred back into your bucket and then back onto your car!
Do let the contours of your car guide you on which way to wash. Try not to wash in circles and avoid those cobweb-like scratches!
Although it might seem like the perfect opportunity to wash your car when the sun is shining, make sure it isn't too hot to touch. If the bodywork is hot, the shampoo can dry out on the car.
Don't forget to hose down your car for a final time when you've done all your soaping and rinsing, this will budge those last little bits of dirt and dust that gather in those hidden spots.
Wheels
Start with a good rinse from the hose to remove those fresh bits of mud and grime.
Use Autoglym's Clean Wheels to shift those stubborn baked-on deposits! Made to be tough on grime yet kind on the alloy itself, Clean Wheels is safe to use on lacquered alloys, painted and plastic wheel trims.
As with the body of your car, give it time to cool down before getting down to business with the wheels. We recommend that you do not apply wheel cleaners while the wheels are hot.
Don't assume that once your wheels look clean, then the job's done, Autoglym recommends adding a Tyre Dressing to completely transform the sidewalls of your tyres.
Don't forget to protect your wheels once you've finished cleaning them, it would be a shame for all that hard work to go to waste! But remember to leave on your wheel protector for several hours before hitting the road again.
Cleaning your car interior
Now you've got your car looking spotless on the outside, it's time to start work on the interior. Begin with a quick vacuum of the car seats, dash and back shelf. If it's tricky for you to get those hard to reach places, you're likely to find a vacuum with a longer hose at your local petrol station.
Now it's time to get to work with Autoglym's spray and wipe Interior Shampoo. Use on car seats, interior plastic, steering wheels, gear sticks, carpets, mats, headlining and doors to removes marks, spills and stains from all interior surfaces. The low foam formula is easy to use and wipe away.
Windows are not much use if you can't see out of them! Get your car windows gleaming with Autoglym's Car Glass Polish; use inside and out for crystal clear, smear-free vision.
Last but not least, remember to use some interior protection! Apply Autoglym's Vinyl And Rubber Care solution to the interior by lightly buffing to a finish with a microfibre cloth.
Now you've thoroughly cleaned and detailed your vehicle and have that showroom finish, it's time to stand back and admire the results.
Remember, if you want the best car cleaning products, you want Halfords!