Across the UK, millions of us enjoy time in the saddle every single day. While cycling is safer than ever before, staying visible and protected while on two wheels should still be your number one priority. So, whether you're a committed commuter or laid-back leisure cyclist, here are 5 cycling safety products you need for life on and off your bike.
1. Helmet
Wearing a bike helmet isn't a legal requirement (yet), but they're still the number one safety accessory for riders of all ages. Selecting the right cycling helmet is a matter of both size and style. Spend some time finding a helmet that fits snugly and is comfortable for long rides, making sure you can turn your head freely in all directions. If you need a helping hand, use our cycle helmet fitting guide.
If you want the latest in helmet technology, you can't get much better than the Lazer Compact DLX MIPS Helmet Black Adult. The Multiple Impact Protection System (MIPS) inner layer complements the helmet's existing protective capabilities and provides additional protection against rotational forces in case of a crash. Plus, the addition of a light on the back ensures you can be seen day and night.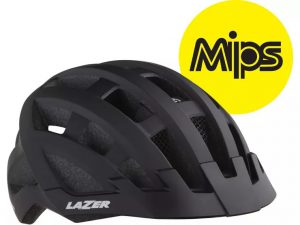 2. Reflective jackets
A reflective jacket like the Boardman Men's Waterproof Jacket will help make you visible to other road users and protect you from the elements. It's windproof, waterproof, and has stealth reflective material across the top, as well as reflective prints along the sides to protect you from side-facing cars, like those coming out of junctions. The jacket is stylish and comfortable enough for everyday wear too.
If you're looking for an alternative cycling jacket, you can find a superb selection of coats in all colours at Halfords.
3. Bike lights
Cycling lights are a necessity during the evenings and dark mornings, but cyclists are increasingly encouraged to use lights during the daytime too. A massive 80% of cycling accidents happen during the day, according to the Royal Society for the Prevention of Accidents (ROSPA), so anything that can increase the chances of being seen by other road users is worth doing.
You'll need a high-powered front bike light, like the Halfords Advanced 500 Lumen Bike Light. Giving out 500 lumens of power with 8 lighting modes, it also doubles up as a power bank to keep your devices topped up while you're on the move. At the rear, the Garmin Varia Rearview Radar RTL515 is visible up to a mile away in daylight and offers up to 16 hours of battery life in flashing mode.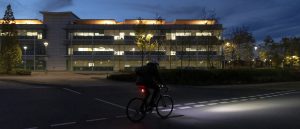 4. Repair kit
Don't let a flat tyre or a busted bolt ruin your plans. If you're heading out on an adventure, pack some protection: our Halfords Essentials Puncture Repair Kit contains almost everything you need to fix a flat. You'll still need to carry a pump with you, but make it as easy as possible by choosing a mini pump with frame fitting.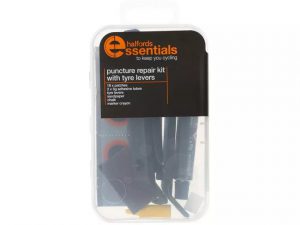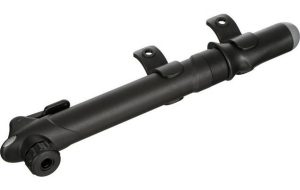 If any mechanical emergencies occur mid-ride, you'll want a compact and easy-to-use solution. Packing down for neat storage, the Halfords 21 Function Multi-Tool includes a selection of hex keys, screwdriver bits, tyre levers and even a chain hook that will help you to deal with most minor repairs at the roadside.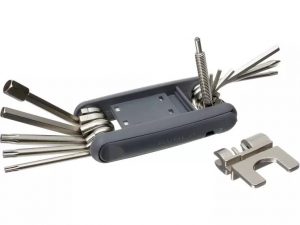 5. Bike locks
Across the UK, a bike is stolen every six minutes – that's 240 per day on average. Even worse, only 5% of bikes reported stolen are found.
Cheap bike locks are easy to break and won't deter thieves, so do yourself (and your bike) a favour by investing in a quality cycle lock. The Halfords Advanced 23cm D-Lock has a Sold Secure Diamond rating, meaning it offers extra-high security to protect against even the most dedicated thieves.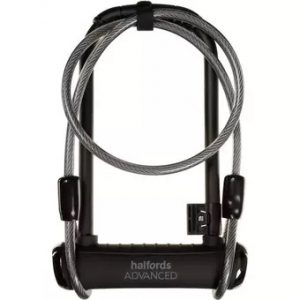 Free bike health check
Before heading out onto the road, give your bike the once over. If you're not confident about bike maintenance or want the reassurance of a professional opinion, Halfords is here to help. We offer all of our customers a Free Bike Health Check, where one of our technicians will check the condition of your frame, wheels, brakes and drivetrain. They'll tell you if anything needs fixing, and either give you a price to carry out the work or help you find the right parts so you can do it yourself.
Cycling safety tips
In addition to the above cycling safety essentials, it's also vital that you have enough energy to see you through your rides.
Hydration
We love how many calories we can burn by cycling, but without drinking water regularly, we can easily become dangerously dehydrated. Always carry a full water bottle with you for short rides, and consider a second if you're heading out on a long journey. Drink before you're thirsty and take regular sips to help keep you going on your cycling adventures.
Cycling nutrition
Cyclists can also choose from a huge variety of energy drinks, bars and gels that are engineered for performance and can help you go further on your rides. You could also slip a banana in your back pocket for a natural lift to help keep you going.
---
And that concludes our cycling safety essentials and tips to help you stay safe and enjoy your rides all year round! To discover our full range of cycling safety essentials, visit Halfords.com.