Wondering when to use fog lights? Well, you're not alone.
For some reason, it's always been a bit of a grey area among drivers. To help clear the haze surrounding fog lights, we've put together a comprehensive guide to keep you safe during the winter months.
How can you prepare for fog?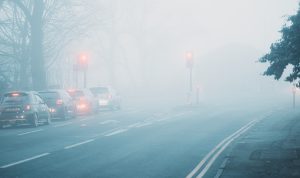 Check your fog lights
During the colder autumn and winter months, you should always check to see if your fog lights are working before setting off on any journey.
If your vehicle has automatic lights that come on during a low light level, you may need to manually turn your fog lights on as they don't always do it automatically. The same principle applies to daytime running lights, as a lot of vehicles with this feature won't actually turn on the rear lights.
Check your wiper blades and prepare your windscreen
You'll also need to make sure that your wiper blades are in good working order so that you can keep your windscreen clear and demisted. Check out our article on bulbs, batteries and wiper blades for some general maintenance tips and what to look out for.
If you find you need new wiper blades, simply pop down to your local Halfords or enter your vehicle registration online to find replacements that fit your car.
Using Rain-X Anti-Fog can also reduce the likelihood of interior condensation, fogging and steaming from impeding your vision out of your windscreen.
Alternatively, if you're struggling to see clearly in front of you, reduce your speed or consider pulling over in a safe place until the fog has cleared in front of you.
Pack the essentials
If you're unfortunate enough to break down during foggy conditions, be ready for every scenario with the AA Breakdown & Emergency Kit.
As well as containing essentials like a tow rope, foot pump and booster cables, you'll also have a weatherproof torch (including batteries) and a hazard warning triangle to ensure you're visible to other drivers.
When should you use fog lights?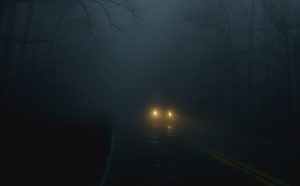 The Highway Code has clear guidelines for what you should do when driving in fog. These include points such as:
keeping a safe distance behind the vehicle in front
using your windscreen wipers and demisters
checking your mirrors before breaking
stopping in the correct position at junctions with limited visibility and listening for traffic.
In terms of your fog lights, the Code states that you should only use them when your visibility is seriously reduced (to 100 metres or less) and that they must be switched off when visibility improves. If you don't follow this guidance, you could put other drivers at risk.
In fact, the Road Vehicles Lighting Regulations 1989 strictly prohibits the use of front and rear fog lights when it's not needed as they can dazzle other drivers. This includes using them in light drizzle and rain, so it's an important one to bear in mind.
If you're stopped by the police with your fog lights on when they shouldn't be, you could face a driving fine. On the other hand, if you're involved in a car accident when you should have had them on, your insurance company may invalidate your claim.
That's why it's important to use your fog lights correctly and consider getting a vehicle which displays a fog light on the dashboard when it's needed.
Motoring for less this winter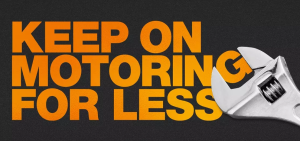 As the cost of living continues to rise, we're here to help you save money across all your motoring needs, including bulbs and wiper blades. Our dedicated Motoring for Less hub brings together all the ways that you can keep costs down with Halfords including discounts, deals, hints and tips, free checks and more in one convenient location.
Never Beaten on Price
Our Never Beaten on Price promise covers thousands of motoring essentials including fitted tyres, wiper blades, batteries and bulbs. We've also reduced the prices of a wide range of products, providing great value for money and ensuring a little more change remains in your back pocket.
Halfords Motoring Club
One of the best ways to keep on motoring for less and prepare for foggy days is to join the Halfords Motoring Club. You'll get access to a range of amazing benefits and discounts that are designed to keep you moving, keep you safe and keep you saving.
It's free to join and you'll receive money off your MOT, a free car health check and a welcome voucher that can be spent on any Halfords product or service.
Or choose our Premium membership for a small monthly fee (or a one-off payment) to unlock exclusive member pricing on all motoring products and services online and across our stores, garages and Halfords Mobile Experts, as well as a variety of other benefits that will help you to keep moving for less.
With so much to enjoy, this is too good an opportunity to miss!
---
For more advice and tips on how to prepare your car for the darker and colder months, read our article on Bulbs, batteries and wiper blades: Autumn and winter maintenance tips. And head over to Halfords.com for all of your money-saving motoring needs.