We love electric bikes at Halfords. They're versatile, perfect for hilly areas and a great option if you want to commute to work without working up a sweat. They're accessible to anyone, catering to all ages and abilities, and allowing inexperienced riders to keep pace with more experienced ones. Their onboard motors can be used as little or as much as you want, so you can ride your way and exert as much (or as little!) energy as you like.
We could extol the virtues of e-bikes all day, but we know that the proof is really in the riding. And so for this three-part series, we asked some e-bike first-timers to take an electric bike for a spin and share their thoughts on the experience.
From regular cyclists to people who haven't ridden for years, and young professionals to retirees, our first-timers were able to give us a unique perspective on what life is like in an electric saddle.
Part 1:
Jo (30s, Writer)
Umit (20s, Job Coach)
Lucy (50s, Housewife)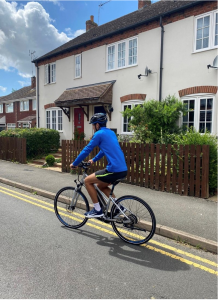 Can you tell us a bit about your past cycling experience? How often do you cycle?
Jo: I used to cycle when I was a kid, but I kind of fell out of the habit when I started driving as a teenager. In fact, the last time I was on a bike was when I was at uni, which was a while ago now!
Umit: I got into cycling during lockdown when I was going out three or four times a week on my road bike. Now lockdown has ended, I'm trying to maintain that while balancing work.
Lucy: I've had very little cycling experience in the last 20 years or so. I only really cycled when the kids were growing up and that was a very different type of cycling. I never ride a bike now and don't think I've been on one for a long time.
Before you got on the e-bike, did you have any preconceptions about what the experience might be like?
Jo: While I knew that e-bikes have a motor onboard, and that you still had to pedal and put in a certain level of effort, but I didn't fully understand how it all worked. I didn't realise how much control the rider has over the motor functionality.
Umit: No, I didn't know what it was going to be like, so I was open-minded.
Lucy: I had no idea what to expect as I hadn't ridden a normal bike for about 20 years, let alone an electric one! I expected it to be far more complicated than it was. It was simply a normal bike with a button that allowed the assistance to work.

What surprised you most about riding the e-bike?
Jo: I think the fact that I only used the lowest setting a lot of the time or had the motor function turned off entirely. So it was really like riding a normal bike, but with that extra support on-hand when I reached a big hill. Being able to power up them and reach the top without feeling like I'd run a marathon was really satisfying!
Umit: How simple it was to change the speed of the boost.
Lucy: How easy it was. It took the strain out of cycling and wasn't any different to normal cycling. I expected it to be harder to ride and require far more getting used to.
If you had an e-bike, what would you mainly use it for?
Jo: An e-bike would be great for commuting, but I live a bit too far from my office to make that realistic! I'd probably use it to head down to town and to explore my local area. There are a lot of hills around where I live, so an e-bike would definitely make for a much smoother journey.
Umit: Long-distance cycling that involves heavy inclines.
Lucy: Initially I'd use it for leisurely cycle trips locally and then I'd go further afield.

What was it that made you want to try out an e-bike?
Jo: I thought it was a good way to ease myself back into cycling after not having done it for so long. While the first trip was a bit nerve-wracking, I was able to build up my confidence and it wasn't long before I was really enjoying being in the saddle again. Also, I'm not the fittest of people, so being able to get some support with hills and longer journeys really appealed to me.
Umit: I was curious, particularly about the differences between a mechanical bike and an e-bike.
Lucy: I watched some programmes on TV where older celebrities were using them and I liked the idea of trying one myself.
If you had to sum up what you enjoy about cycling in three words, what would they be?
Jo: Freedom, enjoyment and accessibility.
Umit: Relaxing, peaceful and exciting.
Lucy: Outdoors, exercise and adventure
Based on this experience, would you consider buying an e-bike in the future?
Jo: Definitely, particularly if I'm in a situation where I could use it for commuting.
Umit: Yes!
Lucy: If I had trips planned, I would probably consider buying one.
Finding the perfect e-bike for you
There are loads of e-bikes to choose from, including hybrid bikes (perfect for the everyday), mountain bikes (perfect for conquering those off-road tracks) and folding bikes (perfect for the commute).
Our Electric bike buyer's guide offers some great tips and advice about how to narrow down the options to find your ideal ride, while also answering some of the key FAQs about what exactly makes a bike an e-bike and how they work.
Once you've found your perfect e-bike partner, you can pay over 24 months with Klarna to help you spread the cost. You can find out more online at Halfords.com.