Cycling to work is a great way to fit some exercise into your daily routine and spend quality time outdoors, but you likely don't want the ride to feel too long and gruelling if you've got a full day of work ahead. So, a powerful but versatile bike is ideal to get you to the office as quickly and easily as possible.
As for specific models, the perfect commuter bike for you will depend on what features you value the most, so we've compiled a variety of the fastest bikes for you to compare. You'll also want a bike that's adaptable to suit a daily commute, so we've factored in the ability to mount a pannier rack, mudguards, and plenty of space for a bottle cage, as well as enough room to fit some high-quality lights for the winter months.
All-rounder: the Carrera Crossfire 2
The Carrera Crossfire 2 is our pick for a great all-rounder, combining speed, comfort, and high-spec design for a powerful ride.
It boasts mechanical disc brakes to tackle stop-start traffic in any weather, as well as a 24-speed Shimano gear set for slick changes and a suspension fork to iron out any harsher terrain.
To reduce your commuting time, the 700c wheels offer less rolling resistance so it's easier to go faster with each pedal stroke. Couple that with mudguards and pannier rack mounts, and this bike can become a commuter's best friend.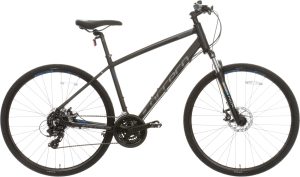 Off-road stability: the Voodoo Limba
If your journey to work covers some rougher terrain, then the Voodoo Limba is a great choice. Designed for off-road comfort and stability, this bike is ideal for riding both on roads and gravel towpaths.
The Limba comes equipped with a Shimano Claris drivetrain for easy shifting and all the gears you need to tackle the terrain, as well as WTB tyres with a smooth, fast-rolling centre tread for extra speed.
Plus, the Limba has everything you need to make commuting easy, like bottle and mudguard mounts as well as rack mounts for panniers, ideal for carrying everything you need for work.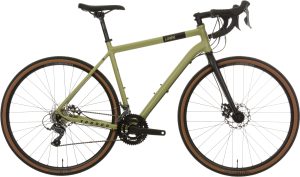 Easy-to-use: the Boardman HYB
For controlled riding, the Boardman HYB 8.8 is a great option. Built on a lightweight, aluminium frame, the Boardman HYB comes with a carbon tapered fork to offer superb handling and reduced vibrations. Maintenance and upkeep are easy, too: the Schwalbe 35mm tyres feature a puncture protection layer, so you won't need to worry about picking up a flat halfway to work.
Plus, the Shimano Deore 1×10 speed drivetrain gives a great range of gears with minimal maintenance, all controlled through one shifter. The Boardman HYB also uses mountain bike-derived technology such as a clutch mech and narrow-wide chainring to ensure that the chain always stays on, regardless of how bumpy the ride gets.
Combine all these easy-to-use features and you've got a sleek, comfortable commuting machine.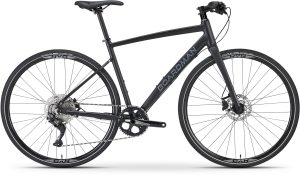 Ultimate comfort: Carrera Virtuoso
The Carrera Virtuoso is ideal for a fast-paced commute that doesn't compromise on comfort. Comprised of a lightweight and durable alloy frame, the Virtuoso's dropped seat stays and Carrera memory foam saddle are designed with your comfort in mind.
None of this comes at the expense of your speed, though: the alloy bladed fork helps to further weight reduction, and the 16-speed Shimano Claris gearset will give you both quick acceleration on the flats and solid hill-climbing ability.
With pannier rack mounts to give you plenty of storage, the Carrera Virtuoso combines comfort and speed for a great commuting option.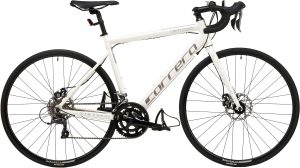 Smooth shifting: Boardman SLR
Our most popular carbon road bike, the Boardman SLR 8.9 brings superior gear changes to boost your morning commute. The 22-speed Shimano 105 R7000 groupset and 11-30 cassette deliver slick shifting over a wide range for speedy hill climbs and quick acceleration on flats.
The design is centred around boosting speed, with an integrated seat clamp to reduce drag and allow the bike to respond instantly when you boost your power. The Vittoria Rubino Pro IV tyres deliver a fast and agile ride, perfect for navigating a built-up city.
Add a set of mudguards and some lights, and you've got a powerful, controlled-performance bike.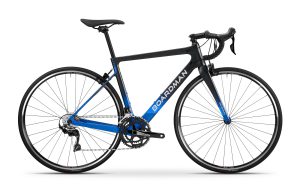 Electric riding: the Carrera Crossfire E
If you want the speed without the sweat, then perhaps an e-bike is for you. The Carrera Crossfire E electric hybrid bike gives you an extra boost when you need it thanks to the 36V rear hub motor, powered by a 417Wh battery to give you a maximum range of 60 miles in ideal conditions.
The Suntour Performance rear hub electric motor system is seamlessly integrated into the rear wheel to provide 60NM of torque, giving you higher acceleration and greater hill-climbing ability. With 4 levels of assistance to choose from (eco, tour, sport, and turbo), you'll arrive at work fresh and ready for the day.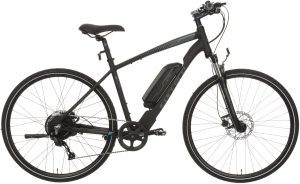 ---
So, those are our top picks for the fastest commuter bikes. Whichever one you choose, you can be sure that Halfords is here for all your riding needs, from cycle clothing and accessories to bike servicing and repairs. Just head over to Halfords.com, or pop into your local store where one of our experts will be happy to help.
You want cycling expertise, you want Halfords.