James is an avid cyclist and can be found powering along country lanes on his Boardman Air road bike. We caught up with him to find out why he loves cycling, how it helps his mental wellbeing, and to learn about an epic summer ride.
You have a Boardman Air 9.6 road bike – have you enjoyed riding it?
It's the best bike I've ever owned!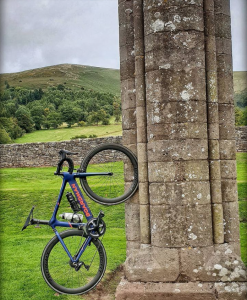 Aerodynamic bikes like the Air are designed to be fast and it doesn't disappoint – it feels rapid! Perhaps more impressively for an aero bike, it's also incredibly comfortable to ride, so I have the option of heading out for long rides too.
You can have the best bike in the world, but it's got to look good too, and I love the colour and style of the bike.
How often do you ride?
The last 12 months have been difficult.
When working in the office, I used to cycle to and from work between two and three times a week. It was a 40-mile round trip and I'd do it come rain or shine – I loved it!
Since working from home, it's been harder to motivate myself in the mornings as it's so easy to get up and just start working. I still regularly go for afternoon and weekend rides and these have been a great release for me physically and mentally during these uncertain times.
Where is your favourite place to ride?
My wife is French, and we were extremely lucky to make France home for some of the summer when lockdown restrictions had been eased. Living near Lake Geneva, the Jura mountains were right on the doorstep and the Alps were not too far away either. I essentially opened my door to a cyclist's playground.
I would work in the day and then explore the local roads and mountains in the afternoons and weekends. It was a great opportunity to complete some epic rides including this mammoth 100-mile ride through the Jura mountains.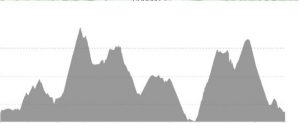 My legs were sore by the end, but what a day!
What are the must-have accessories for road cyclists?
Unfortunately, not all of my rides can be in the French mountains!
That's not a bad thing, though, and there are lots of amazing places to explore here in the UK – you just have to be prepared for the weather. In the spring and autumn, the weather can be slightly erratic, so my favourite thing to take on any ride is a wind and waterproof gillet. Having one can be the difference between being warm or freezing!
Why do you love cycling?
Cycling is the perfect way to keep fit and be outdoors – something that has become more important in the last year.
Having the opportunity to exercise outside is also great for mental wellbeing. Plus, it allows me to eat a lot more than I probably should – I regularly burn over 2000 calories on a Saturday ride, so I think I earn it!
In what ways does cycling help your mental wellbeing?
Cycling for me is the ultimate way of de-stressing. There's just you and your bike and it provides the opportunity to clear your mind.
I also love exploring new areas, hills and roads, and all rides feel like a mini adventure. I can set off on a ride, enjoy the outdoors, and see where I end up.
How does cycling form a part of your everyday routine?
When working in the office, I'd ride to and from work multiple times per week. Each ride was 20 miles, and they formed an important part of my week. Now I'm working from home, I ride more in the evenings and at weekends, and try to get out as often as I can.
Pre Covid-19, I'd go on a lot of club rides on a mixture of Saturday and Sunday mornings. The aim was always to head out early and be back by 12, but for now they are solo affairs while we wait for restrictions to be loosened. Hopefully, in the not-too-distant future, we'll be able to enjoy riding in groups again.
---
Inspired by James' experiences and want to learn more about the benefits of cycling? Head over to our wellbeing hub for lots more great advice.
Why not also visit our Discovery Hub and find your next cycling adventure?
You want the best route to a healthier you – you want Halfords!