The second of our colleague stories comes from Paulina who turned to cycling after a health warning from her doctor – and she's never looked back!
Let me introduce you to Vicky!
She's a Pendleton Somerby electric bike and we've been enjoying two-wheeled adventures together for two years.
We first met after my consultant told me in no uncertain terms that if I didn't lose weight, I could face serious health complications.
I'd fancied an e-bike for a while but wasn't sure whether I'd ride it and could justify buying one. The doctor's warning was enough to push through this barrier and I've never looked back.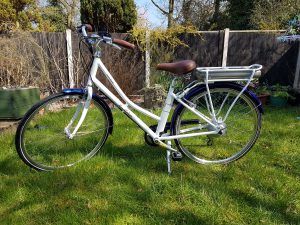 The e-bike solution
You could say I'm the perfect example of someone that used to be active but then settled into an office job and an easy life. Pounds quietly piled on over the years and before I knew it, exercise seemed nigh on impossible.
That's where the magic of an e-bike comes in. To start with, you only need to be fit enough to keep your balance on the bike and do some very light pedalling movement. The bike will support your effort as much as you want it to, but the catch is that you still have to pedal to receive the assistance – so it's the perfect carrot to get you moving!
Best of all, because I wasn't running myself into the ground, exhausting all my energy and risking injuries, the first rides I had with Vicky were great fun. Then, as my fitness improved, things got progressively easier and I wanted to do more and challenge myself – go further, faster, check what's around the next corner, get lost for a bit, or just ride on. Before you know it, you're doing two to three rides a week of 15-20 miles each and you're seriously hooked up on fresh air!
Riding to a healthier me
Having an e-bike has also given me back the freedom that I never thought I would ever feel again – especially as I got a bit older, slower and less confident than the last time I felt that way.
Within 12 months of starting my adventure with Vicky, I've lost enough weight and my overall health's improved so much that I have been discharged from the care of the consultant!
Make no mistake, getting back on the bike was a slow and gradual process. I would initially only ride on local paths because I was too scared riding on roads with traffic. Over time, my riding ability and stability gradually improved and I also started running out of paths in my local town, forcing me to test out the local roads – armed with a lot of hi-vis accessories and powerful bike lights.
That's when my passion for cycling really started to flourish again. I would sit down before rides and plot routes on Strava or OS Maps that would lead me to new places I wanted to explore. Even pedalling the 8-miles down to Henley (a local town) just to have some of their signature ice cream felt like a great adventure!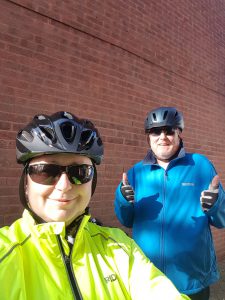 Mental boost
For me, there's nothing better than getting up on a spring or summer weekend morning (not too early though!) and heading out for a ride in the sunshine. With hardly anyone else on the roads – they are still sleeping off their few lemonades from the night before – pedalling out into countryside to soak up the views feels glorious.
I was also using my bike to get to work while we were still working in the office. Now we're working from home, I really miss that 20-minute ride twice a day. In theory, it's not a leisure activity because you're riding to get somewhere rather than for the ride itself, but I couldn't think of a better way of doing my commute. The added bonus of having Vicky is that on the way to work I can use the assistance so I don't arrive in the office dripping in sweat. On the way back, I can go crazy and challenge myself, or decide to take a detour and explore new roads.
One of the biggest benefits of riding to and from work is the mental boost it provides. In the morning, the fresh air wakes you up, gets you motivated, and sets you up in a positive mode for the rest of the day. In the evening, it lets you clear your head and leave the working day's worries where they belong, at work.
Having been working from home for many months now I really can't wait to be able to do it again!
Riding with no limits!
For my needs, Vicky is perfect – I could never replace her!
She has more than enough range to handle my rides and enough power to help us conquer whatever hills are thrown in our way – although we've had to do a walk of shame on occasion when the steepness reached eye-watering levels.
The great thing is, there's an e-bike for everyone's needs. They're not limited to people looking to gain fitness and some e-bikes come with long enough ranges to last unimaginably long rides. I've seen so many people enjoying the benefits of electrical assistance and whether you're new to cycling, an experienced rider, or somebody coming back to it like I was, an e-bike can help you ride without limits!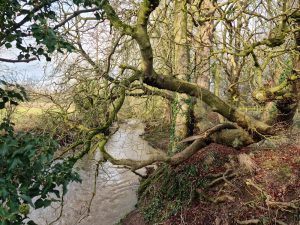 Must-have accessories for Vicky
There are a couple of things to be aware of when owning a bike, especially regarding security and insurance – if you've paid for a bike, you need to protect it!
Vicky has her own insurance and the security locks I use to protect her are certified Sold Secure Gold. I would also suggest getting a decent portable lock in case you want to park your bike somewhere.
Lastly, like any woman, I like to be fully accessorised and my bike life is no exception. Here are my top three must-have accessories:
Helmet—They may not be fashionable and mess up your hair but a helmet can save your life, so don't go anywhere without one.
Gel seat pad cover or cycling shorts—Despite common opinion, it's not your legs that will suffer the most when you get back into cycling, trust me! Get as much bum padding as you can – you'll be glad you did.
Phone mount – Perfect for navigation or just watching your stats on Strava as you're riding. Definitely worth the small investment.
Final thought:
My BMI tells me, "you're obese".
My bike says, "let's go out and have some fun".
---
To discover how cycling can help boost your wellbeing, head over to our Wellbeing Hub.
You want the best route to a healthier you. You want Halfords!