2021 Winner
Earlier this year, we launched our Garage of the Year competition to find the UK's best home garage. The competition gave entrants the chance to win an amazing prize, with £5000, a Halfords Ultimate Garage Bundle, a new set of tyres and a BlackVue dash cam all up for grabs.
It was a big hit and we received impressive applications from up and down the country. After much discussion and debate, we narrowed these down to a shortlist of 20. It was left to Halfords Racing with Cataclean drivers Dan Rowbottom and Gordon Shedden to pick their favourite.
Now, we're delighted to announce that our 2021 Halfords Garage of the Year winner is…
Alex Young, Dorset – Garage of the Year winner 2021
Passed through generations
There were many amazing garages to choose from, but Dan and Gordon were won over by the history of Alex's garage which has been passed down through generations.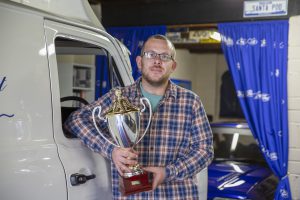 Alex's late father first started building the garage 35 years ago and it's where he quickly discovered his love for motoring. From a young age, he could be found tools in hand working on classic Fords alongside his dad.
Alex said: "To win Garage of the Year 2021 is fantastic and completely unexpected if I'm honest with you.
"The garage has been in my family home for, well, forever. My father got me into Fords when I was a babe in arms, it's just kind of gone from there."
Love of Fords
Located at the back of the family home, the garage has been extended countless times over the decades.
Throughout this time, Alex's love of Fords has continued, and the garage is currently home to three classic Ford cars and a Ford van – each built and modified on site.
"It all started when I was a babe in arms with my father who got me into the Fords, and it has just taken off from there. Some of the cars you see in here we've had since 1996.
"A prime example is the van, we've had that since 1996 and I've completely rebuilt that, every single nut and bolt. I know it inside out and I've made many amazing memories in it all over the country at different shows and prior to that, actually doing work with it."
Keeping his father's memory alive
The garage naturally holds great sentimental value to Alex and he's proud to keep his father's memory alive through it.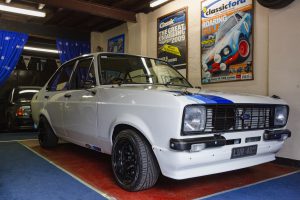 Just like his father, Alex has introduced his own children into the garage and started fixing up cars alongside them. So, it looks like the next generation are set to be Ford enthusiasts too!
"Ford, it's just been a part of my life since I can remember and that's now being passed through to my children, going all over the country and messing around in old cars."
More than a garage
And if you thought Alex's garage was only for storing and tinkering with cars, think again!
"My best memory in the garage is turning it into a nightclub back about 15 years ago. Pretty much the entire neighbourhood came, and you could hear it for miles!"
---
Our Garage of the Year competition was launched earlier this year as a part of Halfords' partnership with the BTCC's Team Halfords Racing with Cataclean. You can learn more about the partnership and track all the race action over on our BTCC hub.
Learn more about our Garage of the Year competition here.