It's that time of year again when we're all on the hunt for the perfect present for our little ones. If you're in need of inspiration, we've pulled together a selection of our best kids' bikes and scooters which are guaranteed to make this Christmas a magical one.
Best kids' scooters
Everyone loved scooting when they were little, so you can be confident a new scooter will go down well this Christmas. From first scooters through to stunt-ready options, here's a selection of our favourites.
EVO+ Mini Kids' Scooter – 3+ years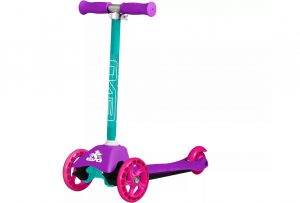 At a young age, children still need to master the art of balance. That's why a three-wheeled scooter like the EVO+ Mini Kids' Scooter is the way to go.
Perfect for ages three and above, the Evo is designed to help children develop balance and coordination. It comes with an adjustable handlebar which helps the scooter grow with your child, plus safety features including an anti-slip footplate and rear foot brake.
Just as importantly, it looks great too, and is available in a trendy blue or purple colour.
Mongoose Stance Stunt Scooter 2021 – 8+ years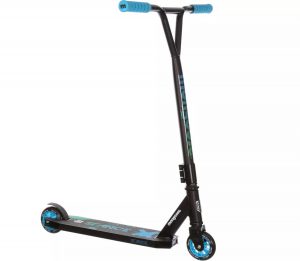 Some kids like to simply ride around on their scooters, others are always trying out new tricks. For the latter, a specialised stunt scooter is a great option, and you won't find many better than the Mongoose Stance Stunt Scooter 2021.
Packing in features you'd expect to find on a scooter twice the price, the Stance Stunt Scooter benefits from a wider stance deck and has a robust construction including reinforced steel handlebars which can withstand any knocks when tricks go wrong.
When pulling the latest trick, you need to look cool too, and the Stance is available in two stylish colours, black and blue or orange and white.
Invert FS2 Stunt Scooter – 8+ years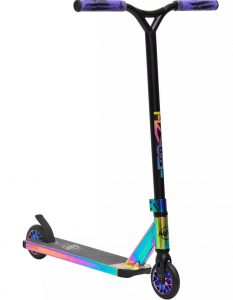 Another stunt scooter that will raise envious eyebrows from fellow tricksters, the Invert FS2 Stunt Scooter features a stylish jet fuel finish.
The Invert is one of our best-selling scooters, and for good reason! It features components found on pro-level scooters but at a much lower price tag, making it impressive value for money.
This includes specialised grind rails, neo chrome wheels and a T-bar – everything needed to rip up the skatepark and impress friends.
Best kids' bikes
There's no easier way to make Christmas magical than with a new bike. And there's great news, as there's the perfect bike for every child, from those first pedal strokes through to tricks in the park. Here's a selection of our favourites, but you'll find many more over at Halfords.com.
Don't forget that we can build any kids' bike so it's ready to ride – Christmas shopping has never been easier! You can choose to have the bike built and collect it in store (£10), or have it built and delivered straight to your door for only £20 (available for selected junior and BMX bikes).
Apollo Outrage Kids Bike – 18" Wheel (5-7 years)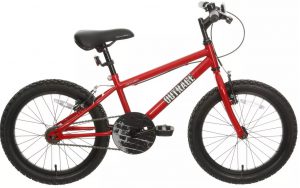 If your little one loves an adventure and they're ready for their first mountain bike, look no further than the Apollo Outrage Kids Bike.
It takes elements from the adult mountain bike range and packs them into this impressive kids' version that's perfect for aspiring trail riders and park adventurers alike. The impressive design includes a strong steel frame and high-performing V brakes which provide strong stopping power in all conditions.
Apollo Charm Junior Mountain Bike – 20" Wheel (6-9 years)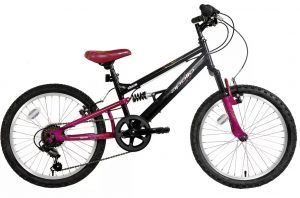 The Apollo Charm Junior Mountain Bike will help your kid take their adventures to the next level.
Whatever the terrain, it offers a brilliant ride thanks to a full suspension, 6-speed gearing and easy-to-use Revoshift shifters, plus V brakes.
Many of our bikes are available in bundles with the must-have accessories, and the Charm is no different. Lots of gifts rolled into one, you can find the Apollo Charm bundle here.
Hyper Nitro Circus Jet Fuel BMX Bike – 20" Wheel (8+ years)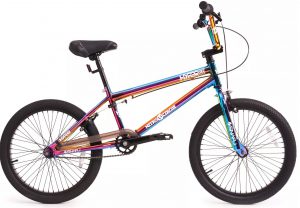 Some kids like to take their adventures off road, others are more at home in a skate park. For those who love impressing their friends with tricks, the Hyper Nitro Circus Jet Fuel BMX Bike is a great gift.
They'll have no problem standing out from the crowd thanks to a custom jet fuel paint finish inspired by bikes ridden in the Nitro Circus. The handlebar is attached via an alloy threadless top load stem and features Hyper-branded grips for maximum control.
---
Want to make the gift extra magical? Through Halfords, you can personalise any kids' bike by adding their name to the frame. We also offer a reindeer gift bag and a red bow, and you can combine all three for only £10.
Of course, this is only a fraction of the bikes and scooters we could have included, and you can find many more over at Halfords.com. Why not also sign up for updates so you get the latest information when we get new stock of bikes?
Here at Halfords, we also want to provide you with the best Christmas deals possible. That's why, if you find the same bike cheaper elsewhere, we'll match the price for the lowest price guaranteed. You can learn more here.
You want to create a magical Christmas, you want Halfords.