Freezing temperatures, slippery ice and darker nights… driving in the winter always brings extra challenges. So, what can you do to help you and your car overcome the icy roads this winter? Well, quite a lot actually!
1. Keep your car running safely and smoothly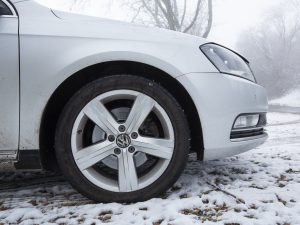 Let's start with two of the big hitters when it comes to making journeys safe and reliable in winter: your battery and your tyres.
Car battery
Cold weather is one of the main causes of battery failure (along with lack of use), so it's a good idea to keep an eye on the condition of your battery throughout the winter months. If you do find your car in need of a helping hand to get started, make sure you've got the right equipment on hand.
We'd recommend the Halfords Advanced Lithium Jump Starter. This handy tool is powerful enough to get a 12V vehicle up to 2L started and small enough to fit neatly in your glove compartment. You don't need to worry about having a donor car to hand and the jump starter can be easily recharged in your car or at home.
Another option is the Halfords Smart Battery Charger 6A, which protects and repairs 12V vehicles including motorbikes and most smaller vehicles. The charger even has a dedicated 'cold weather maintenance mode', which has been specifically developed for charging vehicles in lower temperatures. It also contains an LED screen and one button control for simple and efficient charging.
We also offer a Free Battery Health Check at all of our autocentres, where one of our expert technicians will inspect your battery to make sure it's in good working order.
Tyres
Tyres that are worn down, under-inflated, or generally in poor condition will struggle to grip when you're driving in snow and ice – making already challenging conditions even harder to handle.
You can monitor the basic condition of your tyres by being on the lookout for any cuts, splits or nicks. A digital tyre inflator is an easy way of getting your tyre inflation levels back up to standard (your vehicle handbook should tell you the recommended tyre pressure for your car), while a tyre depth gauge will help you to see if your tread depth is at the legal level of 1.6mm.
If you'd prefer to get a second opinion on your tyres, then one of our expert technicians will carry out a pressure check and inspect the condition of your tyres as part of our Free Tyre Check. You can book the service online at your local autocentre.
And if you live in an area of the country that sees a lot of snow in winter, then it might be worth investing in some all-season or winter tyres. These tyres have a deeper tread and special tread pattern, giving increased grip and making it easier to drive in the snow. We explore the topic of all-season and winter tyres in more detail in this article, so be sure to check it out if you want to know more.
2. Keep your vision clear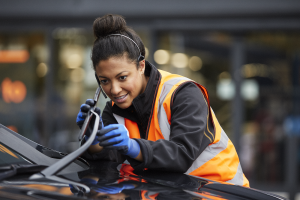 Visibility can be a real issue in winter weather, so our next stop is your windscreen and wiper blades.
Windscreen
While you can't stop snow, sleet and rain from falling on your windscreen, you can control what happens when it does – and help to keep your windscreen clear at the same time.
Duxback is a revolutionary treatment that our talented autocentre technicians can apply to your windscreen. The treatment adds a coating to the glass that repels water and other liquids, which means that rain, sleet and snow simply bead, shed and roll off, and ice doesn't stick.
A Duxback windscreen treatment lasts 6 months and you can book the service online at any Halfords autocentre.
Windscreen wipers
Windscreen wipers also have a part to play in keeping your vision clear, and they need to be in good working order. A quick visual inspection should reveal if yours need replacing and you can find a range of options at Halfords.com. Just enter your registration number to see which will fit your vehicle. With a Halfords Motoring Club Premium membership, you can get your new wipers fitted for free by our experts.
Also, make sure that you don't switch your windscreen wipers on when your windscreen is frozen or covered in snow. If you do, you run the risk of blowing the wiper control fuse if your windscreen wipers are frozen to the screen.
3. Keep your liquids topped up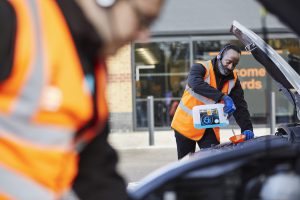 Tying in neatly with the previous point about visibility is the need to keep your liquids topped up – particularly your screenwash and antifreeze.
Screenwash
Frosty weather can result in the dreaded situation of the contents of your screenwash bottle freezing. This is an easy one to avoid: all you need to do is get your hands on a good quality, low-temperature screenwash to prevent the water from freezing.
We love the Halfords -10°c Ready Mixed Screenwash. Just pour it straight into your screenwash reservoir and then the liquid will take care of keeping your washer jets free and cleaning your windscreen. It'll also help to prevent your screen from freezing.
Antifreeze
Also known as 'engine coolant', antifreeze helps to ensure that the water used to cool your engine doesn't freeze in cold weather. It's a must for winter driving and we'd recommend the Halfords OAT Ready Mixed Antifreeze as it can be used all year round as a coolant and as an antifreeze during the winter months. Just make sure you check that it's compatible with your car first.
4. Keep your emergency essentials stocked up
Despite our best efforts and forward planning, unexpected breakdowns sometimes occur. Don't get caught out in the cold this winter by making sure you've got all the emergency essentials in the back of your car.
Winter in-car essentials
Here are the main safety products that we reckon you should take with you on those essential journeys:
Hi-vis vest
Blanket
Spare screenwash
De-icer
Ice-scraper
Snow shovel
Map
First aid kit
Warning triangle
Food and drink
If you're keen to save on your winter essentials, the Halfords Motoring Club Premium membership gives you an unlimited 5% discount on a range of motoring products and services, so you can stay prepared for less.
Phone
We've singled out a mobile phone as it really is the most important bit of kit to have with you if you get into any trouble. Always make sure your phone's fully charged and pop a charger into your car so that you can maintain that charge when you're out and about.
5. Keep relying on the experts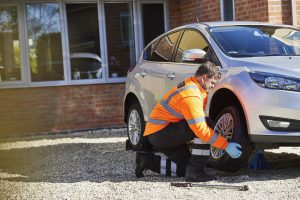 Here at Halfords, we offer a range of services and checks to help keep you moving this winter:
Free 5-Point Car Check: We'll check your headlights and brake lights, wiper blades, battery and windscreen, and MOT due date – all for free!
10-Point Car Check: We'll check all of the above plus your type depth, tyre inflation, oil level, screenwash level and AdBlue and coolant levels for just £15, or for free with a Halfords Motoring Club Membership.
Halfords Mobile Experts: Our safe, contactless and mobile technicians will come to you at home or place of work for tyre replacements, battery replacements, oil changes, windscreen chip repairs and more.
WeFit: If you need a hand installing new windscreen wiper blades, headlight bulbs, batteries and more, then our WeFit service is the answer. You can even get a free fitting with a Premium Motoring Club membership.
6. Join the Halfords Motoring Club
Join the Halfords Motoring Club today to access a range of amazing benefits and discounts that are designed to keep you moving, keep you safe and keep you saving.
It's free to join and you'll receive money off your MOT, a free car health check and a welcome voucher that can be spent on any Halfords product or service.
Or choose our Premium membership for a small monthly fee (or a one-off payment) to unlock exclusive member pricing on all motoring products and services online and across our stores, garages and Halfords Mobile Experts, as well as a variety of other benefits that will help you to keep moving for less.
With so much to enjoy, this is too good an opportunity to miss!
Join the Halfords Motoring Club today at www.halfords.com/motoring-club.