From rain to snow, winter puts our vehicles to the test. However, with the help of our Halfords Mobile Experts, you can safely navigate the colder months ahead.
Whether it's a flat battery, deflated tyre, pesky dashboard warning light, or you simply want to make sure your vehicle is winter-ready, we've got it covered. Our experts will come straight to your door, so you don't have to leave the warmth of your home – it couldn't be easier!
Let's look at the full range of mobile services available.
The mobile services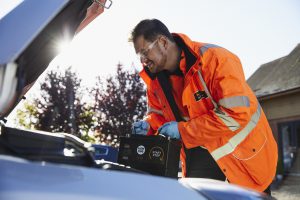 Covering over 80% of households in the UK, our Halfords Mobile Expert service is designed to keep you moving throughout winter. We'll make sure your car is safe and prepared for colder weather whilst you stay warm at home or work.
Here's a full list of the services our Mobile Experts provide.
Tyres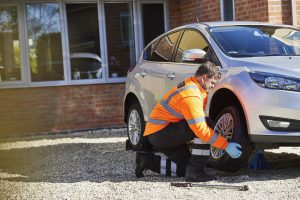 Tyre fitting
Puncture repair
Tyre rotation
TPMS
Cold and wet weather puts your tyres to the test, and you need a set that are up to the job.
However, many drivers in the UK use summer tyres in winter. These are only designed for warmer conditions, and once the temperature dips below 7 degrees (which is common throughout winter), they won't perform at their optimum level. This means less grip and greater stopping distances – especially in wet conditions.
That's why your car needs a suitable set of tyres, and our Mobile Experts can help – we can come straight to your home or workplace to replace your summer tyres, as well as rotate your tyres or repair any punctures.
Batteries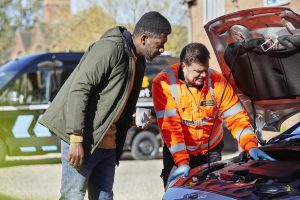 Battery replacement
Diagnostic check
Cold weather places a greater strain on car batteries.
For a start, we use our headlights and heating more regularly. It also takes more power to start an engine in the cold. That's why, if your battery is underperforming or needs replacing, you'll quickly run into problems.
However, you can pre-empt any potential issues with our range of battery services. If the worst happens and your battery fails on a cold winter morning, our Mobile Experts can come to the rescue and replace the battery for you right on your driveway.
Warning light diagnostics
There's nothing more annoying than a warning light popping up on your dashboard – especially if you don't know what's causing it.
If you get a warning light this winter, don't worry. Our mobile vans are equipped with specialist diagnostic equipment to help identify the issue – and if this is being caused by a battery, we can replace it right on your doorstep!
Sometimes the car just needs a reset. If it needs further investigation, your local Halfords Garage can help, and they'll provide a no-obligation quote to get it fixed before it becomes more serious.
Engine oils and fluids
Engine oil and filter change
Air con re-gas
AdBlue top up
Antifreeze top up
Our bonnets house a lot of important liquids, so to keep your car on the move, you need to make sure that your oils and fluids are topped up – especially antifreeze.
Antifreeze is added to the water in an engine's cooling system to lower the freezing temperature. This is especially important in winter when temperatures are at their lowest. If you're not sure or just want a helping hand, our Mobile Experts can help top up any fluids or oils for you.
Our other mobile services
And our mobile services don't stop there!
From ice to torrential rain, your windscreen bears the brunt of winter weather. To help you prepare, our Mobile Experts can apply a Duxback glass treatment. This minimises water build-up when driving in the rain by leaving a hydrophobic layer. You can learn more about our Duxback treatment here.
We also offer additional services including windscreen chip repairs, dash cam fitting and towbar fitting.
How our mobile services work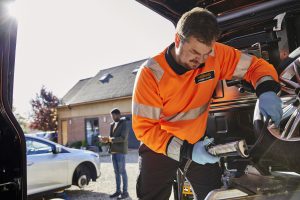 So, how does it work? You'll find a step-by-step guide below which will help you get the most out of this unique service.
1. Book an appointment
Appointments can be easily booked online. You'll need to provide a few details including your registration, postcode and service requirements. Then, just select a time slot that suits you.
Fittings are available 7 days a week between 8am and 8pm. We're also pleased to offer same-day and next-day fittings where available.
2. Prepare your car
On the day of your service, make sure that you park your car somewhere safe. Store your car keys and locking wheel nut in a pre-arranged safe place so that the technician can easily access them.
3. Arrange things with the technician
Our technician will call you on the day of your service to confirm the location of your car, keys and locking wheel nut. This allows them to find everything they need to carry out the work without any physical contact being required.
4. Sit back while the technician gets to work
The technician will only gain access to your vehicle while work is being carried out, and they'll let you know when the job is complete via phone call or text message. If you'd like to inspect their work, they'll wait in the van until you're finished.
Your keys and locking wheel nut will be returned to where they were collected from, and we'll make a note on our records that the job is complete.
5. Be secure in the knowledge that your car is ready to go if you need it
And that's it! The technician will leave you with a fixed and safe vehicle before moving on to help someone else. At the end of their shift, they'll also thoroughly clean their van and ensure all rubbish is disposed of in a safe, legal and environmentally-friendly manner to maximise both customer and staff safety.
For more information about how we dispose of batteries, check out our guide to battery disposal and recycling. We also recycle a wide range of other materials including tyres, and you can learn more about our tyre recycling process here.
Introducing the Halfords Motoring Club
Join the Halfords Motoring Club today to access a range of amazing benefits and discounts that are designed to keep you moving, keep you safe and keep you saving.
It's free to join and you'll receive money off your MOT, a free car health check and a welcome voucher that can be spent on any Halfords product or service.
Or choose our Premium membership for a small monthly fee (or a one-off payment) to unlock exclusive member pricing on all motoring products and services online and across our stores, garages and Halfords Mobile Experts, as well as a variety of other benefits that will help you to keep moving for less.
With so much to enjoy, this is too good an opportunity to miss!
Join the Halfords Motoring Club today at www.halfords.com/motoring-club.
---
With the help of our Mobile Experts, you can safely navigate the winter months ahead. Check out the full range of mobile services available here.
If you're in need of a more significant service or MOT, why not visit your local Halfords Garage? You can find your local garage over at Halfords.com.
You want to safely navigate winter, you want Halfords.