With the UK beginning to emerge from lockdown, there's never been a better time to start planning for that perfect spring day out.
Here are our top tips for making sure that your day trip goes off without a hitch.
1. Get your car road-ready
It's been a long winter and with the added impact of a national lockdown, many of our cars have spent the majority of that time sitting idle on our drives. That can be a bit of a recipe for breakdown-related disaster so our first tip would be to make sure your car will start when you need it to (and works reliably when it does).
Our Free 5-Point Car Check is a great starting point here. You can book an appointment online at a time and date that suits you, and we've introduced a number of safety procedures to make sure that you and our colleagues are protected at all times.
During your appointment, one of our experienced technicians will carry out the following checks:
headlight and brake light
wiper blade condition
battery health
windscreen chip
MOT due date reminder
If the technician spots any issues, they'll talk you through the work that's needed to get your car roadworthy again.
Or for just £15 you can upgrade to our 10-Point Car Health Check. As well as the points mentioned above, a technician will also check your tyre depth, tyre inflation level (and top it up as needed), oil level, screen wash level (and top it up as needed) and AdBlue and coolant levels.
Another option is to head straight for an MOT or service (or combine both to save yourself time and money). Regular services are the best way to keep your car in top condition and we offer a variety of options to suit your requirements.
With the mechanical parts taken care of, it's time to turn your attention to the interior and exterior of your car. Our Spring Clean Bucket Bundle will help you to leave dust, dirt and grime behind, giving you a gleaming car that not only looks great but also has maximum visibility for safer driving.
And if you want a bit more power in your cleaning, then check out the Karcher K4 Full Control Car Pressure Washer for fast, effective cleaning.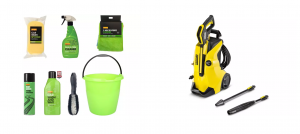 2. Get your bike trail-ready
The perfect day trip wouldn't be complete without some time spent on two wheels and for that you need a bike you can rely on. Our Free Bike Health Check covers all of the key areas of your bike and will give you a great overview of its current health. If our bike technician spots any areas where wear and tear are starting to have an impact, we can get you booked in for a service to restore your bike to top working condition.
We'd also recommend spending some time on bike maintenance and cleaning at home. Muc-Off do a great range of bike products and one of our favourites is the Muc-Off Clean, Protect and Lube Kit. The cleaner breaks down dirt, the spray lubricates moving parts and leaves long-lasting protection, and the lube reduces friction and provides for smooth gear changes. It's the perfect way to set yourself up for a day of riding.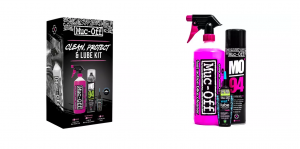 3. Choose your bike rack
If you're taking a bike or two on your day trip, then you'll need some way to transport them – and that's where bike racks come in. You've got three main options here depending on your requirements: rear-mounted, roof-mounted or towbar.
(If you're not sure which type to choose, then make sure you check out our advice article for some tips and advice on how to narrow down the options and find the perfect fit for your car.)
Two of our top picks when it comes to bike racks are the Thule ProRide 591 Roof Mounted Bike Rack and the Halfords Advanced 3 Bike Towbar Mounted Bike Rack.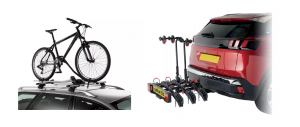 The Thule ProRide 591 is a single-bike carrier that comes pre-assembled and fits neatly onto your roof bars. Quick release wheel straps make for convenient loading and unloading, while the rack's adjustable for wheel sizes up to 2.5 inches.
The Halfords Advanced 3 Bike attaches to a towbar and supports a mix of up to two e-bikes and mechanical bikes (with a maximum weight of 60kgs). The bike rack tilts to allow boot access and is fully lockable for added security.
If you'd like a hand with the installation of any of the bike racks that we sell, then we'll be happy to fit your rack and walk you through a demo of the installation process for a small fee. You can book installation during the online checkout process and our safety procedures will help to keep you and our colleagues safe during your time in-store.
4. Choose your in-car tech
No journey is complete without some in-car tech to make the process safer, more efficient and more enjoyable.
A sat nav like the TomTom Start 52 can do all of that in one, thanks to its lifetime map updates and quick search, speed camera alerts and safety updates (3 months' worth), and points of interest feature. Add in an easy-to-use touchscreen and advanced lane guidance and you really can't go wrong with this great entry-level option.

For added safety, the Nextbase 522GW is an award-winning dash cam that comes with all of the usual dash functionality along with unique features such as Emergency SOS and Amazon Alexa. Having Alexa built-in means that you can use the power of your voice alone to control your dash cam, as well as play music, check the weather and even control smart devices in your home.
Finally, the Sony XAV-AX3005DB is one of our must-have car stereos. Smooth and simple to control, this stereo is bursting with features like Apple Car Play and Android Auto compatibility that are designed to make journeys as easy, enjoyable and connected as possible.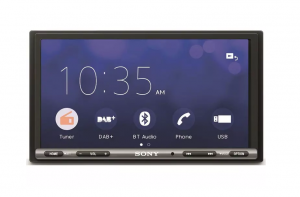 We offer fitting services for all of our sat navs, dash cams and stereos. Simply choose the fitting option during the checkout process to book a safe and secure appointment.
5. Pack the essentials
We don't know for sure what the future will hold, but we're hopeful that many of us will be able to enjoy summer staycations in the UK this year. It's never too early to start putting those staycation plans in place, so we're going to finish with a couple of staycation essentials that might also come in handy on your day trip.
The Halfords Waterproof Tartan Picnic Blanket, Halfords Stainless Steel Vacuum Flask and Halfords 14 Litre 12V Electric Coolbox are an unbeatable trio that tick all of the staycation boxes. One keeps you clean and dry, while the other two keep you fed and watered even on the hottest days. They're also competitively priced, so investing in all three won't feel like you're breaking the bank.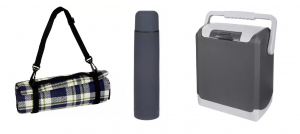 If you're taking a four-legged friend along for the ride, then consider investing in a Seat Belt Tether and Dog Car Harness to keep them safe and secure during the journey. We'd recommend combining these with a Bench Seat Cover to keep your seats protected from any muddy paws at the end of the day!
And last, but by no means least, a roof box like the Halfords Advanced 470L Black Roof Box will provide ample extra packing space and give you more room to breathe inside your car. The roof box provides easy loading from either side of the car thanks to a dual side opening and is quick and safe to mount on your roof bars. As you can see below, it also fits a surprising amount of kit!