The buzz around electric scooters has been growing significantly in the last few years. They're convenient, fun to ride, and recent legislation announcements mean that the rules around their use are set to be overhauled, potentially making privately owned e-scooters road legal.
If you're looking to invest in an e-scooter, or fancy giving a trial scooter a go, then look no further. We've broken down everything you need to know about riding an electric scooter, from the kinds of features and specifications you can expect, to how to make sure you're riding safely.
Safety first
If you want to ride an electric scooter, it's really important to first make sure that you're doing it safely. Like riding a bike, there are a few ways you can make your ride as safe as possible, by increasing your visibility and adding protection to keep you injury-free if there is an accident.
Unlike a lot of bikes, electric scooters come with lights built in, so there's really no reason not to use them! Front and rear lights, as well as side reflectors, will help to keep you visible to other road users, as well as lighting up the way when you ride in the dark.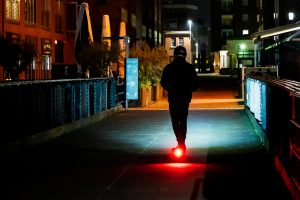 There are also a few pieces of protective gear that you can wear to keep yourself safe, the most obvious of which is a helmet. Although helmets aren't a legal requirement when riding an e-scooter, you can never be too careful, so we always recommend wearing one.
We know it's not only your own safety that you'll be concerned about – if you own your own scooter, you'll want to make sure it stays where you left it, so properly securing your scooter when you're not using it is important. Luckily, thanks to their high value, some electric scooters come with some form of locking built-in – for example, our Carrera range has both a PIN lock and a cable lock for double the security! But, if you do want some extra peace of mind, another external lock is sure to keep everything safe and also act as a visual deterrent.
When and where can I ride?
Here in the UK, the laws around electric scooters are largely dependent on the type of riding you're doing. Rental e-scooters that are a part of the Government trials can be used on roads within the designated trial areas, but privately owned e-scooters can currently only be used on private land with the landowners' permission. However, there have been steps forward in the legalisation of all riding in recent years.
Electric scooter rental trials have been underway in a number of areas across the UK since summer 2020. Local councils have been working with rental providers to test the viability of electric scooters as a safe and effective mode of transport.
On the 10th May 2022, plans to fully legalise e-scooters for private use were included in the Queen's Speech. The UK government is working through the details of the regulations required to enable the legalisation of private e-scooters on public land. Further details are expected in the King's Speech, expected in autumn 2023, and there could be legislation in 2024.
In the House of Lords on the 11th of May, Baroness Vere (Under-Secretary of State in the Department of Transport) said: "It is our intention that the [Transport] Bill will create a low-speed, zero-emission vehicle category that is independent from the cycle and motor vehicle categories. New powers would allow the Government to decide the vehicles that fall into this new category in future and how they should be regulated to make sure that they are safe to use. We hope that e-scooters will be the first of these vehicles."
Until that time, customers should be aware that if they use a private e-scooter illegally, they could face a fine and penalty points on their licence, and the e-scooter could be impounded by the police.
Click here to sign our petition calling for an end to the road ban on privately owned electric scooters and making their use safe and legal on public roads.
You can explore the legality of riding electric scooters around the globe with our handy Planet E-scooter map or read more about the UK laws here.
How do electric scooters work?
Naturally, every make and model will differ in the design, specs, and usage, but in general, they'll function in a similar way. Let's take the Carrera impel is-2 2.0 as an example and explore exactly how electric scooters function.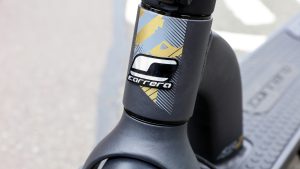 Most scooters will have a safe start feature, meaning you'll need to kick off before you can engage the motor. This is to prevent any accidents where the scooter starts moving before the rider is ready.
When you look at the specs for an electric scooter, you'll see both the motor power and the battery capacity. For example, the Carrera impel is-2 2.0 has a 350w motor and a 12.8ah battery. It's important to know the difference between these two components, and what areas of performance they influence.
The motor power provides acceleration and hill climbing ability, so a higher wattage motor will allow the scooter to accelerate quicker and more proficiently tackle hills. The is-2 2.0 has a very sizeable 350w motor, which is what gives it its superior hill climbing abilities, as well as its quick acceleration.
Meanwhile, the battery capacity provides the range, which is how far the electric scooter can travel on a single charge. The maximum range of a scooter is measured by taking optimum conditions into account, so the range you can actually achieve in everyday riding is dependent on factors like the weather, the steepness of the route, and the weight of the rider, but it's a good indication of the mileage you can expect from one full charge.
The Carrera impel is-2 2.0 has an impressive maximum range of 22 miles, or 35km, so you can enjoy a good day's ride before needing to recharge.
Keeping things moving for longer
Just like a bike or car, it's important to get your e-scooter checked over from time to time to make sure that everything's working as it should, to keep both you and your e-scooter safe and healthy.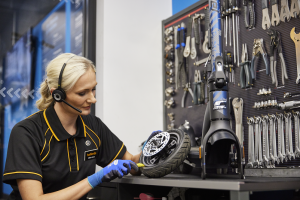 Here at Halfords, we offer a Free E-Scooter Health Check to assess all the key aspects of your scooter and make sure that everything is running smoothly. The free e-scooter health assessment is a 20-point check that gives you the peace of mind that your e-scooter is safe to use and in full working order. During the check, one of our experts will check the following:
Visual inspection checking for structural damage, water damage and after-market modifications
Assessment of the handlebar, steering, and headset for wear or movement
Wheels and braking: checking tyres, brake cables, and pads
Electrical functions: checking power, error codes, and electronic functions
To combat normal wear and tear, we recommend getting your e-scooter checked one year after purchasing, although you may want to book in sooner if you're riding regularly.
Please note: our colleagues can service your e-scooter regardless of where it was purchased, as long as it's a brand that Halfords stocks. Colleagues will not be able to carry out any services on e-scooters that have been modified or enhanced.
If you do encounter any problems with your scooter, you can be back on two wheels in no time with our E-ScooterCare package. This service bundle has everything you need to keep your new electric scooter in tip-top condition. It includes:
Puncture protection service
Innertube replacement fitting service
Unlimited brake adjustments
10% off e-scooter parts and accessories
Free accessory and parts fitting
Unlimited free safety checks
Tyre inflation and pressure checks
E-ScooterCare is available for any electric scooter brand that Halfords stocks, even if you didn't purchase the scooter from us.
We recommend purchasing E-scooterCare when you buy your electric scooter to make sure that it's protected from the first use, but, as long as your e-scooter is in full working order, you can purchase it afterwards too.
---
And that's it! Electric scooters are a convenient and cost-effective way to get around, and between the ongoing Government trials and their inclusion in the transport bill, we could soon be seeing privately owned scooters on the roads! To make sure you're fully prepared, explore our range of electric scooters and accessories at Halfords.com. You want to go electric, you want Halfords.
Legal warning:
It's currently illegal to ride a privately owned e-scooter on a public road, pavement, cycle lane or bridleway. Privately owned e-scooters can only be ridden on private land with the permission of the landowner.
Customers should be aware that if they use a private e-scooter illegally, they could face a fine and penalty points on their licence, and the e-scooter could be impounded.