Holiday season is firmly here!
With many of us choosing to stay closer to home this year, we're taking a more in-depth look at the different types of destination you can drive to for a last-minute summer holiday.
The beach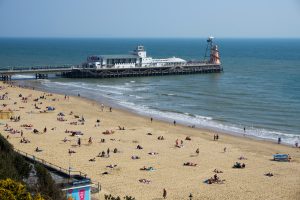 The UK is home to some amazing beaches, from the golden sands of the south coast to the beautiful landscapes of northern Scotland. And as an island, the nearest beach is never too far away no matter where you live so there's always plenty of opportunity to hop in your car and spend some quality time on the sand.
A beach holiday is a particularly smart last-minute choice when the weather turns warm and you're looking for somewhere to take the family to cool off. So slap on that sun cream, grab that coolbox, load up that roof box with all the essentials and get ready to enjoy all the delights that a beach has to offer.
If you're looking for inspiration, here are a few of our favourite beaches and beach towns to get you started.
Our tip picks
The seaside town of Tenby can be found in Pembrokeshire, Wales. A popular tourist destination, it's home to an impressive four beaches including Castle Beach and Tenby Harbour Beach so there are plenty of places to soak in that sun. The town also boasts a range of restaurants, cafes and amenities, making it a one-stop-shop for a beach holiday.
Another famous seaside town lies on the Dorset coast of England. Bournemouth offers seven miles of idyllic coastline and a wealth of places to visit including beaches, museums, galleries, play parks and more. The famous pier stretches out into the ocean and has its own collection of attractions such as indoor climbing, a zip wire and a restaurant. You'll want to put plenty of time aside when visiting Bournemouth in order to take everything in!
At the other end of the spectrum is Luskentyre Beach up in Scotland. Located on the Isle of Harris, Luskentyre is recognised as one of the most beautiful beaches in the UK and a shining example of unspoiled natural beauty. Miles of white sand and green-blue water combine to present picturesque scenery that'll be a worthy addition to any photo album.
The forest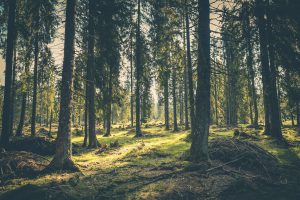 Forests and woodlands are another area where we're spoilt for choice here in the UK. Ranging from the local woods a couple of miles down the road to National Parks and Areas of Outstanding Natural Beauty, there are miles and miles of hectares to explore across the country.
A forest holiday is a great last-minute option if you're someone that loves nothing more than hiking through towering tree trunks or racing up and down narrow trails on your bike. Pop a bike rack on your car, secure your bikes, add in some camping essentials and you're all set for a wood-bound getaway.
Our top picks
Located in Gloucestershire, close to the border between Wales and England, the Forest of Dean is an ancient woodland that's renowned for its beauty and wildlife. It's a great place to explore and the Forest of Dean Cycle Centre provides a readymade set of trails and downhill runs for cyclists of all ages and abilities.
Tollymore Forest Park in County Down, Northern Ireland, is open to the public all year round and offers amazing views of the Mourne Mountains on one side and the Irish Sea on the other. Camping areas are freely available and there are numerous activities to fill your time such as walking trails, horse riding and orienteering.
Then there's Coed y Brenin Forest Park in Snowdonia, Wales. This activity-filled area offers something for everyone and is home to the UK's first and largest dedicated mountain bike trail centre. There are miles of single track trails to tackle for expert riders, as well as family and intermediate trails for all abilities.
The lake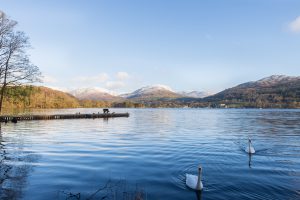 A last-minute holiday getaway to a lake brings with it tranquil views, water sports and the prospect of a memorable family trip. There are a multitude to choose from up and down the country, so even if you live in a big city a lake is probably only a road trip away.
Lakes are another location where there's likely to be ample opportunity for cycling and camping, so make sure your bikes are in good working order and pack those tents to ensure you can really get the most out of your time away.
Our top picks
We couldn't include an entry about lakes with recommending the Lake District. England's largest National Park, the Lake District boasts 16 lakes including Windermere, Ullswater and Derwentwater, as well as numerous tarns. There's so much to do in the area and more to explore that's it's easy to see why the Lake District has become such a popular tourist destination over the years.
Loch Lommond & The Trossachs National Park will take you to Scotland. A place where the lowlands and highlands meet, the area provides diverse landscapes including the titular loch. You could spend time cruising on the water, renting a kayak or canoe, visiting the surrounding villages or having fun at the nearby aerial adventure parks. The choice is yours!
One of Northern Ireland's largest lakes, Lough Erne can be found in County Fermanagh. An impressive 154 islands dot the lake's interior and many of these can be explored on foot or by boat. Water sports are another big attraction in this quiet area, as well as the surrounding historic towns and villages where you can find plenty to do and see.
The city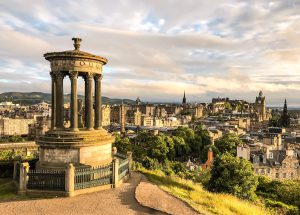 If you're looking for an action-packed holiday destination, then you can't go wrong with a city break. We're lucky enough to have four capital cities to enjoy here in the UK, along with a whole host of other county towns dotted across the landscape.
Whenever you choose to go, make sure your car is kitted out with the latest tech such as a sat nav to help you navigate the unfamiliar streets with ease and a stereo to keep you entertained while you do so.
Our top picks
We could have gone with any of the capital cities, but we're going with Edinburgh for its charming cobblestone streets, amazing architecture and historic sights. The city's Old Town is a must-visit location as is the epic Edinburgh Castle, where Scotland's crown jewels can be found. Add in Arthur's Seat, rising high above the city, and you've got a great mixture of natural and urban attractions.
Bath, in Somerset, offers a unique feature: the Roman Baths. These historic hot springs are well-worth a visit and while you can't bathe in the springs themselves, the nearby Thermae Bath Spa provides all the spa facilities you could need. The city's also becoming famous for its food, so get ready for some great meals out.
Cambridge is the home of the world-famous University of Cambridge, which means the city's rife with Gothic university buildings and impressive architecture. You can go for a punt on the River Cam, which runs through the centre of the city, join a walking tour or take to the network of cycle paths in order to get the most out of your visit.
Before you leave
Any car journey requires a bit of prep before you leave and here are some of the basics that we'd recommend taking care of.
Car checks
Are you tyres inflated to the correct level? Is your oil topped up? Our 10-Point Car Check will answer these questions and more. It's available at any Halfords store or garage and only takes around 30 minutes so it's well-worth popping in to see us before you leave.
We also offer a range of free car checks if there's a particular area you're concerned about, with our Free Air Con Check being particular helpful in the warm summer months! Check out our full range of air con services to help keep your car icy cool.
Roof boxes and bike racks
If you're looking to create more packing space in your car, then a roof box could be just what you need. They come in a variety of shapes and sizes and our Buyer's Guide can help you to pin down the one that meets your requirements. We'll also fit it for you for a small fee, taking all of the hassle out of the process.
A bike rack is a must-have if you're planning to take your bikes along for the ride. You can choose from rear-mounted, roof-mounted or towbar-mounted (make sure you check the compatibility of your car first using our online vehicle registration checker) and we can also support with fitting once again. In fact, if you choose a towbar-mounted rack then you don't even have to leave your home for a fitting appointment as our Halfords Mobile Experts will come directly to you.
Breakdown essentials
Don't get caught out by a breakdown with our breakdown essentials: a tyre inflator, a puncture repair product and a motorist first aid kit. Products like these can help you to get you back on the road (or to your nearest garage, so that they can give you a helping hand). For added protection, there's also Halfords Breakdown Cover, which comes with a range of exclusive benefits.
Halfords Motoring Club
Want access to a range of amazing benefits and discounts that are designed to keep you moving, keep you safe and keep you saving? Then join the Halfords Motoring Club today!
It's completely free to join and you'll receive money off your MOT, a free car health check and a welcome voucher that can be spent on any Halfords product or service.
Or choose our Premium membership for a small monthly fee (or a one-off payment) to unlock exclusive member pricing on all motoring products and services online and across our stores, garages and Halfords Mobile Experts, as well as a variety of other benefits that will help you to keep moving for less.
With so much to enjoy, this is too good an opportunity to miss!
---
Wherever you choose to go on your summer holidays this year, we hope you have a great time with your friends and family. Check out our full staycation range at Halfords.com, and equip yourself with the products and services you need to make your holiday one to remember.