If you're planning on buying a kid's bike from Halfords this Christmas, good choice. Not only are they the perfect present that keeps on giving year in and year out, but they also help your little one stay active.
However, keeping them 'under wraps' is a whole different story altogether – especially when you have a sneaky present hunter on your hands.
To help keep their prying eyes guessing, we've put together a super handy guide on how to wrap a kid's bike.
Get creative
One of the best ways to throw your little one off the scent is to cleverly disguise their new bike. The box that the bike came in gives you some great material to work with and then just let your imagination run wild! You could go for something festive like a reindeer or something cool like a unicorn or rocket. Whatever you choose, your kid will never guess what's hidden inside.
Wrap parts individually
This is a great option if your kid's bike didn't come assembled. You can individually wrap each element and hide them in different places under the tree to keep them guessing until they've discovered all of the pieces.
However, you should only choose this option if you don't mind a bit of moaning while you put the bike together on the day!

Do a bike hunt
If you reckon you can safely keep your kid's bike a secret for long enough, setting up a bike hunt is a novelty alternative.
Leave a series of clues around the house and lead them to the treasure. Just make sure you have a camera ready to capture the joyous moment they first see their amazing present!
Build a snowman or Marshmallow Man
Bubble wrap is another sneaky way to disguise a kid's bike. Simply go around it multiple times and seal it with tape!
For extra brownie points, attach a carrot and scarf to make a Christmas snowman. Or for a nostalgic nod, add a sailor's hat and neckerchief to make it look like the Ghostbusters Stay Puft Marshmallow Man!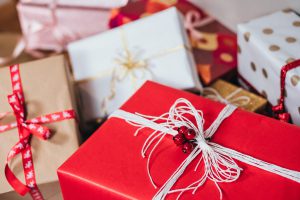 Embrace the season
Sometimes, there's just no hiding the fact that a bike is a bike and it's time to embrace the season instead. In this case, wrapping Christmas lights around the bike and attaching a wreath is a fun way to say that you've made an effort. A giant Christmas ribbon, bow or pom poms can have a similar impact too.
If you choose to simply wrap the bike up, make sure you find the jazziest wrapping paper available and attach homemade paper snowflakes for a festive way to bring the outside inside too.
Use a bike bag
On a tight schedule? Then pick up a bike bag to pop over your present.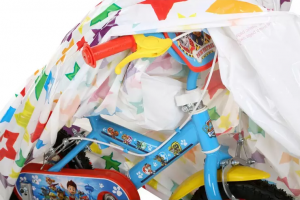 ---
We've got a fantastic range of kids's bikes here at Halfords, so you're sure to find one that your child will love. And we hope this article helps to make the unwrapping on Christmas Day a memorable occasion!