We all have our favourite movie characters, whether it's a Disney princess or a superhero. Well at Halfords, with our fantastic range of movie character kids bikes, scooters, and accessories, you can bring your favourite cinema characters home with you!
From Disney princess bikes to Marvel and DC bikes and accessories, we have something to suit every child. So, you can practise your balancing with Elsa and Anna, have a cheeky scoot with Spiderman, and get some help from Buzz Lightyear on a big bike. We've got a super, star-studded selection for whatever age your little movie-goers are at.
The best movie character bikes
Let's roll out the red carpet!
Disney Princess Bike – 14" Wheel – 4-6 years
If your little one dreams of being a Disney princess, then the Disney Princess Kids Bike will definitely be an award-winning choice! Featuring popular Disney Princesses such as Belle, Ariel, and Jasmine, your little one will feel like true royalty on this delightful ride. The stabilisers can easily be removed as your child grows in confidence, while the dolly seat means they can bring along their favourite toy on their royal adventures.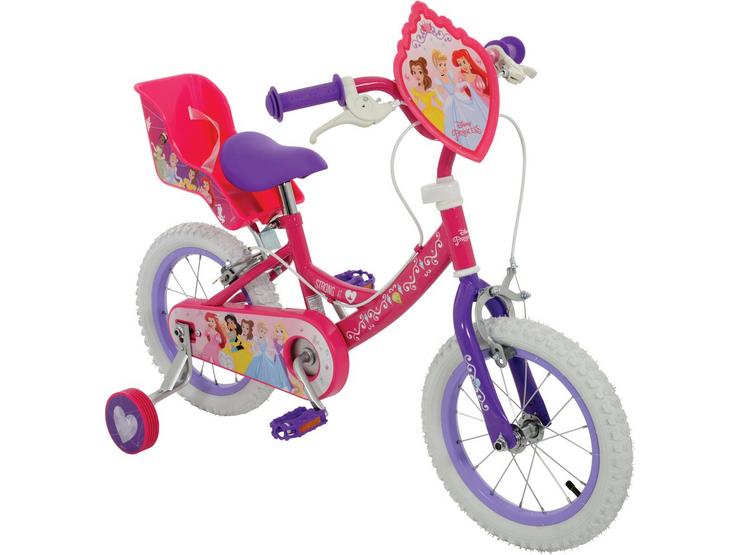 Trolls 2 Balance Bike 10" Wheel – First Bike
Join the trolls on their new adventure with the Trolls 2 Balance Bike, perfect for improving stability and developing balance skills. The handlebar and seat height are adjustable and whilst the 10" wheels are lightweight, they have deep tread to provide some added stability – allowing your budding Poppy or Branch to get to grips with their balance. They'll definitely find their happy place on this little bike.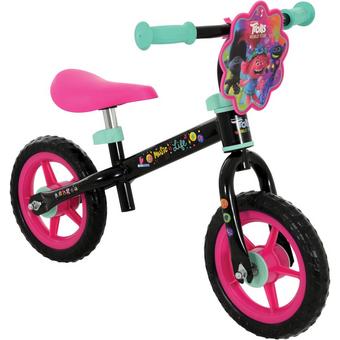 Frozen 2 Balance Bike 10" Wheel – First Bike
The Frozen 2 Balance Bike is also a great option and comes with a cute character graphic plaque so Elsa and Anna always come along for the ride. This little balancing wonder comes with soft grips for little hands and you're also able to adjust the height of the saddle and handlebar.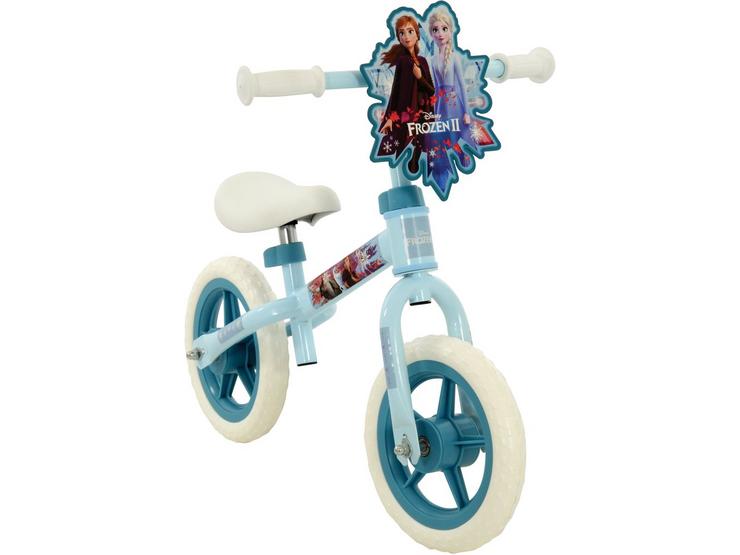 Buzz Lightyear Balance Bike 10" Wheel – First Bike
For all those Toy Story fans, the Toy Story 4 Buzz Lightyear Balance Bike will take you to infinity, and beyond! The puncture-proof tyres and strong steel frame on this 10" wheel balance bike mean that it can be put through its paces while your child is learning their balance basics. Buzz also features on the removable handlebar plaque which is handy after a muddy adventure. Adjust the handlebar and seat as you require.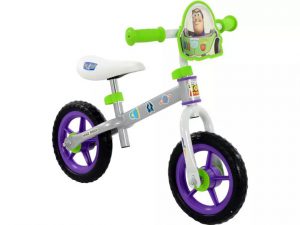 The best movie character scooters and accessories
Lights, camera, scoot!
Trolls 2 Inline Scooter
Pop your favourite little adventurer on this troll-tastic beauty! The Trolls 2 Inline scooter squeals fun with PVC glitter wheels and a funky removable multi-coloured 'hair' stem wrap. The reactive rear footbrake and graphic adorned anti-slip footplate make this a really safe option for older riders.
This scooter comes ready to ride so no need to waste any time putting it together, just jump on and go find those rainbows!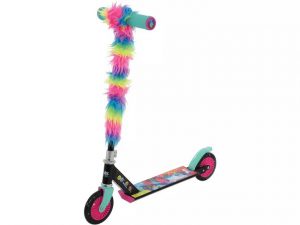 Batman Bike Helmet
While on your scooting and biking adventures, why not protect yourself with the cool Batman Kids Bike Helmet which has adjustable straps and a ventilated, lightweight shell. Scooting or biking, this helmet is the perfect companion.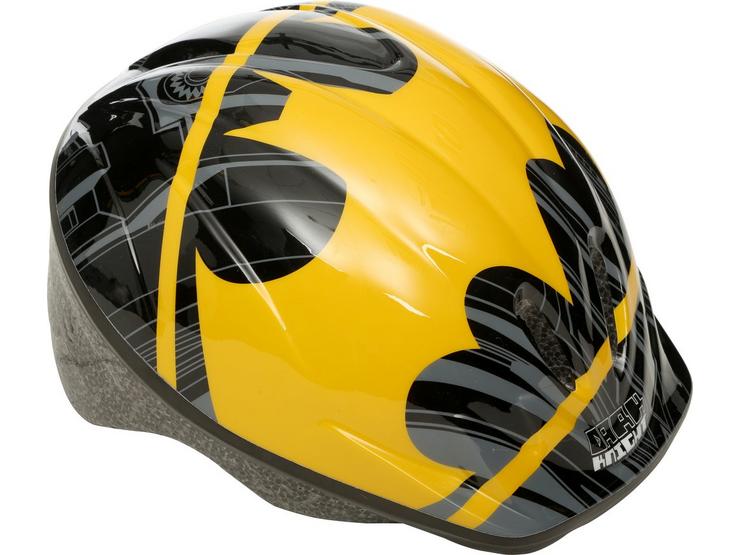 Frozen 2 My First Tri Scooter – ages 3+
If your little one still prefers the stability of three wheels then there's no better way to get around for any little Snow Queen than the Frozen 2 My First Tri Scooter. Suitable for ages 3+, this scooter has been completely Frozen-ed with the familiar blue and white colour scheme, including Anna and Elsa graphics on the anti-slip footplate. There are wide puncture-proof tyres that have deep tread to help with grip and stability, whilst the forks and rear axles are protected to help prevent injury.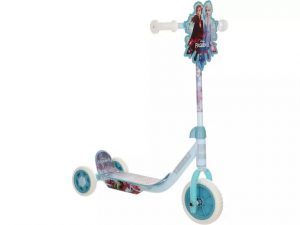 Spiderman Folding Inline Scooter
Ready for an upgrade? Then the Spiderman Folding Inline Scooter is the perfect choice for older superhero fans. Complete with PVC wheels, a cool web design on the stem, and colour-printed anti-slip grip tape, it folds and unfolds easily making it ideal for traveling with and storing. And you'll be relieved to hear that no assembly is required!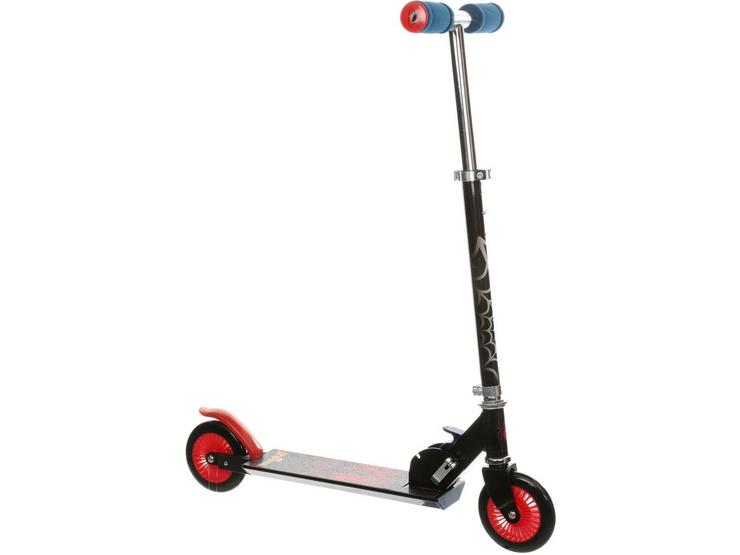 And the award goes to…
Buzz Lightyear Kids Bike 12" Wheel – 3-5 years
Although we have a wide variety of fantastic movie-themed bikes and scooters, we think one, in particular, deserves a special mention. If you just can't get enough of Buzz Lightyear, then you can take him everywhere on the stunning Toy Story 4 Buzz Lightyear 12″ Bike complete with character graphics. 
The 12" puncture proof tyres provide lots of stability for little ones whilst out exploring strange planets and the stabilisers are also removable as your mini-Buzz grows in confidence. Adjust the handlebars and seat as they grow in height too!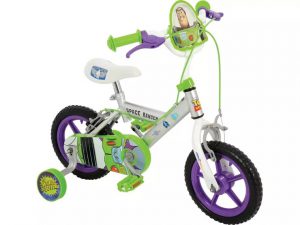 And that concludes our best character kids bikes, scooters, and accessories – all now appearing in a Halfords store near you. You can check out all our Hollywood stars in our cycling range online.
Remember, if you want the best kids' bikes, you want Halfords!