There's nothing more exciting than getting a new bike as a child. It's the perfect opportunity to head out on adventures and turn a few heads on the school run.
However, kids need to stay safe and look cool while riding too, and that's why any new wheels need to be paired with the best cycling accessories.
Luckily, our new range of kids' accessories has it all. From safety essentials for that first-time rider to must-haves for a cool look, we've got you covered. Let's take a look at the new range.
Junior bike helmets
Bike helmets are essential for safety. However, kids are often more concerned with a cool look than protecting themselves. Luckily, you can combine both looks and safety with the Halfords Junior Skate Helmet.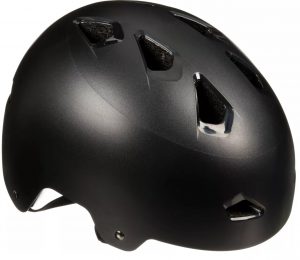 With its stylish design, there'll be no arguments about wearing this cool number. It comes with a durable hard shell for added protection, 10 vents to keep energetic heads cool, and is at home on any skate park.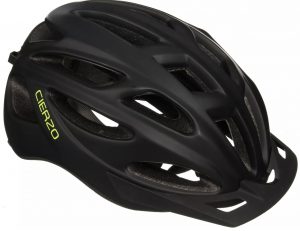 Another great option is the Halfords Junior Cierzo Helmet. Its slick, lightweight design is complimented by an easy-to-use adjustment system that allows you to get the perfect fit with the turn of a dial.
Junior clothing accessories
It's not just helmets that keep kids safe on rides. Our new range also includes a wide range of gloves that will boost comfort and safety.
A great example, the Halfords Junior Touchscreen Gloves have a fleece lining to keep hands warm while hollow fibre technology also makes them breathable. The gloves also come with silicone grips for additional control on the bike.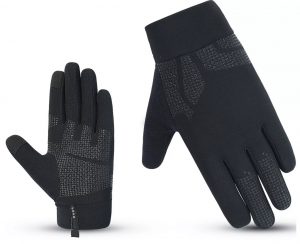 For mountain or BMX riders, you'll want gloves with additional protection – after all, tumbles are more likely when showing off new skills. That's why the Junior BMX gloves come with armoured knuckles for additional protection against knocks.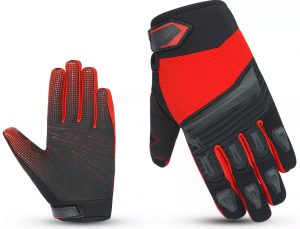 Of course, wearing full gloves on sunny days can be uncomfortable, which is why mitts can also be a great option. A pair like the Black and Grey Junior Mitts increase airflow for added comfort in hot weather. However, they also benefit from anti-slip, silicone material ensuring riders will keep a strong grip on the bars.
Bells and bags
Our new junior range doesn't stop there, and there are lots of other essentials to choose from.
For a start, why not add a bell? The Black and Grey Lines Large Bell and Turquoise Geo Large Bell will both let people know your kid is coming through. With ergonomic thumb levers, they're both easy to operate and are stylish options.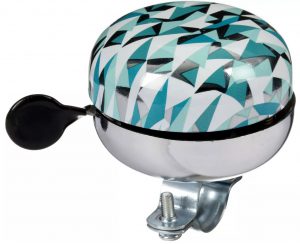 While some rides are only short trips around the park, others are full-blown adventures. On those longer trips, it's important to keep energy levels topped up, and they'll be able to carry all the food they need in the Halfords Insulated Junior Lunch Bag. Also great for the school run, its insulated inner material keeps food fresh, and it even comes with a water bottle too.
Colour-coordinated accessories
That's the bigger kids taken care of, but what about the younger ones? For those aged 3-8, we've created a new range of co-ordinating accessories, all in fun and colourful designs.
Starting with our pink terrazzo range. Adding style to any bike, your little one will look cool and impress their friends with the Pink Terrazzo Bell, Pink Terrazzo Mitts and Pink Terrazzo Insulated Lunch Box.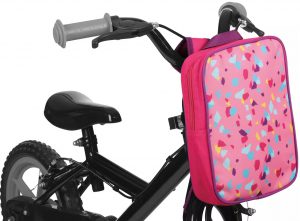 Perfect for the school run or adventures, each features a stylish pink design, and you can be sure your little one will love their co-ordinated new look.
Why not check out our blue camo range too? Like the terrazzo range, there's a Blue Camo Bell, Blue Camo Mitts and a Blue Camo Insulated Lunch Bag all available.
Kids' bike helmets
And, as we all know, a helmet is a must! We have a wide range of helmets in various styles, so there's sure to be one your little one will love.
Designed for skate parks and scooters, the new Halfords Skate Helmet is one of our favourites. With a hard shell made from tough ABS, it gives plenty of protection from falls, including enhanced protection for the back of the head. It's also available in two colours, either blue or aqua.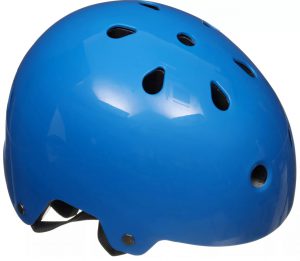 Naturally, skate helmets need to be robust with all those tricks going on. However, we also have a wider range of lightweight kids' bike helmets in shapes and styles to suit any taste  over at Halfords.com.
Learning to ride
Accessories aren't only about comfort, safety, and style. There are also must-have accessories for first-time riders to help during those first pedal strokes.
Starting with stabilisers. The Halfords Kids Bike Stabilisers give little ones extra support while they master the art of pedalling and steering.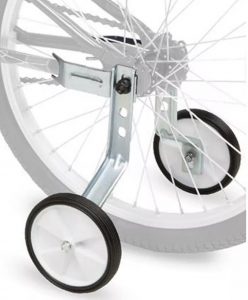 You can find lots more accessories for first-time riders over at Halfords.com.
---
There you have it, our new range of kids' cycling accessories. With a wide range of styles and options for every age group, there's a little something for everyone.
If you want to check out more kids' cycling accessories, head over to Halfords.com.