The Easter holidays are great – a chance to spend time with the kids, enjoy the (hopefully) warmer weather and eat lots of chocolate.
If you're feeling a little guilty about the mountain of Easter eggs building up, don't worry! Easter is a great time to head out on two wheels and enjoy some family cycling adventures, or even embark on a solo challenge.
To help you prepare for your Easter bike rides, we've pulled together a list of essential accessories for all the family.
Clothing
The correct layers for the weather
Clothing may seem like a basic one, but you'd be surprised how easy it is to get caught out by the British weather. And with temperatures fluctuating throughout the Easter period, it's always best to be prepared!
So, be sure to check the weather forecast and plan ahead. If there's rain forecast, you'll want to pack a waterproof jacket, while a windproof jacket can be a good option for blustery days. And if it's going to be chilly, don't forget base layers and gloves or mitts. Gloves are a must for cold days as you don't want to be grasping for brake levers with numb hands. For milder days, fingerless mitts are a great option as they will help keep hands cool, and the padding will help reduce vibrations for a comfier ride.
Helmets
Everyone knows how important a helmet is – so don't head out on an Easter ride without one.
If you're worried a helmet may cramp your style, we've got you covered. Here at Halfords, we have a wide range of helmets in a variety of colours and styles, so there's the perfect option for everyone. A good all-rounder that wouldn't be out of place in the park, on a trail, or on a commute, the Lazer Compact DLX MIPS Helmet features a rear-mounted LED light for added safety and benefits from MIPs safety technology – so you can enjoy your ride with that added peace of mind that you're well protected.
For the little ones, we've got all the gear to get them excited to ride this Easter. So, if you've got a particularly fashionable youngster, then the Halfords Kids Blue Camo Helmet should be right up their street, with matching mitts and a bike bell to complete the look. Or, if pink's more their thing, the Halfords Kids Pink Leisure Helmet should have them safely and stylishly back on two wheels in no time.
Family bike rides
Child seats and trailers
Even if you have young children who aren't big enough to ride their own bike, they can still join you on your Easter cycling adventures.
One of the easiest ways to do this is with a child bike seat like the Bobike Exclusive Tour seat. The seat comes with increased head protection and is double-walled for extra safety. It also has a unique seatbelt design that will keep your child in an upright position for added comfort – making it a great choice for longer bike rides.
If you have a couple of little ones to carry with you, the Halfords Advanced Double Bike Trailer is a great choice. Ideal for families, it has both bug and rain screens to keep your kids protected from the perils of a British spring. It gives you ultimate versatility on your adventures since you can use it as both a stroller and a trailer, and the ultra-comfortable cushioned cabin is sure to keep your little ones happy all day long.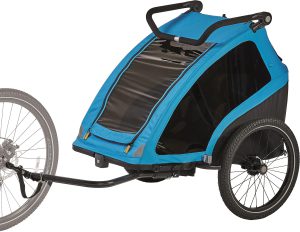 Ride essentials
Bike locks
There's nothing worse than returning to where you left your bike only to find it's gone. That's why you should always protect your bikes with secure locks.
Here at Halfords, we have a wide range for both adults' and kids' bikes. The main thing to look out for when buying a lock is the security rating. This indicates how secure the lock is and all locks sold through Halfords have either a standard or Sold Secure rating. You can discover more about lock ratings here.
Cycling GPS computers
If you're venturing out on a solo challenge or are leading your family on a new adventure, it's always best to have turn-by-turn navigation to hand.
The easiest way to do this is with a cycling GPS computer. The Garmin Edge 530 Cycling Computer is a great choice as it features a full-colour display that's easy to read in both sunlight or low-light conditions – so there can be no excuses if you get lost!
The Edge 530 comes preloaded with Garmin Cycle Maps so you can view the surrounding roads and trails both on and off your route, meaning a spontaneous mid-route adventure is always a good idea! Plus, if you fancy exploring some new terrain, you can use the Trendline function to find on and off-road routes that are popular with other Garmin users in your local area.
As well as the great navigation features, the Edge 530 can also show you real-time cycling performance data if you want to up the intensity of your family rides. You'll be able to view your performance metrics on-screen throughout your ride, so you can keep track of things like your heart rate, speed and cadence.
When your ride comes to an end, you can analyse your performance data like a pro with insights like recovery times, so you can ensure you're fully rested before you all get back in the saddle again. Plus, if you're the competitive type, you can share your ride data with friends and family, giving you all the bragging rights on your next outing!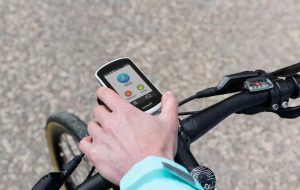 Bike maintenance
Cleaning
If you've been riding throughout winter, your bike may need a bit of TLC before it ventures out on Easter rides – so give it a good clean!
Cleaning your bike won't just make it look better, it'll help it operate more smoothly and will reduce the chance of mechanical issues. Don't forget to clean every corner – muck and dirt get everywhere! Once you've finished, apply lube to your chain. There's also a good chance you'll need to apply grease to your wheel and headset bearings plus your bottom bracket.
If you're not sure how to do this, don't worry! Here at Halfords, we offer a range of bike services and can help get your bikes back in tip-top condition. You can explore our range of bike services here.
We also offer a free bike health check, a 32-point pre-repair assessment check available on every type of bike, from kids to adults and any size or discipline, to get you back on two wheels as soon as possible.
Multi-tools
Always be prepared! Whether it happens to your bike or your child's bike, a mechanical fault can soon put a halt to your two-wheeled fun if you're not prepared – so always carry a multi-tool.
The Halfords 8 Function Multi Tool is a compact choice that can easily fit in a pocket and has everything you'll need to fix any minor issues you may encounter.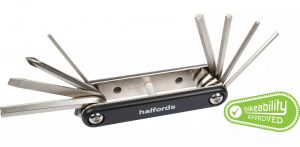 Pumps
Every cyclist will pick up a puncture at some point, and many of us have experienced that sinking feeling of realising you haven't got the equipment to fix it. A hand pump is a good option as it will easily fit into a bag, and some are even compact enough to fit into a pocket.
It's also worth having a floor pump at home as these can inflate your tyres quicker and most have accurate gauges to measure the tyre pressure.
Added puncture protection
Why not add extra puncture protection so you don't need to worry about a deflated tyre ruining your Easter rides?
Slime inner tubes are a great option. They contain a slime that is specially designed to plug holes up to 3mm deep, helping to prevent punctures. You can also buy the slime separately and insert it into your tyres yourself. With slime technology on your side, you'll have that added peace of mind ready for your Easter rides.
---
That completes our list of useful accessories for your Easter bike rides. Now all that's left to do is plan your routes. If you're in need of inspiration, head over to our Discovery Hub where you'll find rides for families, mountain bikers, roadies, plus many more. For lots more cycling accessories, visit Halfords.com.
You want unforgettable Easter bike rides, you want Halfords!