If your annual MOT reminders have started popping up, then you're likely wondering if there's anything you can do to help your car pass first time. Failing an MOT means you won't be able to drive your car until it passes, and repairs can be costly, so it's worth taking the extra time to care for your car beforehand.
So, to make sure you drive away on the same day, we've compiled a list of easy checks you can do before your test.
Cleaning
While cleanliness isn't something that's strictly checked on an MOT, first impressions count, so we'd always recommend giving your vehicle a thorough clean inside and out before your test.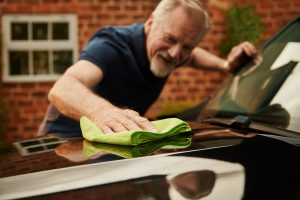 Besides, this time spent looking around the exterior and interior of your car may well alert you to other problems you hadn't noticed before that would cause an issue during your test, allowing you to treat them.
Handbrake
You use your handbrake every time you get in the car, so it should be quite clear whether it's working as it should. However, there are a few signs that indicate that the handbrake is nearing the end of its life.
With your foot on the brake, test your handbrake by lifting it on and off a few times – if travels too far, or clicks more than 3 or 4 times, then the cable may need adjusting so get this checked out in advance.
Brakes
You should be checking your brake fluid regularly, and before your MOT is no different! Most manufacturers recommend changing your brake fluid every 24 months or 24,000 miles, whichever is sooner. The brake fluid reservoir can be found under your bonnet – while you're there, be sure to check your other fluid levels too.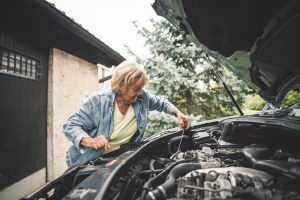 To check your brakes' performance, press the pedal a few times and pay attention to how it feels. The pedal should feel firm and return to its original position as soon as you release your foot. If it feels loose or soft, then it'll need immediate attention.
The most likely cause is air in the hydraulic system which prevents the brake fluid from flowing properly. To solve this, you just need to bleed your brake system and refill the fluid. If you don't fancy doing it yourself, let us do it instead! We'll drain, refill, and safely dispose of the old fluid in an environmentally friendly way.
Windscreen & Mirrors
A clear view of the road ahead is vital for the safety of both you and other road users, so any chips or cracks in the windscreen within your driving view could cost you a pass.
If there is any damage, you'll need to get it fixed ahead of time. Any chips that have developed into cracks, or chips larger than 25mm (about the size of a £2 coin) aren't repairable with resin, and you'll likely need the whole windscreen replaced.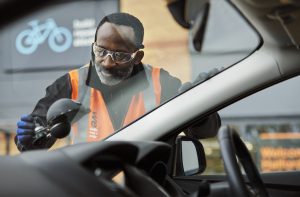 If you have a chip smaller than a £2 coin, our Windscreen Chip Repair Service is here to help. It takes just 30 minutes, and 2e can do the job for you at one of our stores. Or if you prefer, one of our Halfords Mobile Experts can come to you and carry out the repair right on your drive.
Just like your windscreen, your mirrors will also need to be in good condition and allow you to see clearly, so make sure they're well-maintained. Your tester will check that both wing mirrors and your rear-view mirror are adjustable and fixed securely in place.
Lights
Whether it's your headlights, sidelights, brake lights, fog lights, registration plate lights, or indicators, the lights on your car are essential for keeping you visible and alerting other road users to your presence.  Even though a bulb is quick and easy to replace, it's a common MOT failing so make sure to double-check all your lights and save yourself some hassle.
All of your lights need to be fully functioning during your test so be sure to check them all beforehand. This is easier to do with another person – while one of you sits in the car and turns on each light one by one, have the other circle the car to check that they're working.
If you can't get help from anyone else, you can check your brake lights on your own by reversing up to a reflective surface, like a window, and checking them in your rearview mirror. Other lights can easily be checked by walking around the car with the lights turned on.
It's also worth noting that many modern cars will alert you via a warning light on the dashboard if an exterior light isn't functional.
Tyres
Your tyres are a vital part of your car, and your MOT tester will pay them significant attention to make sure that your vehicle is safe to drive. Check each tyre for signs of damage – this could be anything from a scuff or general wear to a nail or piece of metal that's nestled its way in. If they look okay, check your tread using a depth gauge, making sure they're above the minimum legal depth of 1.6mm.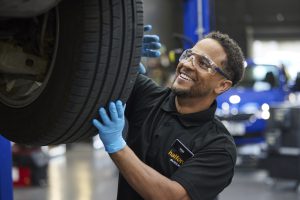 If you're not sure, book a Free Tyre Check at your local Halfords garage – one of our expert technicians will carry out a pressure check, asses the tread depth, and check for any wear and damage to ensure your tyres are safe and legal, all at no cost.
If the tyre inspection shows up any problems, we'll offer advice on what can be done to correct the issue.
Seatbelts & Seats
Your seatbelts should click in place and return to the holder easily when not in use. If they fail to return or don't stay locked in place when you tug on the belt, then they may be faulty and could cause you to fail your MOT. Get them looked at immediately to make sure you're safe whilst driving. If any of your car's seatbelts have been removed, then your car will automatically fail.
As for your seats, they should be fully locked in place and upright, as well as the headrests. If they're stuck in place or the headrests aren't secure, then this may also lead to a fail.
Final checks
Nearly there! Top up your windscreen wash and check that your wipers aren't smearing – if they are, you may need to clean or replace them. Finally, give the horn a blast to make sure it's sounding properly, and check that your number plates aren't cracked, as these can both cause you to fail.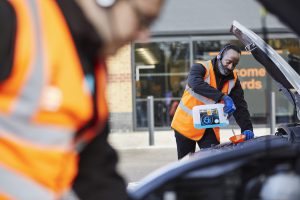 The Halfords Motoring Club
Our final MOT must-have gives you access to a range of amazing benefits and discounts that are designed to keep you moving, keep you safe and keep you saving.
It's free to join and you'll receive money off your MOT, a free car health check and a welcome voucher that can be spent on any Halfords product or service.
Or choose our Premium membership for a small monthly fee (or a one-off payment) to unlock exclusive member pricing on all motoring products and services online and across our stores, garages and Halfords Mobile Experts, as well as a variety of other benefits that will help you to keep moving for less.
With so much to enjoy, this is too good an opportunity to miss!
Join the Halfords Motoring Club today at www.halfords.com/motoring-club.
---
Spending a little time giving your car a good once-over before your MOT can often make a huge difference, so it's definitely worth doing! For more information about our MOTs, check out our MOT FAQs where we've answered a whole range of common testing queries.