While we're staying at home, we can start to notice all the little jobs that need doing, areas that need tidying up and things that (finally) need putting away. Apart from the fact that you don't want to be tripping over your bike (and the rest of the family's) every five minutes, finding the best way to store your bike is really important for these reasons:
Providing security – having a storage solution that can secure your bike to the floor or wall when it's not in use will keep your bike safe and protected from any opportunist thieves in the neighbourhood.
Protecting against damage – storing your bike out of the way of other things in the garage or shed stops it from getting knocked about and costing you money in repairs!
Avoiding flat tyres – if you're not using your bike regularly, getting it off the floor helps to prevent misshapen/damaged tyres from sitting too long under the weight of the bike.
Here are some of our suggestions for how you can store your bike depending on the space you've got.
Floor storage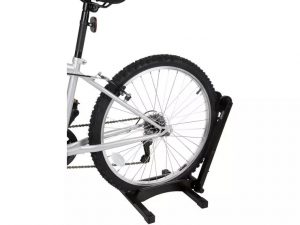 Floor stands are popular options as they can go anywhere with little to no fitting required. The Bikehut Universal Bike Stand is a really simple and easy-to-use option to store your bike. And if at any point you're not using it, it folds and stores away flat. It has a guide wheel to allow you to adjust for different bike sizes and works as a modular system so you can connect more stands to store multiple bikes.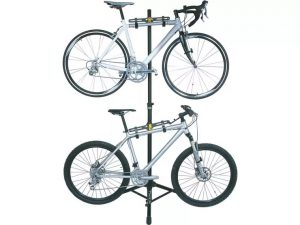 If you're looking for something that has more of a display function to it, then the Topeak Two Up Bike Stand is a nice way to show off your pride and joy. It's also really helpful when you've got some small maintenance jobs to do as you're not having to crouch down. Make sure you've got the room for this stand though, as it does take up a little extra space.
Bolt a Mottez 3 Bike Floor Rack to the ground of your shed or garage and you've got a really secure system that locks the rack in place. Just push your tyre in to the channel and you're done. They come in a variety of shapes and sizes depending on what bikes you've got, but do suit bikes with wider tyres like mountain or hybrid.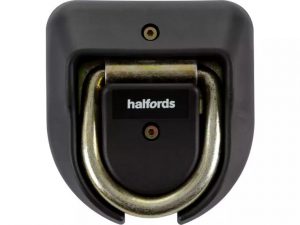 If space isn't so much of an issue then the Halfords Advanced Ground Anchor is an ideal way to ensure your bike is totally secure. Fix the heavy-duty anchor to the ground with the four masonry screws and lock your bike to it with a chain or D-lock. The shackle ring folds flat when you're not using it so it's not a hazard to anyone else. This anchor also comes with a Gold Sold Secure rating, which your insurance company should be happy about. Check your policy for more details.
Storing on the wall
If every inch of floor space is spoken for then you might want to consider storing your bike on the wall. It's a great option if you've got limited space and keeps the bike well out of the way. You've also got the choice to store using the frame, wheels or the pedals depending on what's easier for you.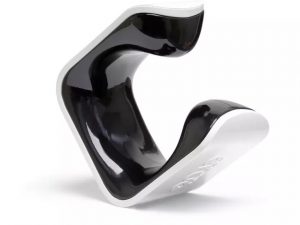 Check out Clug's MTB Bike Storage solution, which cleverly grips the front wheel to the wall and leaves the back wheel touching the floor. It's one of the easiest ways to get your bike up on to the wall.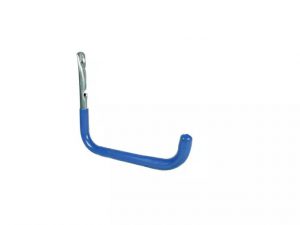 Staying with the uncomplicated, the Mottez Wall Bike Storage Hook is a really simple way to store one or more bikes, sideways by the wheel or frame. The hooks are rubber-coated so your bike is protected and they come in all shapes and sizes depending on what model you've got.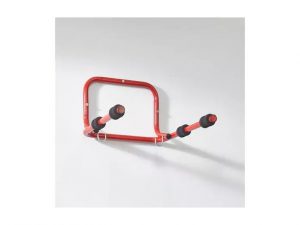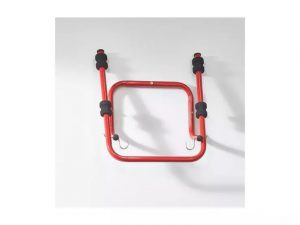 The Mottez Folding 2 Cycle Wall Rack gives you the option to fold it flat to the wall when you're not using it, saving more space if you need to do other things around the garage. It's also really helpful when you're doing repairs or cleaning your bike. And it's suitable for all bikes!
Making the most of your ceiling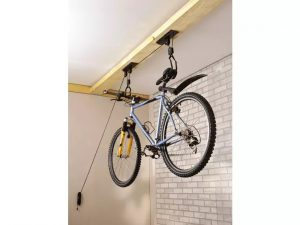 It's not always the most obvious choice, but with the right kit you can free up valuable floor and wall space. You can easily hoist your bike up and down from the ceiling with the Mottez Bike Lift Pulley System, which allows you to lift your bike up to whatever height you like whether you're cleaning and repairing or simply storing it out of the way. It also has an automatic locking feature so you know it's nice and secure.
There's a lot we can't control right now, but organising the garage is one thing we can. Whatever you go for, enjoy your new space-saving solution.