Advances in bike technology and competition in the marketplace mean you can now pick up the perfect mile-munching road bike for less than a grand. Think aerodynamic frames, skinny tyres, fast and fun rides through the city and countryside and you'll get the idea. Riding a road bike isn't just a huge amount of fun, it's the perfect form of low-impact exercise for burning fat and losing weight.
In this round-up of the best budget road bikes, we look at the best road bikes for men, women and kids. If you're considering investing in a new road bike, this is the perfect place to start. 
What is a budget road bike? 
There are road bikes available for every budget. You can pick up an entry-level road bike for a few hundred pounds, or spend up to £10,000 on a performance road bike that's able to tackle the Tour de France. While you can spend thousands, today you don't need to.
A great place to start your search for a new bicycle is to read our simple and straightforward road bike buyers guide. It's packed full of information to help you understand what all the different parts of your road bike are and to give you the confidence to choose.
We define a budget road-bike as being less than £1,000, but advances in bike technology and healthy competition in the market mean you don't need to spend that much, as the examples in this blog demonstrate.
At £1,000 and under, your road bike is likely to have a hard-wearing aluminium, steel or alloy frame. You'll get a high-quality groupset from a recognised brand such as Shimano and SRAM, mid-range wheels and basic kit. Stopping power will be provided by traditional caliper brakes or more advanced disc brakes.
The ideal budget road bike should provide many years of reliable riding if it's cared for and maintained. If you're inspired to ride, you can also upgrade the components on your bike, reducing its weight and improving performance.
When selecting your ideal road bike, don't forget to budget for the essential accessories you might need. A helmet, a set of lights and a lock are all crucial. You may also want to swap the pedals for clip-in pedals and add-ons, such as a rear rack if you're commuting.
What size road bike do I need?
Before we get into our round-up of the best budget road bikes, here's a word on bike sizing. It's essential that you select the right sized frame, or you could find road riding uncomfortable and even painful.
Our road bike size guide contains useful information on how to select the correct size frame. Follow the guidance before choosing a frame size. When you collect your bike from your local Halfords, a member of staff will ensure that the bike is the correct size for you before you ride off.
Best men's budget road bikes
Apollo Paradox
The Apollo Paradox boasts a lightweight alloy frame, 14-speed Shimano gearing, performance caliper brakes and race-ready Kenda tyres, all for a budget-busting £200. Yes, that's right – just £200.
The bike has a striking flamed red finish and is a great choice if you're looking for a cheap way to enjoy the pleasures of road riding.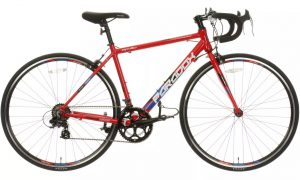 Boardman SLR 8.8 Mens Road Bike 2021
The Boardman SLR 8.8 is the latest in a long line of exceptional quality budget road bikes from Boardman. The 2021 model comes with high-performance 11-32T Tiagra gearing, precise Tektro disc brakes and puncture-resistant Vittoria Rubbino tyres. 
The lightweight alloy frame is finished in a contemporary silver paint job, with smooth welds giving it a high-quality, modern finish. It's remarkable value from a brand you can trust.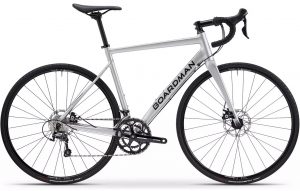 Voodoo Nakisi Mens Adventure Bike
Voodoo may be more famous for their marvellous mountain bikes, but the superbly specced Voodoo Nakisi Mens Adventure Bike shows what the brand can do on the road.
Shimano Sora gears and Tektro disc brakes are mounted to a rugged alloy frame that's designed for ride-anywhere tackle-anything routes. You've got mounts for mudguards and a rear rack for touring too.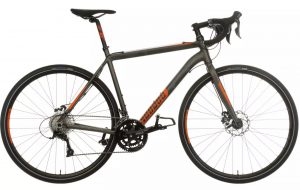 Carrera Vanquish Road Bike
Carrera is famous for its range of low-price, high-quality road bikes and mountain bikes, and they've come up trumps again with the Vanquish. 
An alloy frame with a bump-busting carbon fork provides the basis for this bike. It's finished with disc brakes and a Shimano Claris groupset, and topped off with puncture-resistant 28c tyres. 
Like all Carrera bikes, it comes fitted with a super-comfortable memory-foam saddle. It's built to last for the road ahead.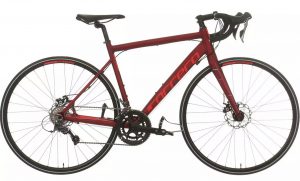 Best women's budget road bikes
Boardman SLR 8.9
A £1,000 road bike with a full carbon frame and 105 gears, how is that possible? Don't ask us, but Boardman has managed it with the SLR 8.9c. A stunning frame finish, performance gears and powerful Tektro R315 brakes finish off this incredible bike.
This serious road machine is capable of tackling epic climbs and daring descents. Whether you're training, racing or riding for pleasure, the Boardman SLR 8.9 c will take you further and faster than you've ever been before.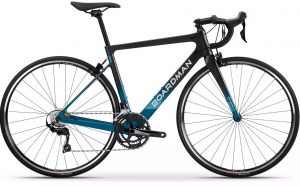 Carrera Zelos 
The Carrera Zelos is built around a lightweight alloy frame with a lifetime guarantee. Running gear is provided by Shimano, with its efficient Tourney gears. Mechanical disc brakes provide the stopping power, and a memory foam saddle provides the comfort.
At just £300, it's the ideal introduction to road riding, and the bike comes fully-assembled from Halfords.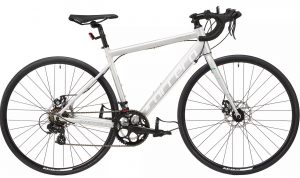 Carrera Virtuoso
The Carrera Virtuoso will have you singing its praises from the moment you mount it. The beautiful blue bike features 16-speed Shimano Claris gears, an alloy frame and an aerodynamic bladed fork for precision steering and weight reduction.
The mechanical disc brakes function flawlessly, and the 28c puncture-resistant tyres give you peace of mind on your training ride or commute.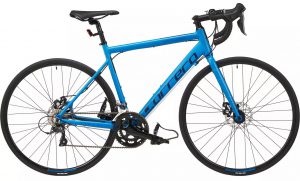 Best children's budget road bikes
Wiggins Rouen ADV Junior Road Bike
The Wiggins Rouen ADV Junior Road Bike comes approved by Sir Bradley Wiggins, arguably the most famous and talented British rider of his generation, so you know it's good. This affordable road machine comes with Shimano Claris gears, Tektro brakes and Wiggins' signature curved fork. A mod-inspired frame finish rounds off a highly impressive pedalling package. 
The bike is designed for younger riders (aged 9 – 12) with the purpose-built components ideal for developing cyclists. It even comes with a spare set of 700c VEE-Rubber cyclocross tyres too. The perfect road ride for the wannabe Wiggins!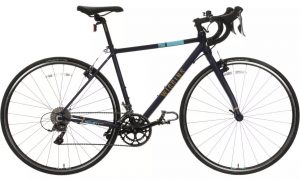 How to care for your road bike
Whatever bike you choose to buy, you'll need to regularly clean and maintain it. We advise that you check the essential components of your bike before every ride and have created this checklist for you to follow.
If you're clocking up the miles, you should keep your bike serviced. Our video on how to service your bike is a great place to start and covers all the service essentials that you'll need to complete. You can find all the service spares and bike tools you need for the job at Halfords.
If you prefer an easy life (or just don't want to get your hands greasy and grimy), we can service your bike for you. We offer three levels of bike service: bronze, silver and gold. Learn more about our service and repairs by visiting our bike repairs hub.
If you've got a problem with your bike that needs fixing, book a free bike health check, and one of our cycle doctors will provide a diagnosis. They can talk you through the costs of fixing your bike and even book it in for you.
Buying a budget road bike from Halfords
At Halfords, we stock bikes for all budgets from a range of leading bicycle builders such as Apollo, Boardman, Carrera, Raleigh and Voodoo. All bikes over £250 get a free bike build from one of our expert technicians, so you can be confident it'll deliver perfect performance on the road.
Find your nearest Halfords, or shop the range online.