Locks, helmets, fitness trackers, water bottles… there are lots of cycling accessories to choose from. So how do you work out which ones are worth your time and money?
Well, we've checked in with our customers and pulled together the products that you've rated to the top of the five-star tree. Enjoy!
BEST D-LOCK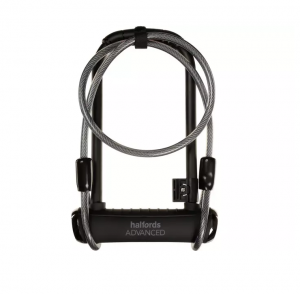 When you've invested in a bike, you want to protect that investment by keeping it safe. The Halfords Advanced 23cm D-Lock is our first 10/10 rated lock and a winner when it comes to protection. The hardened steel casing protects against drill attacks, while the anti-pick locking mechanisms and ultra-hardened steel shackle fight against picking, prying, jacking and cutting attacks.
The lock also features a 120cm cable, which is ideal for securing your accessories and quick release wheels. And a Gold Sold Secure rating is the cherry on top of the D-lock shaped cake.
What our customers are saying:
The lock lives up to its rating! It's strong and feels secure, with a great extension cable. I feel safe leaving my bike when I'm out.

(TaRaRa)
BEST CABLE BIKE LOCK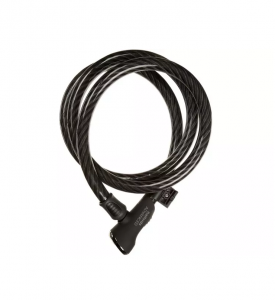 Another popular option when it comes to bike locks is the Halfords Advanced Chunky Cable. Measuring 185cm in length, you get all of the convenience of a standard cable lock, but with added security courtesy of a 20mm steel core.
The lock also comes with a double-bolt locking mechanism, an anti-pick lock and a hardened steel lock case to fight against drill attacks. Throw in a lifetime warranty against manufacturer's fault and it's easy to see why this lock's on our list.
What our customers are saying:
This cable is a good product, strong with a long length. Plenty of keys is a bonus. Well worth the price!

(CTay)
BEST FITNESS TRACKER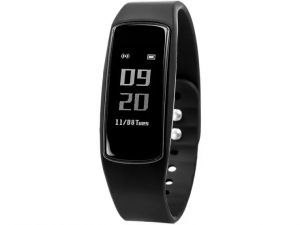 Fitness trackers are a great way to keep an eye on your progress and they don't come much more compact than the Nuband Flash HR Fitness Tracker. This slim black device straps to your wrist and brings with it a multitude of features. You can track your steps, distance, calories and activity time. You can also make voice calls, text, use WhatsApp and receive social media alerts.
The bright OLED touch screen makes browsing through the features smooth and easy, while the fitness tracker teams with a free app that's available for Apple and Android systems.
What our customers are saying:
Amazing piece of kit at a very reasonable price. Does everything it says it will. User-friendly with reliable reports and certainly helps you stay health conscious. Excellent app that goes with it. Quick to charge and light to wear.

(Kryorky)
BEST HELMET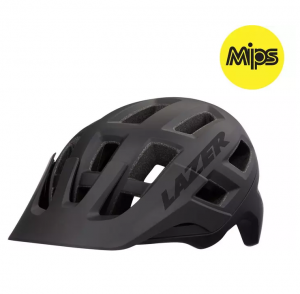 Keep your head safe with the Lazer Coyote MIPS Helmet, which combines style with high performance. The Turnfit Plus system provides for an excellent fit and great adjustability, while the deep rear coverage gives you increased protection.
The Lazer Coyote also includes the Multi-directional Impact Protection System (MIPS). This unique system outfits the helmet with a low friction layer that reduces rotational forces in case of a crash. With so much to offer, the Lazer Coyote MIPS Helmet is a worthy addition to any cyclist's accessory collection.
What our customers are saying:
A really good, comfortable and secure fit. It's lightweight and I have absolutely no problems wearing it. Great circulation too. Highly recommended!

(Francine_G)
BEST WATER BOTTLE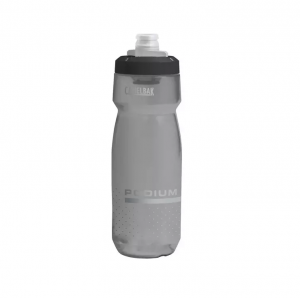 When you've only got a finite supply of water on a ride, you want to make every drop count. Which means a high-quality water bottle like the Camelback Podium Water Bottle is a must-have. This bottle has been designed to fit in a variety of bottle cages and includes Trutaste with Hydroguard to ensure that all you taste when you drink is water.
The clever self-sealing cap maximises the water flow rate while eliminating annoying spills. It also disassembles for easy cleaning, making it a breeze to use your bottle again and again and again. At just over £10.00, you get more than your money's worth with the Camelback Podium water bottle.
What our customers are saying:
The best cycling water bottle money can buy. It's all about the high flow of water and the self-sealing cap.

(SamW72)
BEST REAR LIGHT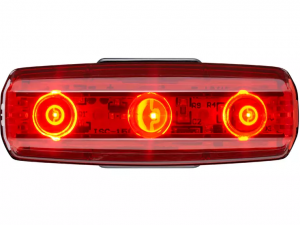 The Cateye Rapid Micro Re-chargeable Rear Light is everything you need in a rear bike light. It's supersonically welded for maximum weather resistance, comes with a versatile rubber band mounting system for seat posts, features a battery auto save mode and converts to flashing mode for night use.
The recharge time is two hours and that'll give you three hours of constant use or five hours of rapid use. Perfect for everything outside of the Tour de France!
What our customers are saying:
I'm a long-term fan of Cateye lights. Firstly, the mount system is reliable. I've lost so many rear lights due to unreliable mounts, but never with Cateye. This light has the 'rubber band' fixing, but also has Cateye's standard mount. So it's easy to clip in and out, and there are loads of mount options available from Cateye.

Secondly, Cateye lights seem to withstand water ingress better than other lights. And finally, this is a really small, bright light with USB charging.

I really can't find anything not to like. You might find brighter and cheaper, but you'll be hard pushed to find better.

(ICantReuseMyNickname)
BEST BACKPACK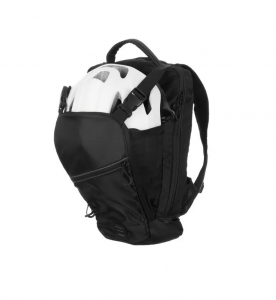 If you're looking for a backpack to wear while you're cycling (and to carry your accessories) then look no further than the Halfords Explorer Backpack. This 10 Litre backpack consists of one main compartment, two zipped compartments and a helmet-carrying compartment. It's lightweight and has strategically placed mesh padding to enhance airflow and keep you cool and comfortable. It's also compatible with a hydration bladder. All in all, it's a great little option if you're looking to get the most for your money.
What our customers are saying:
I am very impressed with this backpack. I bought it for mountain biking and it's as good, if not better, than some of the more expensive backpacks. It has plenty of pockets, it's waterproof and it has adjustable straps so you can get a snug fit and ensure that it stays in place when riding.

(Georgie P 3)
BEST BIKE PUMP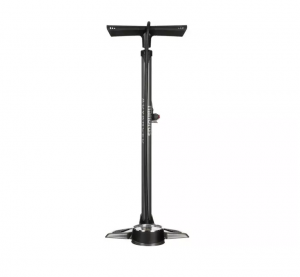 Keep your tyres pumped and your bike moving with the Halfords Advanced Track Pump. Capable of reaching 160 psi, this pump boasts an easy-to-read pressure gauge, a flexible hose with air bleeder and – best of all – interchangeable valve heads. All of which lets you hone your tyre pressures with complete accuracy, making this a perfect choice for leisure, mountain and road biking.
What our customers are saying:
For the price, this is an extremely well-made piece of kit. It's made from sturdy metal all round and features an easy to read/accurate pressure gauge. Overall, I highly recommend this piece of kit for anyone looking for a high quality pump at a good price.

(Krick)
BEST PORTABLE BIKE PUMP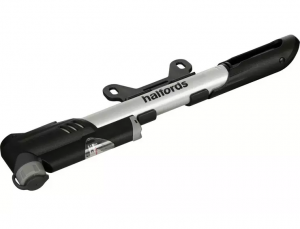 When portability is your main requirement, the Halfords Dual Action Bike Pump jumps to the top of the pile. This compact mini pump can inflate a tyre up to 85 psi, inflates on the inward and outward pumping movement, and auto adjusts to both Schrader and Presta valves. It also comes with a bike fitting bracket, so you don't even need to make any space in your bag to carry it. Perfect!
What our customers are saying:
I bought this product a few weeks ago and it has been a great buy. Our bikes have different valves and therefore this is perfect for our needs. A recent puncture put it to the test, and it was very easy to use and did a great job. Good value for money!

(Derek1985)
Hopefully that's given you some inspiration and a few items to add to your arsenal of cycling accessories. For any accessories we haven't covered here, just pop over to Halfords.com and you're sure to find a product to meet your needs.
Next time you're out and about on a ride, take a couple of snaps and share them with us using #ReadyFor on Instagram and Twitter @Halfords_UK.
Halfords is here to get you where you want to be.