We all dream of being a cycling champion, riding away from our opposition on steep alpine climbs as the baying crowds roar us on, before pulling on the iconic yellow jersey.
While winning a professional cycling race isn't a possibility for most of us, that doesn't mean you can't ride like a champion. Lots of the technology and accessories used by the pros is available to us average-ability folk, and they can make a big difference to your ride.
We're not suggesting you'll suddenly be averaging over 40kph or etching your name into cycling folklore, but you'll look and feel like a pro. Here are our top picks.
Selle Italia saddles
"A saddle?", we hear you cry. "That's not going to get me riding like a pro."
Well, you'd be surprised!
They may not be an integral part of pedalling or the bike's movement, but a comfortable saddle is just as important as any other component on your bike. Not only will it protect against a soar rear end (something any cyclist will appreciate!), but you'll find riding in an aero position much more comfortable too.
And when it comes to high-quality saddles, few brands can compete with Selle Italia. Their saddles adorn bikes throughout the peloton and with over 120 years of experience, you can understand why.
Their trail-blazing approach developed the first completely anatomic saddle, the FLITE design and the first shock-absorbing system. This knowhow has filtered through to their current range, with their race-orientated Selle Italia X-Race, long-distance-friendly Selle Italia Garda Gel Flow and Selle Italia XR Flow saddles all great upgrades.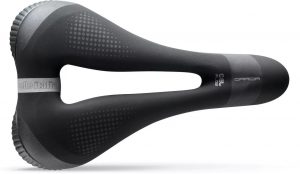 4iiii power meters
Whether it's winning a time trial or beating your riding buddies in a sprint to the next corner, cycling performance ultimately boils down to power. That's why the pros spend so much time peering down at their handlebars, monitoring how much power they're outputting.
While power data isn't something you need for a ride, it can be really handy, especially if you're looking to improve. Training plans and sessions are generally created using power figures, and you need a power meter to calculate your FTP.
Once upon a time, power meters were the preserve of elite riders, but now they're accessible to anyone. Our favourite choice is 4iiii's range, which includes individual cranks and full crankset options.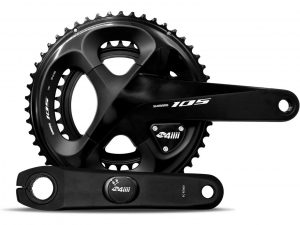 They're incredibly accurate and can be used with a variety of Shimano cranksets including 105, Ultegra and Dura Ace.
And, you guessed it, they're used by the pros!
Garmin head units
If you use a power meter, you'll also need a head unit to display your power readings.
A high-quality cycling computer isn't limited to displaying your power, and Garmin's range is stacked with market-leading features.
One of the best available, the Garmin Edge 530 GPS Cycle Computer has seemingly endless capabilities, including GPS navigation, dynamic performance monitoring, safety features (including a bike alarm, group messaging and tracking), and the ClimbPro feature – it's the ultimate combination of performance, navigation and safety.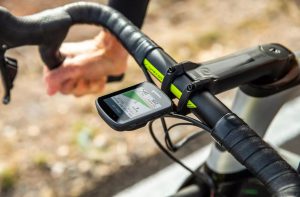 Lazer helmets
We don't need to remind you how important a helmet is, and it's well worth choosing a higher-end model for the added protection.
Top brands like Giro and Lazer offer a range of helmets all with technology filtered down from their top-of-the-range options. They're all stylish too, so you don't need to worry about not looking pro enough. But just as importantly, they're incredibly safe!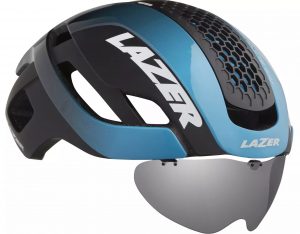 When choosing a new helmet, it's generally best to opt for one with MIPS (Multi-Impact Protection System) technology. This reduces the rotational forces exerted on the brain during an accident and is at the forefront of helmet technology.
Elite bottles and cages
Another option that won't make you faster but will help your bike garner some admiring looks. (OK, lightweight bottles and cages could make you faster – every gram of weight counts! But really, they're not going to make you faster.)
Elite are better known for their turbo trainers (which also happen to be used by the pros!), but they also offer a stylist selection of bottles and cages. One of our favourites,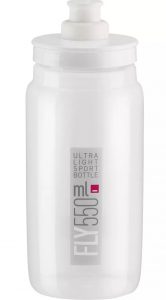 the Elite Fly Water Bottle is the ultimate lightweight racing bidon that was developed using feedback from the pros. And in case you didn't notice, it looks great too!
Now, we can't discuss water bottles without raising the subject of having matching bottles and cages. For many, it's a crime against bikes to mix and match colours and, well, we'd have to agree (you wouldn't see a cycling champion mixing and matching). But don't worry, Elite also have a selection of cages that can be stylishly paired with their bottles.
Carbon road shoes
Most professional riders get their shoes through their team or sponsorships, a luxury many of us don't have.
That doesn't mean you can't get your hands on a high-quality pair of shoes, though, and with Boardman Carbon Road Shoes, you're getting pro-level quality at an affordable price.
Every aspect of the shoe is designed with performance in mind, including a stiff, ultra-light carbon outsole, dual-dial tightening system, and plenty of venting to keep your feet cool.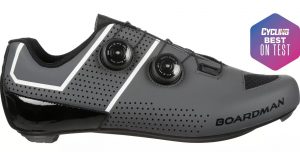 ---
You might not be pulling on the yellow jersey this summer but, with the help of everything on this list, you can still ride like a champion!
This is just a snippet of the possible upgrades we could have included, and you can find lots more over at Halfords.com.
You want to ride like a champion, you want Halfords.