Summer is here and that means it's time to kick back, relax and enjoy some toasty temperatures! And when the heat gets a bit too much and you start looking for a way to cool down, look no further than this list. We've pulled together some of our favourite places to visit when it's hot outside, from beautiful beaches with azure seas to enticing waterparks filled with slides to enjoy and pools to float around in to your heart's content.
Important: The opening of some of the attractions and sights mentioned in this article may have been affected by COVID-19 measures. Please check the status of any you plan to visit before you depart.
The beach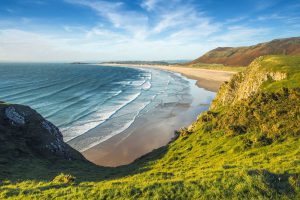 Beaches offer the prefect combination of sand for the sun-lovers and sea for those looking to escape the heat. As an island nation, there are loads of beaches to choose from here in the UK and here are just a few that caught our eye.
Barafundle Bay, Pembrokeshire
Regularly voted one of best beaches in the UK, Barafundle Bay is home to swathes of golden sand and crystal-clear waters. The isolated beauty of the beach means you won't find any amenities there, but there's a handy car park about half a mile away at Stackpole Quay (where you'll also find a café and toilets) and Stackpole village isn't too far beyond that.
Find out more: https://www.visitpembrokeshire.com/explore-pembrokeshire/beaches/barafundle-bay
Blackpool Sands, Devon
Despite its name, you'll find Blackpool Sands down in the south of Devon. The Blue Flag Award-winning beach is a popular destination for families, with its unusually clear waters and Mediterranean feel. There are loads of facilities on hand including showers, toilets and a beach shop, while kayaks, paddles boards and wet suits are available for hire if you're looking for some water sport-related fun.
Find out more: https://www.blackpoolsands.co.uk/
Porthminster Beach, St Ives, Cornwall
Another award-winning beach can be found in the heart of the town of St. Ives. Porthminster Beach boasts golden sand underfoot, palm trees and amazing views across the glittering bay. It's a family-favourite for safe swimming and benefits from all of the local amenities and facilities of the surrounding town including various eateries, an 18-hole mini-golf course and deck chair rental.
Find out more: https://www.visitcornwall.com/beaches/lifeguards-seasonal/west-cornwall/st-ives/porthminster-beach
West Stands, St Andrews
Proving that amazing beaches aren't just found in the south of the UK, West Sands in St Andrews in Scotland offers almost two miles of uninterrupted sand (and a world-renowned golf course!). It's a particularly popular destination for walking, running and swimming, and located about 15-minutes' walk from the town centre, with plenty of car parking, shops and restaurants nearby.
Find out more: https://www.visitscotland.com/info/towns-villages/st-andrews-west-sands-p315881
The pool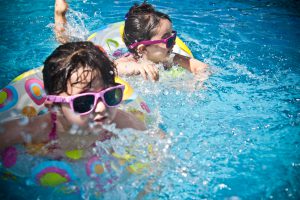 If you'd prefer not to spend days picking sand out of your shoes, then a local lido could be a great alternative to the beach. There are more than 100 lidos in the UK and we've highlighted a few to show the versatility and potential of these neat outdoor swimming pools.
Bristol Lido, Bristol
You'll find the Bristol Lido in the centre of the suburb of Clifton, inside a courtyard of Georgian Terraces. The unique site – which dates from 1850 – underwent a huge restoration in 2006-2008 and now includes a heated outdoor pool, a spa, a restaurant, sauna, hot tub and steam room. It's a little slice of heaven in the heart of a city!
Find out more: https://www.lidobristol.com/
Droitwich Spa Lido, Droitwich Spa
Located a short drive down the road from Halfords HQ in the West Midlands, the Droitwich Spa Lido is one of the UK's last remaining in-land, open-air, saltwater swimming pools. While the site's a little smaller than some of the others on this list, it packs in a swimming pool, wet play area, sun terrace and café. It's also part of the larger Lido Park, which boasts tennis courts, a children's play area and more.
Find out more: https://www.riversfitness.co.uk/droitwich-spa-lido/
Saltdean Lido, Brighton
The only Grade II listed lido in the UK, the Saltdean Lido and its striking art deco buildings are currently being brought back to life thanks to extensive efforts by the local community. The renovation of the outdoor swimming pool was completed in 2017 and visitors can now enjoy a heated pool, a separate children's paddling pool, a play area and a range of on-site facilities.
Find out more: https://saltdeanlido.org/
Tinside Lido, Plymouth
Overlooking the sea in Plymouth harbour, Tinside Lido is one of the most popular outdoor pools in the UK. It shares a similar art deco style to the Saltdean in Brighton and offers a fully-accessible, outdoor, saltwater swimming pool. Other features at the lido include a sunbathing terrace, perfect for soaking up the rays, and a café.
Find out more: https://www.everyoneactive.com/centre/tinside-lido/
The waterpark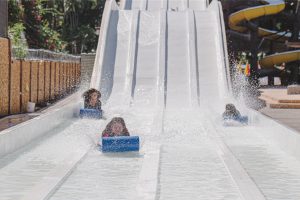 If you're looking to combine escaping the heat with having as much fun as possible (with the kids or without them!), then a waterpark will probably be at the top of your list. There are a range to choose from in the UK and here are some that stood out to us.
Alpamare, Scarborough
The Alps meet the sea at the Alpamare waterpark. Located in Scarborough, within sight of the North Sea, this unique waterpark combines adrenaline-fuelled family fun with the space to relax and unwind. There are plenty of food and drink offerings to keep you full, and the usual range of facilities for you to enjoy.
Find out more: https://www.alpamare.co.uk/
Alton Towers Waterpark, Staffordshire
Part of the famous Alton Towers theme park resort, this indoor and outdoor waterpark boasts a thrilling mix of water slides, water flumes, swimming pools, thermal pools, lazy rivers and children's play areas. It's located within the Splash Landings Hotel, so you've got accommodation on your doorstep if you need it, along with a huge range of facilities and amenities.
Find out more: https://www.altontowers.com/explore/waterpark/
Sandcastle Waterpark, Blackpool
The title of the UK's largest indoor waterpark is currently held by Sandcastle Waterpark in Blackpool. The park packs 18 exciting slides and attractions into its tropically-themed interior, including the world's longest indoor rollercoaster waterslide. Thanks to its position on Blackpool's famous promenade, it's also no more than a short walk to any of the town's other attractions.
Find out more: https://www.sandcastle-waterpark.co.uk/
Splashdown Quaywest, Devon
Meanwhile the title of the UK's largest outdoor waterpark is claimed by Splashdown Quaywest in Devon. Situated right next to Goodrington Beach, on the so-called English Riviera, this waterpark offers eight adrenalin-pumping flume rides along with a swimming area, play areas for the littlest kids and sun terraces.
Find out more: https://www.splashdownwaterparks.co.uk/quaywest/
Introducing the Halfords Motoring Club
Help make your days out the best they can be by joining the Halfords Motoring Club. Join today to access a range of amazing benefits and discounts that are designed to keep you moving, keep you safe and keep you saving.
It's free to join and you'll receive money off your MOT, a free car health check and a welcome voucher that can be spent on any Halfords product or service.
Or choose our Premium membership for a small monthly fee (or a one-off payment) to unlock exclusive member pricing on all motoring products and services online and across our stores, garages and Halfords Mobile Experts, as well as a variety of other benefits that will help you to keep moving for less.
With so much to enjoy, this is too good an opportunity to miss!
Join the Halfords Motoring Club today at www.halfords.com/motoring-club.
---
We hope these water-filled suggestions help to keep you cool this summer! If you're planning a longer staycation, then make sure to check out our great range of products because if you want staycation essentials, you want Halfords.