Welcoming over one hundred million visitors every year, the national parks of Britain are teaming with wildlife, nature, and stunning landscapes. These protected spaces are perfect for day trips and longer getaways alike, and they're free to enter at any time.
But where to go? To help you decide, we're taking you through the 15 national parks in England, Scotland, and Wales, and what kinds of adventures you can get up to in each.
England
Broads National Park
Comprised of both the Norfolk and Suffolk Broads, the Broads National Park is the UK's largest protected wetland. It's home to rare plants, birds, and aquatic animals, and features seven rivers and over 60 broads, though only 13 are fully navigable.
Although the Broads are man-made, they attract a rich variety of wildlife and are home to a number of endangered species – if you're lucky, you might spot a water vole or cuckoo.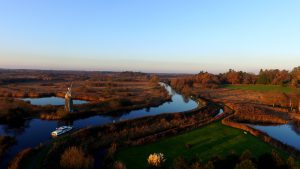 Things to do in the Broads:
Cycle trails
There are plenty of routes to explore around the Broads, whether you're an experienced cyclist or a newcomer! If you fancy a shorter trip, the 2.5-mile ride across the first section of the Three Rivers Way passes through the popular riverside villages of Hoveton and Horning. Or, for an all-day adventure, embark on the Southern Broads Loop and explore the dramatic scenery and quaint villages that make up the Broads – including a ferry crossing over the River Yare!
Boat trips
The Broads are famous for their waterways, so what better way to explore than by boat! To soak in the sights, sounds, and wildlife without having to man your own boat, there are plenty of bookable boat trips available across the Broads. Whether you're exploring the wildlife that hides in the marshlands aboard the Electric Eel or setting sail on the historic 120-year-old Wherry Albion, there's something for everyone to enjoy. If you have a taste for adventure, you can even man your own ship with boats, canoes, kayaks, and paddleboards all available to hire.
Wildlife watching
With a mix of rare land, sky, and water animals across the Broads, there's no better place to witness the beauty of our biodiversity. There are plenty of viewing platforms for you to admire the area's hawks, herons, and swallows, and you may even catch a glimpse of the rare harbour porpoise off the coast.
Places to stay in the Broads:
Hire a boat
If just an afternoon on the water isn't enough for you, why not stay over? There are plenty of houseboats and barges available for hire across the Broads, from 1930s sailing yachts to luxury cruisers, so you can live in and amongst the scenery.
Camping
Thanks to its low-lying land, there are plenty of camping and caravanning locations across the Norfolk and Suffolk Broads. Discover luxury glamping pods, eco campsites, and riverside caravan parks in the heart of the Broad's landscape.
Hotels
For luxury lovers, there is a wide selection of hotels in and around the National Park, with stunning views of the waterways and plenty of amenities for guests.
---
Dartmoor National Park
Famous for its free-roaming ponies, towering rock formations, and rolling hills, Dartmoor National Park is a wild upland area in south Devon. It's the site of several areas of archaeological importance, with Neolithic tombs, medieval farmhouses, and Bronze Age stone circles all residing on the moors.
Thanks to its strong winds and high rainfall, Dartmoor is home to a number of rare wildlife species that thrive in harsher conditions, and the abundance of rivers across the park is the ideal habitat for otters.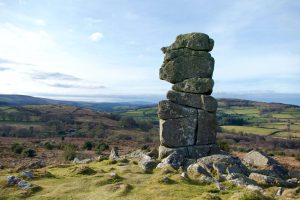 Things to do in Dartmoor:
Cycle trails
Rolling hills, stunning views, and extensive routes make Dartmoor the perfect place to ride, however experienced you are. Follow the dismantled railway line from Bovey Tracey to Moreton Hampstead along the 7-mile Wray Valley Trail, or loop right around the National Park on the 95-mile Dartmoor Way You can find a full list of routes to explore here.
Climbing
The large granite rock formations across the moors, known as tors, are a famous part of the landscape and offer the perfect opportunity for climbers to test their bouldering skills. You can find more details about where in Dartmoor to climb here.
Horse riding
There are few better ways to experience the landscape of the moors than on horseback. For beginners, there are easy routes and riding schools in the local area to get you in the saddle, and for experienced riders, the wild and boggy Northern Half is the perfect adventure.
Places to stay in Dartmoor:
Whether you're camping, glamping, or caravanning, there are plenty of options across Dartmoor. You can find a full list of sites available here.
You can also 'backpack camp', or wild camp, in designated areas. This means camping in the wilderness, away from a campsite or caravan park, and following the Code of Conduct to ensure you don't disturb the wildlife. You'll find the full map of where you can camp.
---
Exmoor National Park
Thanks to tectonic plate movements millions of years ago, Exmoor's landscape is rugged, diverse, and completely unique. Although it's one of the UK's smallest National Parks, it's in no way underwhelming, with a rich history of folklore, art, wildlife, and archaeology.
Boasting the highest coastline on the British mainland – at 314 metres above sea level – Exmoor National Park is famous for its coastal views, swathes of heather, and stunning night skies.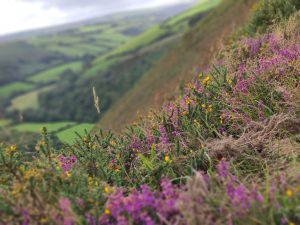 Things to do in Exmoor:
Stargazing
Exmoor was named Europe's first International Dark Sky Reserve in 2011, meaning its skies and view of the stars are protected. On a cloudless night, you'll be able to see thousands of stars and even the Milky Way, just with your eyes.
The Wilderness Coast
Explore Exmoor's 60km coastline along the first stage of the UK's longest National Trail, the South West Coastal Path. Mix driving and walking for the ultimate experience as you explore the vast landscape on an all-day adventure.
Rock pooling – Discover the wonders of Exmoor's marine life with the Park Rangers as you explore the rockpools along the coastline. As you hunt for crabs, sea sponges, and other sea life, you'll learn more about the park's conservation efforts, and how to continue rock pooling in your own time.
Places to stay in Exmoor:
Dog-friendly accommodation
With plenty of space to explore, Exmoor is a great place to bring your four-legged friend, and thankfully there are lots of dog-friendly options for you to stay You'll find a full list of options here.
Self-catering accommodation
If you want to take your trip at your own pace, then a cottage or holiday home is a great option. Choose between bustling towns or more rural locations, and tailor your trip to suit you.
Glamping
Level up your camping experience and indulge in a luxury glamping experience. Choose between convenient pods or a glamorous yurt to take in the beauty of Exmoor in style.
---
Lake District National Park
Often cited as the inspiration for many famous poets and artists, the Lake District is well-loved for its stunning scenery. It's England's largest National Park, and in 2017 it was named a UNESCO World Heritage Site, joining the likes of the Taj Mahal and Machu Picchu.
Its diverse mix of habitats includes mires, screes, limestone pavement, and of course the abundance of open water, which all help to enrich the local wildlife. Plus, the park's combination of high peaks and deep lakes provides a geological history that dates back nearly 500 million years.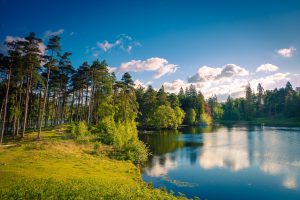 Things to do in the Lake District:
Boating & Swimming
With over 16 lakes and a long stretch of coastline, a day on the water is the perfect activity in the Lake District. Whether you're hiring a boat, booking a cruise, or taking to the lakes for a swim, there are plenty of ways to enjoy the water.
Walking
To help you discover the beauty of the Lake District, you can book a free guided walk, led by a local volunteer to show you their favourite spots and teach you the history of the area. There are also several 'Miles Without Stiles' routes – perfect for little legs, buggies, or anyone with mobility issues.
Cycling
Experienced cyclists and keen amateurs alike will find a selection of routes to suit them across the Lake District, and there are plenty of long-distance routes to follow. If you fancy an extra push up the hills, electric bikes are also a great way to get around. There are plenty of e-bike charging points across the Park, too.
Places to stay in the Lake District:
Hotels
The Lake District has earned a reputation for luxury, and there's an abundance of hotels to be found across the National Park. Enjoy a lavish break with all the amenities you could ask for, complete with amazing views of the Lakes.
Camping
Whether you're looking for a more luxurious glamp site, or you fancy embracing the wildlife and wild camping (with permission from the landowner), there's something for everyone in the Lake District.
Cottages
Embrace the Cumbrian countryside with a traditional cottage complete with a log fire and stunning views. They're ideal for taking a break at your own pace, and many are dog friendly.
---
New Forest National Park
Originally created by William the Conqueror in 1079 as a royal hunting ground, the New Forest National Park is still home to hundreds of free-roaming animals which enrich the vast forests. These pigs, donkeys, cattle, and donkeys are affectionately known as 'the architects of the Forest' since their grazing is so important to the life and landscape of the park.
Smaller wildlife also thrives in the area, thanks to the unique mix of wet and dry heaths and mixed farmland. Rare heathland birds, deer, dragonflies, reptiles, and more all call the New Forest home – there are over 2,600 kinds of beetles in the New Forest alone!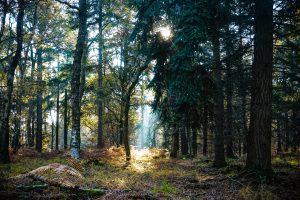 Things to do in the New Forest:
Walking
The England Cost Path is a National Trail in the process of being built, and when it's finished, it'll be one of the longest walking paths in the world. The westernmost 3 miles of the Calshot to Gosport section falls within the New Forest and is now open to explore.
Guided cycling tours
The New Forest contains over 140 miles of marked gravel tracks, which you can explore on a guided tour! There are seven different guided routes, from a two-hour ride to a full-day adventure.
Mountain biking
If you're a more experienced cyclist, then the miles of paths and tracks through Moors Valley Country Park are perfect for exploring on two wheels. If you haven't brought your own bike, there are plenty available to hire from the Cycle Hire Centre.
Places to stay in the New Forest:
Cottages
The New Forest is comprised of many small villages, so there are plenty of characterful cottages available to rent during your visit. Graylands Cottage is a forester's cottage that's both family and dog-friendly, while Ringwood Terrace is a late Victorian terrace cottage overlooking ponies, donkeys, and cattle.
Campsites
While wild camping in the New Forest isn't permitted, there are plenty of campsites available across the National Park. This includes 10 that are managed by Camping in the New Forest, to suit whatever amenities and locations you need.
---
North York Moors National Park
Featuring 26 miles of Jurassic-era coastline and 44,000 hectares of heather moorland, the North York Moors are teeming with natural wildlife, flowing landscapes, and sites of historical significance.
The Park's 1,436 square kilometres feature 1,500 ancient boundary stones and crosses and are home to rare creatures like the moorland merlin, the UK's smallest bird of prey. Although you may think it's comprised entirely of moorland, over a fifth of the park is covered by woodland, resulting in an even more diverse mix of wildlife.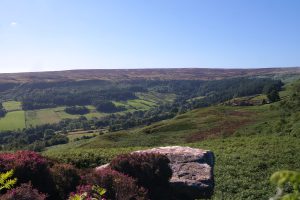 Things to do in North York Moors:
Cycling
There are few places more suited to riding than the North York Moors, with miles of country roads, bridleways, forest tracks, and disused railway lines to explore. There are also three cycling centres; Sutton Bank is perfect for families and newer mountain bikers, Dalby Forest best suits more experienced riders and enthusiastic leisure riders, and The Yorkshire Cycle Hub in Great Fryup Dale is best for experienced mountain bikers and road cyclists.
Fossil hunting
The North York Moor's Jurassic-era coast is filled with exciting artefacts waiting to be discovered, and you can uncover them on a fossil expedition! There are several locations along the coast you can book a fossil tour for – see them all here.
Wildlife photography
It's one thing to see the beauty of the moors in person but capturing it in a photograph is another. With North Yorkshire Wildlife, you can join expert wildlife photographer Gordon Richardson as he sets up hides across the moors and captures the animals and birds in their natural habitat – you'll even have the chance to use his equipment and take some images of your own.
Places to stay in North York Moors:
Glamping
There are plenty of unique accommodations across the North York Moors to create a truly unforgettable experience. Stay on a real traditional working moorland farm at Lawnsgate Campsite and experience life in an off-grid Yurt, or stay in a fully-functional Shire House, surrounded by cow grazing fields and the coastline.
Hotels
The many market towns and villages around the moorland have plenty of hotel options, so you can choose somewhere close by to the attractions you're most keen to explore. The village of Saltburn is popular with surfing enthusiasts, while the town of Pickering is the perfect place to stay if you want to visit the Cawthorn Roman Camps.
---
Northumberland National Park
Known as the home of the historic Hadrian's Wall, Northumberland actually is the least populated National Park in the UK with just 2000 residents, though it covers an area of over 410 square miles.
Its landscape and scenery are some of the nation's finest, and the Park is home to four of the five cleanest rivers in Britain. Because of this, the waters are home to a variety of aquatic creatures, including otters, sea trout, and salmon.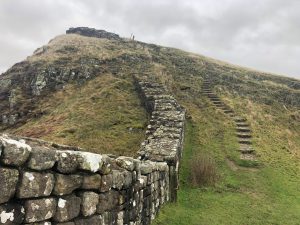 Things to do in Northumberland:
Stargazing
Northumberland National Park falls within Europe's largest protected Dark Sky Park. Across the Park, you'll find viewing platforms at places like Walltown and on Hadrian's Wall itself.
Hiking
With more than 1,140km of public rights of way and 72% of the park classed as open access land, there are plenty of stunning routes to explore on foot across Northumberland.
Places to stay in Northumberland:
YHA The Sill
If you're not opposed to stopping in a youth hostel, then the brand-new YHA The Sill sits right on Hadrian's wall and was built in partnership with the Northumberland National Park Authority.
Cottages
For longer stays, take advantage of the UK National Parks' partnership with Sykes Holiday Cottages. There are plenty of choices, from seafront bungalows to town-centre apartments.
---
Peak District National Park
What began as the UK's first National Park is today a beloved landscape of wild moorlands, rocky terrain, and thriving wildlife. Covering over 550 square miles, and stretching across 5 counties, the Peak District truly has something for everyone.
It's the site of the 1932 'Mass Trespass', where working-class ramblers paved the way for the countryside to be free for all. This heritage lives on today, and the landscape, wildlife, and people are still welcoming visitors from around the world.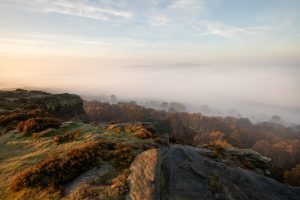 Things to do in the Peak District:
Cycling
Thanks to the rocky terrain, the Peak District is perfect for thrill-seeking mountain bikers, although there are plenty of flatter routes for families and leisure riders too. Famous multi-day routes such as the Pennine Cycleway, Pennine Bridleway, and Tour de Peak District all pass through the park.
Cave tours
The Peak District is known in two halves by its geology; 'Dark Peak' refers to the gritstone mined in the north, while 'White Peak' is named after the limestone mined in the south. This rich mining history means that there's a whole underground world ready to explore, and you'll find cave tours available across the park.
Places to stay in the Peak District:
Shepherd's hut
In the heart of the Peak District, book a stay in a stylish shepherd's hut and enjoy the tranquillity of glamping. The site is just half an hour's drive from the nearby market towns of Ashbourne and Bakewell, so you'll have plenty to explore, and each hut is dog friendly.
Camping
With the start of the Pennine Way right on your doorstep, Fieldhead Campsite is surrounded by stunning Peak District views and is perfect for getting back to nature during your trip. There are 45 spacious pitches, and both families and pets are welcome!
Hotels
Combining luxury, isolation, and plenty of walking, Losehill House in Hope Valley is ideal for those wanting to explore the outdoors without sacrificing home comforts. Its rural location means that there are plenty of walking and cycling routes around the hotel, and there's a hot tub to end any particularly long days. Plus, there's specialised storage for your bikes so you don't have to worry about leaving them in the car (or in your room!)
---
South Downs National Park
The South Downs is Britain's newest National Park, having only been officially recognised in 2010. It's also the most populated, with 117,000 residents and 2.2 million people living within 10km. The population density doesn't impact the beauty of the landscape though; the park is home to over 1,000 nature conservation areas, each teeming with rare wildlife, flora, and fauna.
The park is maybe most recognisable for its grassy hilltops and the chalk cliffs of Seven Sisters, though its landscape is an eclectic mix of woodland, hedgerows, pastures, and rivers. This variety is what keeps the South Downs ecosystem so diverse – creatures both great and small make their homes in the park.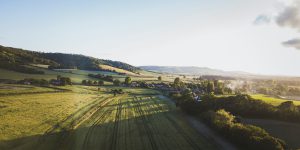 Things to do in the South Downs
Vineyards, Breweries and Distilleries
Thanks to the unique chalky soil of the South Downs, the area's wines are world-renowned for their distinct flavours, and gin, beer, and vodka distilling are all on the rise too. Take a tour of the local vineyards, try making your own craft beer, or enjoy a gin-tasting masterclass in an area renowned for its drinks.
Explore the Seven Sisters
Covering 280 hectares, these famous chalk cliffs are a must-visit location on your South Downs trip. Discover the winding footpaths, cycle along the valley floor or hire a kayak to explore the waters.
Places to stay in the South Downs
Cottages
UK National Parks have a partnership with Sykes Holiday Cottages, so you'll have plenty of options in the South Downs. From Hampshire beachfront houses and picturesque barns to large country homes fit for groups.
Camping
There's no shortage of campsites on the south coast, so you can find the ideal place for you; meet sheep, alpacas and camels at Tomkins Farm, sleep in ancient woodland at Earth Camp, or set up the perfect family pitch at Waggoners Campsite.
---
Yorkshire Dales National Park
Shaped by an agricultural history that dates back thousands of years, the Yorkshire Dales feature some of the most recognisable landscapes in Britain. There are over 6,000 field barns across the park and 8,000 km of dry-stone walls.
Much of the Dales can be explored below ground, too – the UK's most extensive caving area spans Cumbria, Lancashire, and North Yorkshire and is over 53 miles long. Add to that the 20 dramatic waterfalls and famous Yorkshire hills, and you've got an iconic landscape that attracts thousands of visitors every year.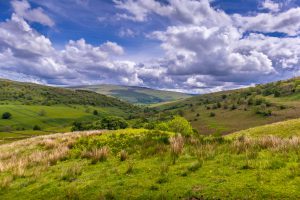 Things to do in the Yorkshire Dales:
Cycling
Home of the 2014 Tour de France, there's nowhere better to explore on two wheels than the Dales. Follow the Tour de France route along the Kidstones Pass, explore the family-friendly Swale Trail, or for experienced mountain bikers, take on the all-day Horton-Over The Stake route.
Visit Wensleydale Creamery
The iconic Wensleydale cheese is made right in the heart of the Dales, and at the Wensleydale Creamery Visitor Centre, you can explore the thousand-year history of cheese-making in Yorkshire (and eat some delicious artisan cheeses!)
Places to stay in the Yorkshire Dales:
Jeep camping
Thrill-seeking campers can go off-grid with Black Rock Adventure's range of rentable Jeep Wrangler campers. Each Jeep comes kitted out with everything you need, modified to give you the freedom to explore the rugged Yorkshire Dales.
Cottages
Book a Sykes Holiday Cottage in partnership with the National Parks and find a selection to suit everyone, from quaint miner's cottages to a family-friendly former corn mill in the market town of Skipton.
---
Wales
Bannau Brycheiniog National Park (Brecon Beacons National Park)
Native woodlands, heathland and grassland, tranquil lakes, and sweeping hilltops all come together to form the patchwork landscape that is the Bannau Brycheiniog National Park, formerly known as the Brecon Beacons. The park covers over 520 square miles of Southern Wales.
This area is shaped just as much by people as they are by nature – the area is home to landmarks like Brecon Cathedral and the Brecknock Museum and Art Gallery, and hosts a number of festivals each year, including the Brecon Jazz Festival and the Hay Literary Festival.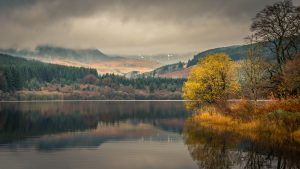 Things to do in the Brecon Beacons/Bannau Brycheiniog:
Cycling
The rugged landscape and rolling hills make Bannau Brycheiniog a hotspot for mountain biking, so there's nowhere better to hit the trails, whatever your experience level. Take the whole family on a pleasant off-road ride around Crychan Forest, or challenge yourself to the Pontsticill Crossover figure-of-8 route, which climbs to nearly 400m. Discover more cycling routes in the Brecon Beacons here.
Horse-riding
With over 600 miles of bridle paths and tracks, and thousands of acres ready to explore, the Bannau Brycheiniog National Park is the perfect place to try out life on horseback. There are trekking centres all over the park, offering half-day and full-day treks for beginners and advanced riders alike. Explore locations here.
Places to stay in the Brecon Beacons/Bannau Brycheiniog:
Narrowboat
Explore Bannau Brycheiniog via its extensive waterways with a holiday aboard a canal boat. Castle Narrowboats in Monmouthshire are perfectly situated mid-way along the canal, so you can explore in either direction to take in the waterside scenery.
Caravan site
If you have your own caravan to bring, there are plenty of caravan sites across the park for you to pitch up at. Stay in the stunning Usk alley at Pyscodlyn Caravan Park and explore the nearby mountains, or opt for Bryndu Caravan and Camping to experience life on a traditional working farm between Bannau Brycheiniog and the Black Mountains.
---
Pembrokeshire Coast National Park
The only UK National Park designated mainly for its coastal landscape, the Pembrokeshire Coast stretches across 186 miles, yet nowhere in the park is more than 10 miles from the sea. Since much of the coast remains untouched by modern infrastructure, it's the perfect home for rare species of birds and plants, and you might spot a porpoise, turtle, or even a shark off the coast!
Perhaps the jewel in the crown – and certainly what attracts thousands of visitors each year – is the Pembrokeshire Coast Path. The total rise and fall of this route is 35,000 feet, which is greater than the height of Mount Everest. While most walkers won't complete the whole path in one go, it's well worth exploring in stages to take in the beauty of the park.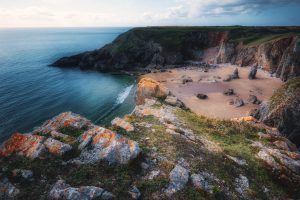 Things to do on the Pembrokeshire Coast:
Explore historical landmarks
The park is home to a rich cultural history, with 286 Scheduled Ancient Monuments and 1234 listed buildings. We'd recommend a trip to Carew Castle in Tenby to learn all about the Norman invasion or head to Castell Henllys Iron Age Village to experience life in Pembrokeshire 2000 years ago.
Walk the Pembrokeshire Coastal Path
Forming part of the larger Wales Coast Path route, this coastal path is a huge 2,779 steps start-to-finish. If you do take on the whole route (which takes around two weeks) you'll see wonders such as Strumble Head Lighthouse, St Govan's Chapel, and Tenby Harbour.
Surfing
Unsurprisingly, this coastal paradise is extremely popular with surfers. Beginners can get started with surf lessons at beaches like Newgale or Freshwater West, while experienced surfers can enjoy year-round waves at Broad Haven South.
Places to stay on the Pembrokeshire Coast:
A farm stay
A popular option with families, Pembrokeshire has a wide selection of farmhouses to stay in thanks to its strong agricultural roots, so you can get a taste of life on a working farm. Croft Farm is perfect for families with little ones, while Sandy Haven Barn offers a tranquil getaway for two.
Camping
For campers wanting to truly immerse themselves in the landscape, Caerfai Farm Camp Site offers a unique experience; the site sits right atop the cliffside, overlooking Caerfai Bay with a path down to a private beach, giving you stunning panoramic views.
---
Snowdonia National Park
Famously home to the highest mountain in England and Wales, Snowdonia National Park is well-loved for its rugged mountains, pristine lakes, and rolling hills. Known locally by the original Welsh name of Eryri, the park is home to over 26,000 people across 823 square miles, as well as countless rare animals, insects, and plant species.
The landscape of Snowdonia National Park tells a detailed story – although it's hard to believe, the 3,500 feet tall Yr Wyddfa (Mount Snowdon) used to be completely submerged in seawater, and shell fossils found at the summit give an insight into marine life 500 million years ago.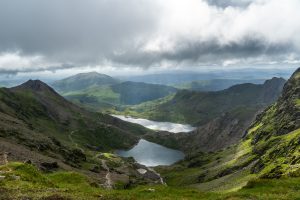 Things to do in Snowdonia:
Take a journey on the Snowdon Mountain Railway
Widely regarded as one of the most scenic railway journeys in the world, the Snowdon Mountain Railway departs from Llanberis Station and ascends Snowdon to the summit. The route passes two viaducts, the mountain of Moel Hebog (a favoured home of the peregrine falcon), and the cave where it's rumoured that Owain Glyndwr rests, leader of the Welsh rebellion. Once you reach the summit, you'll be treated to views that stretch as far as Ireland on a clear day.
Explore the mountain peaks
Although Snowdon is of course the most famous, there are plenty of mountains across Snowdonia that make for a thrilling day out for experienced climbers. In the south, Cader Idris sits beside a stunning glacial lake, while Tryfan was voted Britain's favourite mountain. And of course, there are six routes to the summit of Snowdon to pick from.
Places to stay in Snowdonia:
Glamping
There are plenty of unique camping experiences to be had in Snowdonia, and many are a stone's throw from some of the park's most iconic landmarks. The Bryn Dinas Glamping Pods are tranquil wooden huts that sit a few hundred metres from the base of Mount Snowdon, offering stunning views up the mountain and a chance to see the Snowdon Sherpa bus as it passes.
Stay in a gothic folly
A stay in Brynkir Tower on the outskirts of Porthmadog gives you chance to experience life in a gothic folly. This truly unique 5-floor tower is not only a charming and quirky building, but it's also ideally situated, with plenty of countryside walks and the seaside towns of Criccieth and Portmeirion nearby.
---
Scotland
Cairngorms National Park
It's the largest and most northerly National Park in Britain, with a wealth of rare wildlife, stunning landscapes, and rich cultural heritage; the Cairngorms is truly a unique place. At a huge 1,748 square miles, the park is bigger than the whole of Luxembourg and covers parts of Aberdeenshire, Moray, Highland, Angus and Perth, and Kinross. So, it's no surprise that the area is home to a quarter of Scotland's native forest and a quarter of the UK's rare and endangered birds.
Nearly 50% of the Cairngorms National Park is classified as being of international importance for nature, meaning it's protected by European Law. This includes the 14 species of raptors that make their seasonal or year-round home in the park, like the osprey, peregrines, and golden eagles.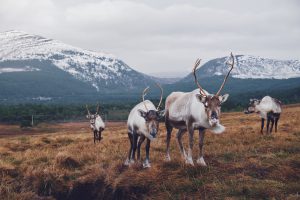 Things to do in the Cairngorms:
Bungee jumping
There's no shortage of activities for thrill-seekers in the Cairngorms, including the first purpose-built, permanent bungee jump platform from a bridge in Britain. The Highland Fling Bungee Jump in Killiecrankie lets you see the Highlands from a whole new perspective as you free-fall 40 metres over the River Garry.
Visit the Wildcat Centre
At the Wildcat Centre in Newtonmore, you can explore the local moorlands, woodlands, and rivers while hunting for over 130 hand-painted models of Scottish wildcats. Perfect for getting little ones outside and adventuring, follow the 10km wildcat trail around the tranquil village and keep an eye out for any cats!
Cycling
Whether you're a family of leisure riders or a solo thrill-seeker, there are trails for everyone in the Cairngorms. Take a gentle ride through Boat of Garten, crossing the River Sprey and ending in the RSPB Loch Garten Nature Centre. Or tackle the highly technical Wolf of Badenoch Black run, with 4 miles of tough terrain for experienced riders only.
Places to stay in the Cairngorms:
Wild camping
The Cairngorms is one of few National Parks that permit wild camping, as long as you do so responsibly and follow the park's guidance. Not for the faint of heart, wild camping offers a unique way to get back to nature as you camp out of a backpack away from official sites and common luxuries. It's ideal for expeditions across several days.
Camping
If you still want to feel a part of the park but at a more traditional campsite, Glenmore is perfect. Tucked inside Glenmore Forest Park, you can choose a pitch among the trees with a clear view of both the highlands and the tranquil Loch Morlich.
---
Loch Lomond & The Trossachs National Park
Loch Lomond & The Trossachs National Park is just an hour's drive away for half of Scotland's population, making it the perfect place to reconnect with nature. Its central location means there's something for everyone here, with lochs, forests, coastlines, lowlands, and highlands all coming together to form a landscape that's been worked and shaped by generations.
Spread across 720 square miles, the park can be split into four distinct areas:
Breadalbane in the northeast boasts stunning lochs and waterfalls
The Trossachs is home to parts of two National Scenic Areas
Loch Lomond is Britain's largest inland stretch of water
Cowal Peninsula in the southwest has plenty of forests and gardens to explore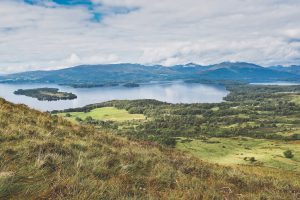 Things to do in Loch Lomond & The Trossachs:
Loch cruises
A trip to Loch Lomond and the Trossachs wouldn't be complete without exploring by boat. You can explore the beauty of both Loch Lomond and Lock Katrine with tours available from several spots across the water.
Cycling
There are plenty of cycling routes in Loch Lomond and The Trossachs for a variety of riders. The iconic National Cycle Route 7 runs through the heart of the park, across 20 miles of stunning scenery following parts of the disused Partick to Yoker railway. Confident mountain and adventure riders will have plenty to explore along the Three Glens Route, which loops around Three Glens and ends with a big climb followed by a sweeping descent. If you prefer road cycling, the West Loch Lomond cycle path is perfect for less confident riders and follows a flat route through the picturesque village of Luss.
Places to stay in Loch Lomond & The Trossachs:
Motorhomes
If you have your own caravan or motorhome, you can apply for a permit to stay in managed areas of the park. Choose from spots right on the shores of Loch Lomond to the side of the iconic Three Lochs Forest Drive.
Camping by the Loch
There are plenty of unique pitches across the National Park, including a selection near the stunning Loch that gives the park its name. Stay on the small island of Inchcailloch in the heart of Loch Lomond, accessed by boat from Luss, or the shores of the lesser explored Loch Lubnaig.
---
Getting there with the Halfords Motoring Club
Whichever National Park you visit, you'll want to make sure that your car is up for the journey – and with the Halfords Motoring Club, you'll get the best value for all your motoring needs!
If you've not joined already, sign up today to access a range of amazing benefits and discounts designed to keep you moving, keep you safe and keep you saving all-road-trip-long.
It's free to join and you'll receive money off your MOT, a free car health check and a welcome voucher that can be spent on any Halfords product or service.
Or choose our Premium membership for a small monthly fee (or a one-off payment) to unlock exclusive member pricing on all motoring products and services online and across our stores, garages and Halfords Mobile Experts, as well as a variety of other benefits that will help you to keep moving for less.
With so much to enjoy, this is too good an opportunity to miss! Join the Halfords Motoring Club today at www.halfords.com/motoring-club.
---
So, you've found the perfect spot to explore, made an itinerary, and picked a place a stay. Now you can focus on making your getaway unforgettable, and let Halfords handle the rest.
Stay safe on the roads with our range of car checks, get set for long adventures with roof boxes, roof bars, and bike racks, and sleep in style with our range of camping equipment and accessories.
Wherever the season takes you, we're here to help you get set for your spring and summer getaways.