Ever had your eye on some top tech, but been put off by the price tag? With refurbished products, you won't be!
Refurbished products are a great way to buy tech for less money. But how can this be? We've got everything you need to know about refurbished products including all the great benefits.
What are refurbished products?
Refurbished products are ones that have been returned to the manufacturer. This could be for many reasons, such as they were not wanted, were faulty, or were used as demonstration products.
Once returned, the manufacturer puts them through a rigorous refurbishment process. They'll then be checked and tested before being certified as a saleable refurbished product.
In some cases, a product may have some minor cosmetic wear. Other than that, it's still the same high-quality product as you'd expect.
Before buying, let's take a look at some of the other great benefits.
It's cheaper
Let's be honest, everyone loves a good deal, and there are few better deals than refurbished products.
As they're refurbished, the products will be sold at a cheaper price than ones freshly off the production line. However, they are thoroughly tested to make sure that they perform to the same level.
In some instances, there me be some minor wear on the product, but that's the only difference. Plus, lots of refurbished products are returned without ever being used, whether that be because they were unwanted or were a demonstration product.
When you consider this, refurbished products are great value!
You get top tech!
When you think of refurbished products, you might be concerned that you're getting second-hand goods. Products that are still serviceable but a bit worse-for-wear.
This couldn't be further from the truth! As all products go through a thorough refurbishing process by the manufacturer, they'll be fully functional. They also undergo comprehensive testing to make sure they are ready for sale.
Although every effort is made to restore the products to the highest standards, in some instances there may be some minor wear. Despite this, any device will still work as expected.
What all this means is that you're getting top tech for less!
Products are protected by warranty
When buying a refurbished product, you may be worried it could be faulty.
However, not only do the products go through a thorough refurbishing and testing process, but they're also protected by a 3-month manufacturer's warranty from the date of purchase.
Plus, if you change your mind and decide you no longer want your refurbished item, you'll be able to return it to Halfords within 14 days of purchase. This does not affect your statutory rights, however, please note that the item must be returned unused, in its original packaging with an unbroken seal, with the original packing note or receipt, along with the invoice for proof of purchase.
What products are available?
Refurbished products are clearly a great way to buy tech, but what products can you get?
Currently, we have a range of Nextbase dash cams. Dash cams are great as they act as an independent witness that can be used for any driving situation, from road collisions to road rage.
Nextbase has the best-selling dash cams in Europe. Their products feature the newest technology such as built-in Alexa and an emergency SOS system that notifies emergency services if you're involved in an accident. With Nextbase, you're getting more than a basic dash cam!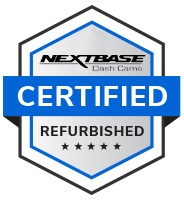 You can explore the full range here.
---
That's all you need to know about refurbished products. With so many great benefits, what's not to like? You can explore more tech over at Halfords.com.
Remember: if you want top tech for every motoring need, you want Halfords.