For many of us, our four-legged friends are an essential part of our adventures. Whether you're exploring your local area by car or heading further afield on holiday, chances are your dog will be joining you.
The law states that if you're driving, you must secure your dog with a harness, pet carrier, crate, or dog guard; this is primarily to avoid distractions, but it also helps to protect your dog in the event of an accident.
If you're travelling with your dog in tow, you'll need to make sure they're safe, happy, and comfortable. So, we've rounded up the best dog car travel accessories, to keep you and your pets road-trip ready.
Car Dog Guard
A dog guard is a barrier that separates the boot space from the car seats, stopping your dog from entering the passenger area. They usually attach to your headrests, so they're quick and easy to install, and help to keep your dog safe and happy.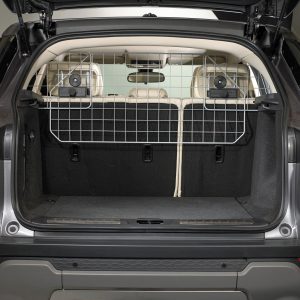 A guard like the Halfords Mesh Dog Guard is perfect for securing your dog, and can be fitted to either the front or the back headrests depending on your needs. Not only does a dog guard stop your dog from distracting you while you're driving, but it can also help to keep your pet more relaxed during journeys. Dogs feel most comfortable in familiar surroundings, so having something that identifies the back of the car as their zone can make longer journeys more relaxed.
Don't fancy fitting it yourself? Let us do it for you! We can fit your dog guard straight into your car for you, so you can drive away knowing your dog is safely looked after. Just select fitting when you add your dog guard to your basket or pop into your local store!
Dog Car Harness
If you'd rather keep your dog in the passenger area, a dog harness is the perfect solution. It attaches to your car's seat belt to keep your dog safe and secure, without compromising their comfort.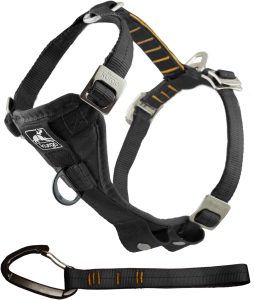 The Tru-Fit Smart Harness is compatible with any vehicle seat belt system and has a broad, padded chest plate to keep your dog secure. Plus, it's based on rock-climbing harnesses, so it's designed to be as safe and comfortable as possible.
Dog Travel Crate
To keep more nervous dogs content in the boot of your car, a car travel crate is the perfect dog car travel accessory. Crates give dogs a sense of security during a long drive, helping to keep them calm and relaxed. Plus, it makes your journey safer – you won't be distracted by your dog roaming around the car, and there's less chance of your dog getting injured.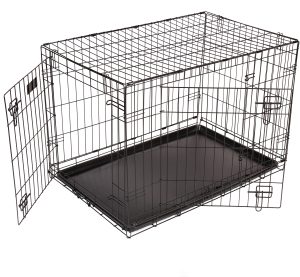 You can get a variety of sizes depending on how big or small your dog is, and many have removable trays making them quick and easy to clean. The RAC Fold Flat Crate in large and small needs no tools to assemble it, and is made from durable steel to keep your dog safe and sound.
Dog Car Seat Cover
If your dog is spending the journey in the front or rear passenger seat, chances are you don't want them making a mess – especially if you're returning from a muddy walk! A car seat cover protector protects your car upholstery from paw marks, claws, and grime, whilst keeping your pet happy too.
The Halfords Rear Hammock Car Seat Cover creates a secure area for your dog that prevents damage to your rear seats. The heavy-duty fabric is water-resistant, and you can separate the hammock in the middle to make room for passengers.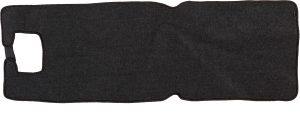 For a machine-washable option, the RAC Car Seat Cover stops pet hair, dirt, and odour from infiltrating your seats, and can be thrown in the wash whenever you need to. Plus, the rubber backing prevents leaks and stops the cover from slipping.
For front-seat four-legged friends, the Halfords Front Car Seat Protector is ideal. The water-resistant fabric stops wet paws and fur from marking your upholstery, and the cover fits snuggly over your entire seat to keep it dirt-free and comfortable.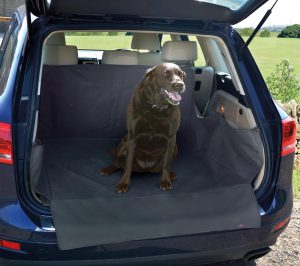 If you aren't using a crate in the boot, you can get a boot protector too – the Halfords Complete Boot and Bumper Protector is made of a heavy-duty fabric that protects your boot from scratches, dirt, and damage. It fits most vehicles and extends over your bumper to protect your paintwork as your dog gets in and out.
Window Vent Guard
Chances are your dog likes feeling the fresh air on their face during a road trip, but leaving the windows open in the back can be a risk.
To keep your dog safe and cool, the RAC Window Vent Guard fits over your window to let air in but stops your pets from getting out. It's easy to install, and the wide grid style gives you maximum ventilation while keeping your dog safely inside the car. It's the perfect addition to a hot summer drive!
Dog Booster Seat
For smaller dogs that need that extra support, a booster seat is the perfect way to travel in style. The Kurgo Heather Booster Seat gives puppies and little dogs a comfortable, secure seat to travel in, and attaches easily to bucket seats.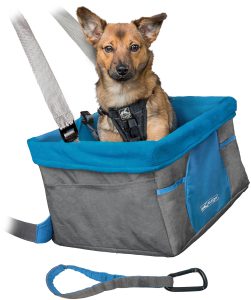 The integrated tether can be attached to your dog's harness and used with your car seatbelt to keep them safely secured, providing a soft but sturdy place for them to relax during a journey. When it's time to get out of the car, the seat collapses down so you can easily store it in the boot.
---
There are plenty of ways to keep your dog happy (and your car clean!) on your car journeys, whether you're exploring locally or heading further afield.
For more travel accessories to keep your trips on track, head over to Halfords.com, or pop into your local store where one of our colleagues will be happy to help.