Sustainable Solutions is an ideas-packed green-themed podcast series brought to you by ECO2 magazine at the Daily Mail and sponsored by Halfords. Hosted by journalist Louise Atkinson and welcoming a variety of guests, the six-episode series explores different aspects of sustainability and the small steps we can all take to make our lives more environmentally-friendly.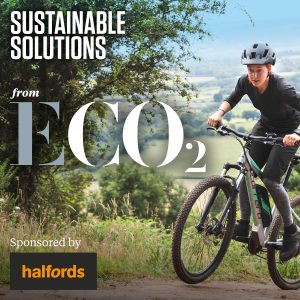 Episode 1: Bike to the Future
In our opening episode, we talk about all things e-bikes. If you've ever wondered what makes an e-bike different to a push bike, whether you need to be a cycling pro to use an e-bike, how e-bikes work, what different types of e-bike you can get and what the health benefits are then we've got the answers for you and more.
Guests:
---
---
Episode 2: The Future of Commuting
In episode 2, we look at the changing faces of cities and commuting in a post-Covid world. Topics of the day include cycle lanes (for e-scooters too), pedestrian areas, green spaces, electric public transport, charging points for electric vehicles and personalised transport on demand.
Guests:
---
---
Episode 3: Electric Dreams
Episode 3 sees us lifting the lid on electric cars. We explore why electric cars are good for the environment, how cost-effective they are and their maintenance and service requirements. We also help to dispel a few myths and tease out some of the pros and cons of switching to electric.
Guests:
---
---
Episode 4: E-scooters
E-scooters have been receiving a lot of attention lately and episode 4 is where we really shine a light on this up-and-coming mode of green transport. We look at what makes e-scooters so fab, why they're not currently legal on UK roads and the steps that are being taken to change that.
Guests:
---
---
Episode 5: The Craze for Repair
Episode 5 sees us exploring the world of repairing rather than replacing. It's all about how things like regularly servicing and maintaining your car and bike can help to extend their longevity, and how kids bikes make the perfect hand-me-downs to younger family members.
Guests:
---
---
Episode 6: A beginner's guide to going green
Our final episode brings us back to the ultimate main theme of this podcast series: sustainability. And the simple steps that you can take to live a more sustainable and environmentally-friendly life – including taking advantage of the Cycle2Work scheme.      
Guests:
---
---
If you want to learn about electric bikes, scooters and cars, then make sure you check out our new electrification hub. We've got all the latest info, products, tips and advice for everyone who's looking to add a little more sustainability to their life.