When you think of the best motorcycle routes, your mind probably wanders to far-off places with epic mountain passes and sun-soaked coastal roads.
However, you don't need to travel beyond these shores for unforgettable riding, and we believe the UK is home to some of the best motorcycle routes in the world. Need a little more convincing? Here's our selection of the best motorcycle roads in the UK that you need to visit.
Snake Pass Loop, England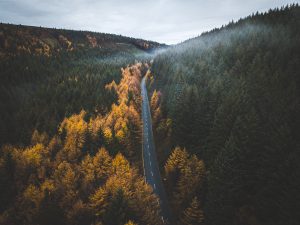 Although it's often overshadowed by the nearby Cat & Fiddle route, Snake Pass is a worthy first entrant on our list, and it's definitely worth a trip.
This Peak District loop starts in the town of Glossop, where you'll first head east along Snake Pass. This opening section starts on high ground, giving you stunning views of the Peak District landscape as you cross the Snake Pass Summit which sits at 1,680 feet above sea level. From there, you'll descend quite quickly into woodland and follow the twists and turns of Snake Pass down to Ladybower Reservoir.
From there, you'll take on the hardest part of the route; Mortimer Road. It's full of sharp twists, quick turns, and peacocks (the Strines Inn sits along the route and is home to a muster of peacocks, which you'll need to watch out for as you pass!) Past the inn, you're onto a series of steep climbs, each followed by a sudden descent and hairpin bend. You'll also encounter some relatively mild straights, so there's a chance to have a breather along the way.
You should then reach the A616, which marks the end of the hair-raising sections. Follow signs for Manchester along the two wide A-roads and enjoy the scenery before passing Woodhead Reservoir and ending back at Glossop.
Spelga Dam & the Mourne Mountains, Northern Ireland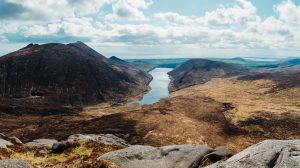 For our next route, we're heading to County Down, Northern Ireland. On the edge of the Mourne Mountains, the winding roads surrounding Spelga Dam are a rider's dream, offering peaceful solitude, stunning views, and some fresh mountain air.
As you climb, you'll encounter a few hairpin bends with steep inclines to keep things exciting before reaching a long straight in the run-up to the dam. You can park up here to fully appreciate the view before heading back towards Kilkeel on another stunning ride.
Behind the dam lies the Magic Hill, where a bike or car left in neutral will appear to run uphill a very entertaining optical allusion caused by the lay of the land – give it a try before you set off!
Gospel Pass, Wales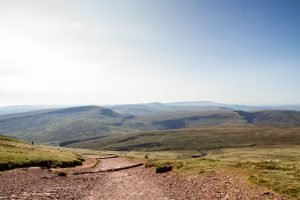 For a hair-raising ride through the Black Mountains of the Brecon Beacons, there's no better choice than the Gospel Pass – it's the highest road pass in Wales, and takes you from Abergavenny to Hay-on-Wye (or vice versa) via a thrilling 22-mile run.
Starting in Abergavenny, the route takes you through the Vale of Ewyas as you follow the signs for Llanthony Priory (which is well worth a visit!) From there, you're onto the Gospel Pass, which at its highest point sits 1800 feet above sea level.
On your way along this twisting single-track route, you'll pass Hay Bluff, a series of small hamlets, and plenty of stop-off points to take some pictures. Or, if you'd rather ride on, the high road and twisting turns are sure to give you a thrill.
Machynlleth to Barmouth, Wales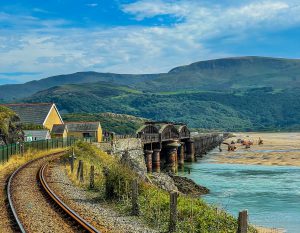 Hugging the coastline of mid-Wales, the journey from Machynlleth to Barmouth is anything but boring, with long stretches of coastline and plenty of opportunities to pull up and admire the views.
Starting in Machynlleth, you'll follow the River Dyfi down to the harbour village of Aberdyfi where the river meets Cardigan Bay, along a route full of exciting twists and turns. From there, the A493 will take you right up the Welsh coastline, passing through Tywyn and Llwyngwril before crossing the Penmaenpool Bridge and looping down to Barmouth.
When you reach your destination, you can end the day with some fish and chips as you overlook Barmouth beach, or perhaps take a stroll along Barmouth Bridge, one of the oldest single-track wooden railway viaducts in the UK.
Glen Etive, Scotland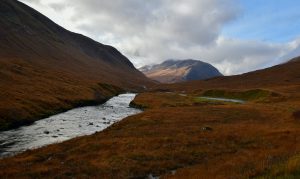 Any eagle-eyed movie fans might recognise the last entry on our list – while Glen Etive is a beautiful route in its own right, it has gained notoriety in more recent years as the location featured in the James Bond film Skyfall, and it's clear to see why this area was chosen.
The beginning of the route is marked by the Buachaille Etive Mor and Buachaille Etive Beag, two mountains that overlook Glen Etive Road. For exactly this reason, they're known as the 'Herdsmen of Etive'. The road follows the flow of the River Etive to the Etive Mor Waterfall, before continuing on through picturesque moorland to reach Loch Etive, where the road ends.
At just over 12 miles long, this route is only a short one-way ride, but beautiful natural landscapes and the reward of the stunning Loch at the end make the excursion worthwhile.
Preparing for your trip
Whichever routes you add to your must-ride list, make sure you're prepared for your epic adventure with all the must-have accessories and technology.
First on any rider's list is the right protection. If you need a new helmet, then you can't beat the Duchinni D977 Helmet. Not only does the multi-density EPS shell keep you well protected, but the design is built around user comfort, with an active airflow system to keep you cool and an anti-scratch UV-resistant visor to help you see clearly.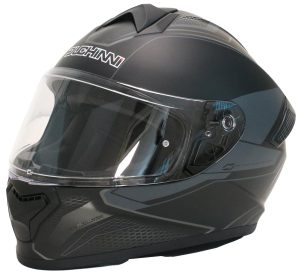 Gloves are just as important, and the Spartan WP combines style and safety, comprised of a hard-wearing leather palm and padded knuckle guard.
With your safety sorted, it's time to look after your bike's! To ward off opportunistic thieves and keep your motorcycle safe, a quality bike lock is an invaluable investment. The MagnumPlus Atlas Alarm Disc Lock offers outstanding security in a convenient size, so you can easily fit it into a pocket or tank bag for peace of mind on your adventures.
And, finally, don't let a maintenance issue ruin your ride (although there are certainly worse places to break down than on these routes). This Cordless Handheld Rechargeable Tyre Inflator from Ring is ideal for inflating on the go, thanks to its robust design and convenient size. This small-but-mighty tool can inflate a bike tyre from flat in under 2 minutes, so you'll be back exploring the views in no time.
---
Don't forget, you can find all the motorcycling accessories, clothing and technology you need in preparation over at Halfords.com.
Here at Halfords, we're committed to driving down prices and offering you the best value possible to keep you safe, happy, and secure. We've pledged to never be beaten on price on 1000s of motoring essentials – read more here.