There's a new chill in the air that can only mean one thing: autumn has arrived. With it comes a falling of the leaves, lots of woolly jumpers and more time spent in the workshop.
Before hibernating indoors for an autumn and winter of workshop fun, it's important to make sure that your workshop is prepared for the months ahead.
Below are our top tips that will help make your workshop a more productive place to be this autumn.
Storage
If you're anything like us, your workshop has become messy over the summer period. Warm days mean less time spent organising those tools, and now autumn has arrived, the workshop is in need of a good tidying.
Nothing makes this task easier than a high-quality storage cabinet, such as the Halfords Advanced 6 Drawer Tool Cabinet. Each of the six drawers comes with a 30kg load rating, meaning there's lots of space for plenty of tools. Plus, you won't need to worry about your tools scratching with each drawer containing a non-slip lining.
Of course, storage is also needed for security, which is why the cabinet features an advanced locking mechanism. With the Advanced 6 Drawer Tool Cabinet, your tools will be safe and secure, and your workshop will be tidier than ever!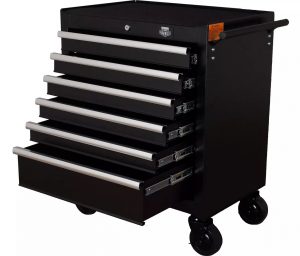 Light it up
A good workman never blames his tools – but they can definitely blame the lighting. If you don't have a specialised inspection light, completing accurate work can be difficult, and your eyes won't be thankful for all the squinting required.
Luckily, there are plenty of workshop lights that will help you with your work. A good example is the Ring RIL38 Rechargeable Inspection Lamp. Emitting up to 200 lumens, the light brightly illuminates worktops and can easily be adjusted through its flexible stand. The light arrives with a micro-USB charging cable so that you can top up the power ready for the next day of workshop action.
Not all work is carried out on the worktop, though, and the Ring Magflex RIL3800HP 3W Slim Inspection Lamp is ideal for those jobs in hard-to-reach places.
At just 15mm thick, the light easily fits into narrow gaps, with its wide-angle beam providing excellent lighting. Magnets and hanging hooks make the light a convenient choice that is perfect for working under a bonnet. It even has an additional torch mode for more concentrated lighting.
Combine both lights and your lighting woes will be a thing of the past!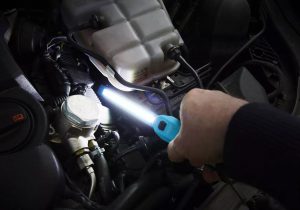 Protect it
Throughout the year, it's vital that your workshop is well secured. You don't want an opportunistic thief taking off with your tools. With autumn arriving, now is the perfect time to double check the locks you have in place. If they're suffering from wear or corrosion, you should consider replacing them, with the autumn and winter weather only going to corrode them further.
You can check out our range of padlocks and bolt locks over at Halfords.com. If the padlock or lock will be outdoors, try to pick a product with anti-corrosion qualities. It should then last much longer and offer better protection during the autumn months.
Workshops don't simply need to be protected from thieves, but also from ourselves! We don't know about you, but we can be clumsy and often drop tools on the floor.
One of the cheapest yet most effective solutions for any workshop is a floor mat. Use one like the Halfords 6 Piece Black Floor Mat Set and your floor and tools will receive that added protection they need. The 6-piece set will not only protect against falling items but will absorb shock when working on hard surfaces.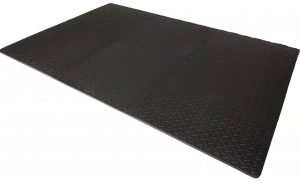 Warm hands
That's your workshop protected, but what about yourself? With many workshops lacking heating, they can quickly become chilly. No workman works well with cold hands!
With the Hot Hands Hand Warmer Value Pack, you won't have to! Quick to warm up, the hand warmers provide up to 10 hours of heat. Meaning they'll last throughout even those marathon workshop days.
They're also great when placed inside protective gloves such as the Draper Pro Performance Work Gloves. Made with shape-fitting spandex, the gloves provide a flexible and comfortable fit. Their spider-web patterned palms ensure high levels of grip meaning that they're perfect for handling hand-polished tools and small components.
Together with the Hot Hands Hand Warmers, the Draper Pro Performance Work Gloves are a must-have for your workshop this autumn.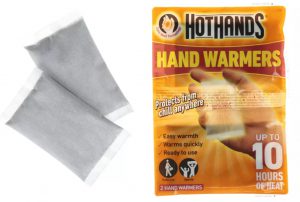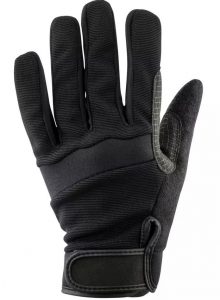 ---
Follow these tips and your workshop will be the perfect place to hibernate this autumn. For many more workshop ideas and a wide range of tools, head over to Halfords.com.