The Halfords team asked Turtle Wax to share a selection of their top tips for people who might be new to car cleaning or for those weekend warriors who wish to expand their knowledge just that little bit more. Their excellent advice is broken down into the following steps.
Always wheels first
This reduces the risk of spreading dirt onto your nice clean paintwork, especially when using a pressure washer to rinse. We would recommend a pH balanced colour wheel cleaner like our Red Line Wheel Cleaner which actively turns red as it reacts with brake dust. It is safe for all alloys without the risk of damage and is as easy to use as it is efficient – simply spray on, watch for the colour change and then rinse with a pressure washer.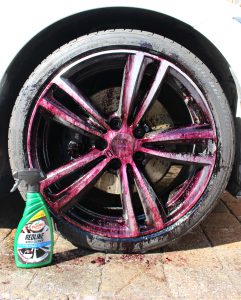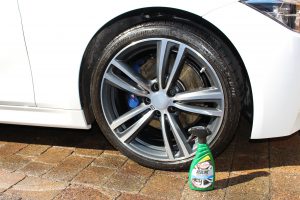 To snow foam or not to snow foam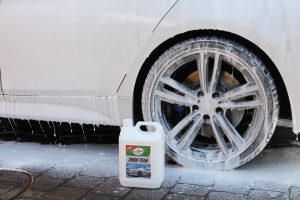 Snow foam is a great pre-wash for your car and adds that extra level of safety ahead of your main two bucket wash. It will loosen and lift surface dirt, traffic film, grime and oils from the paintwork allowing you to rinse them away easily. By doing this, not only does it make your bucket wash much easier, it means you have less chance of creating swirls with the fine dirt particles. You will need some extra equipment to be able to apply snow foam, a pressure washer with a Snow Foam Cannon attachment and of course some snow foam to put into your lance attachment. The Turtle Wax 5 Ltr Snow Foam represents great value.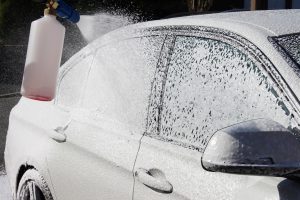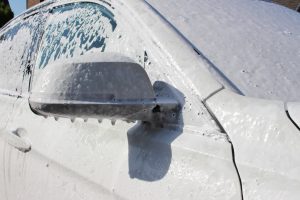 Two-bucket method and a quality car shampoo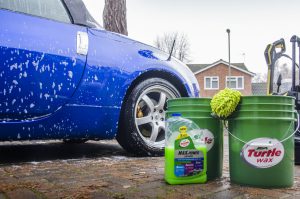 This tip helps to isolate dirt you have already removed from the surface of the car. If the dirt you removed was to stay on your wash mitt and come into contact with the paintwork it can cause swirl marks, you absolutely don't want this!
So you will need two buckets. One filled with clear rinse water and one with your car shampoo and water. Use the rinse bucket to decontaminate your wash mitt each time before you reapply suds from the wash bucket. At the end of the wash take a look at all the dirt you isolated into your rinse bucket reducing the risk of it coming back into contact with your paintwork!
Rinse thoroughly and dry
Following the wash stage, it is important to rinse and dry the bodywork thoroughly. Use a good quality plush microfibre drying towel which will quickly absorb the surface water, reduce the risk of streaks and any accidental scratching. Once the car is thoroughly dried you can properly inspect the paintwork and other surfaces to see if they need extra treatments.
Apply a durable wax protection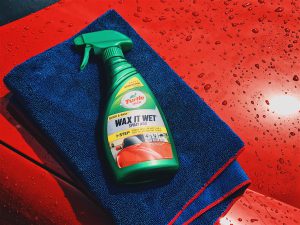 For that extra glossy shine, you can very quickly apply a protective wax that will make future cleaning so much easier. Turtle Wax have a spray wax that can be applied while you dry the car.
Wax it Wet provides additional shine without the need for an additional step. Simply spray on the car whilst wet and dry to a high shine with your Microfibre drying towel.
Don't forget the glass!
The glass is often forgotten, but it makes such a difference to the result. We would recommend using a lint free glass towel and our ClearVue Glass Cleaner. When used on the inside it removes greasy finger marks, grime and general dirt. On the outside, it will remove any bug residue and dirt that your exterior wash may have not dealt with.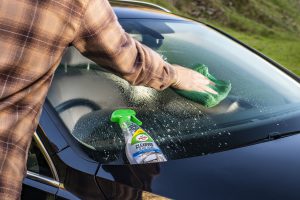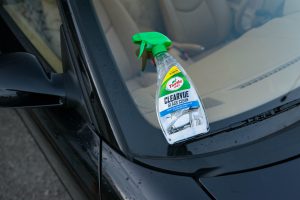 The finishing touch
To add that extra touch, dressing the tyres and trims on your vehicle can make a huge difference to the final look. Turtle Wax Wet N Black Tyre and Trim Gel restores both tyres and exterior trims back to their original appearance.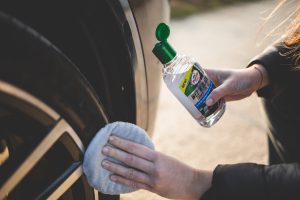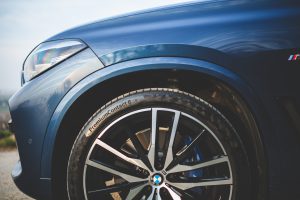 ---
Hopefully these tips and product recommendations have helped to inspire your future car care activities. If you have any questions on any of the products, please reach out to us @TurtleWax or speak to a Halfords expert in your local store.