Most of us probably don't spend that much time thinking about our wiper blades. They're just sort of there, quietly going about their business and keeping our vision clear as we drive ourselves from A to B.
But the minute they pick up damage or start to get a bit worn down, we notice it. The squeaking back and forth like nails down a chalkboard. The juddering motion that sends our eyes funny. The smears across our windscreen that stand as a memorial to all the unlucky bugs we've met on our journeys.
All of that tells us it's time for a change. And why not take the opportunity to upgrade at the same time?
From standard to flat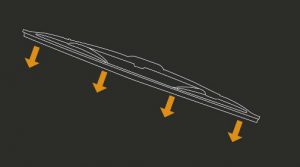 So first off, it's important to understand that your upgrading options are dictated by the blades that were installed on your car when it rolled off the production line. If yours came with traditional wiper blades like the one shown in the image, then you've got our first upgrading option: standard to flat blades.
So, what are the benefits of leaving standard behind and embracing flat blades?
Greater pressure
Flat blades sit lower on the screen and put more pressure on the glass at multiple points. What this means is a better and more efficient wiping motion than standard blades have, as well as better visibility for the driver.
More aerodynamic
Not only does the flatter design mean more contact points between blade and windscreen, it also means less air resistance. This helps to keep the noise down when you're travelling at high speeds on a dual carriageway or motorway.
Easy to fit
Normally, you wouldn't be able to fit a flat wiper blade onto a car that currently has standard wiper blades because they have different mechanisms. However, the existence of retrofit flat blades has made this a viable option. Many of them have integrated adaptors that bring the two types of blade together and fitting them is as easy as replacing a standard blade like-for-like.
From flat to flat silicone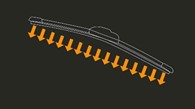 If your car came with flat blades like the one shown in the image, then you've got our second option: flat to flat silicone blades.
So, what are the benefits of swapping flat for flat silicone?
Longer lifespan
Silicone is a synthetic rubber that's pretty much the perfect material for wiper blades because it's non-reactive, durable, and resistant to extreme weather and temperatures. This means that flat silicone blades last twice as long as their natural rubber counterparts, making them a seriously good investment.
Increased visibility
On a normal windscreen, water drops tend to spread. On a windscreen with a hydrophobic coating however, water drops remain in a spherical bead-like form instead. This means greater visibility for you as the driver because these beads are dispersed much more easily by your wiper blades. Just have a look below and you'll see what we mean.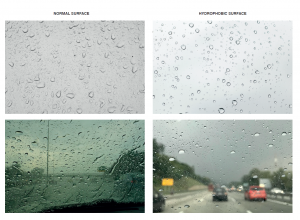 While there are products that you can use to apply a hydrophobic coating to your windscreen, flat silicone blades will do this for you. All you need to do is run your wipers for five minutes on a dry windscreen and voila, the coating will be applied. Best of all, the blades will repair and protect that coating while you're using them.
Even better wiping motion
The hydrophobic coating also means that your wiper blades will operate much more smoothly than natural rubber blades would. They'll glide easily across your windscreen, making annoying squeaking and juddering a thing of the past.
How we can help
Here at Halfords, we've got a great range of standard, flat and flat silicone wiper blades to choose from. In fact, silicone wiper blades are exclusive to Halfords in the UK, so make sure you grab a pair while stocks last.
Just remember to use our vehicle registration number checker first to make sure that you've got the appropriate wiper blades for your make and model of car. The last thing you want is a fancy new pair that doesn't fit!
We'll also fit your new blades for you, so just choose this option during the checkout process or pop into a store and one of our colleagues will be happy to help.
Halfords Motoring Club
Don't miss out! Join the Halfords Motoring Club today to access a range of amazing benefits and discounts that are designed to keep you moving, keep you safe and keep you saving.
It's free to join and you'll receive money off your MOT, a free car health check and a welcome voucher that can be spent on any Halfords product or service.
Or choose our Premium membership for a small monthly fee (or a one-off payment) to unlock exclusive member pricing on all motoring products and services online and across our stores, garages and Halfords Mobile Experts, as well as a variety of other benefits that will help you to keep moving for less.
With so much to enjoy, this is too good an opportunity to miss!
Join the Halfords Motoring Club today at www.halfords.com/motoring-club.
---
For more wiper blade buying advice, head over to our Wiper Blades Buyer's Guide.