Boardman Bikes have been producing performance bikes with innovative designs for over 15 years, with a focus on quality and value to cater to every rider's needs. Now, this ethos has been channelled into the new Boardman JNR range, featuring kids' and junior bikes designed to teach and nurture a passion for riding.
The Boardman JNR range
The JNR range is built on three principles of learning to ride – forwards, faster, further.
Whether your little ones are covering their first few metres forwards, are getting to grips with pedals and gears to ride faster, or are proficient cyclists who want to adventure further afield, the Boardman JNR range has something for every child.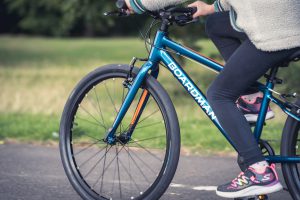 The models are designed to follow on from each other to ensure a smooth learning transition as young riders develop their skills and become more proficient cyclists. For a better idea of which bike might fit your little one, check out the table below:
| | | |
| --- | --- | --- |
| Bike model | Inside leg measurement | Estimated age range |
| Boardman JNR Balance Bike 12" | 36-41cm | First Bike |
| Boardman JNR 16" Wheel | 48-53cm | 5-7 years |
| Boardman JNR 20" Wheel | 52-65cm | 6-9 years |
| Boardman JNR 24" Wheel | 63-72cm | 8-11 years |
| Boardman JNR 26" Wheel | 66-78cm | 9-12 years |
| Boardman JNR ADV 26" Wheel | 68-80cm | 9-12 years |
Forwards: Boardman JNR Balance Bike
The range begins with the Boardman JNR Balance Bike, for the beginning of your little one's cycling journey. The design is tailored to small riders, with quality components designed to make learning as simple and comfortable as possible.
This starts with the lightweight alloy frame, making it easy for your little one to manoeuvre the bike as they need to – and easy for you to carry home at the end of the day. There's also a useful handle underneath the saddle to make it even easier to transport.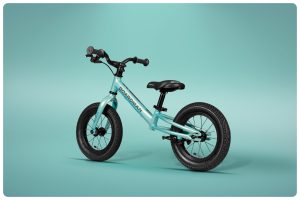 The saddle is the perfect size and shape for young riders and can be easily adjusted to sit at the right height for your little one. Plus, the simple braking system lets your child get to grips with stopping themselves without using their feet, and the short-reach brake lever is specifically designed for small hands.
When a child is just starting to learn to ride, it's important to nurture their confidence as much as possible, which is why the JNR Balance Bike comes with wide, fast-rolling tyres. The width helps to reduce the impact of any vibration or bumps in the road, so your little one won't be jolted and deterred from riding.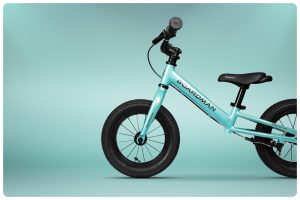 Forwards: Boardman JNR 16"
The second bike in the range is the Boardman JNR 16", and it brings a new challenge for progressing riders: pedals. As your little one gets to grips with pedalling, they'll want everything else to remain simple and familiar so they can focus on this new task. That's why the JNR 16" uses the same one-piece bar design as the Boardman JNR Balance Bike, to lessen any confusion or nerves, and let your little one build their riding confidence.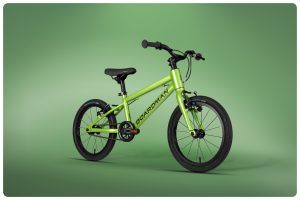 To keep your child moving forward in their cycling journey, the JNR 16" lifts design cues from the adult Boardman HYB range and adapts them for smaller riders. This begins with the lightweight forks and triple-butted alloy frame which keep the bike balanced and easy to handle. Hidden welds give a sleek and stylish look, and the short-reach brake levers and child-sized saddle keep everything in proportion for small riders.
As your child builds up their pedalling abilities, they won't want to be too worried about gear changes, so the JNR 16" uses a single-gear set-up to keep riding simple. But, when their confidence starts to build and they feel more comfortable riding, they'll have the power available to pick up the pace.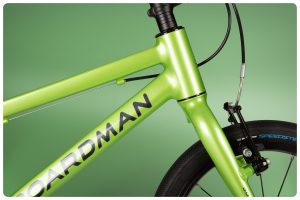 To keep them stable as they begin to explore, the powerful V-brake and fast-rolling Vee Speedster tyres deliver reliable control and stability.
Faster: Boardman JNR 20"
The Boardman JNR 20" is the third bike in the range, and provides the step-up needed for your child to begin going faster and exploring the world around them as their riding goes from strength to strength.
Again, the JNR 20" is modelled on the adult Boardman HYB bike range to offer the same versatile ride to younger cyclists. The triple-butted aluminium frame keeps stability where it's needed while eliminating any excess bulk for easy handling and a responsive ride. This lightness also lends itself to speed – now that your child has mastered the basics, they'll be travelling further and quicker to explore their abilities.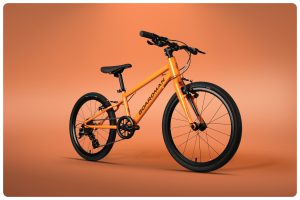 To help them tackle these challenges, the JNR 20" brings 7-speed Shimano gearing for a faster pace across trickier terrain. The extra gears unlock more adventurous riding that lets your not-so-little one take on routes that were just a little too far or too hilly before.
With faster riding comes the need for control, and the powerful V-brake provides reliable and confidence-inspiring stopping so no matter how adventurous your child gets, they'll be able to slow down when they need to. The JNR 20" also keeps the short-reach brake levers of the smaller models, so braking power is always within reach.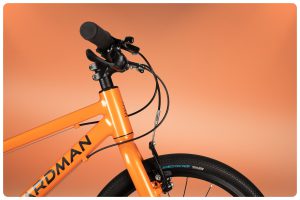 A more confident rider means longer rides, so to keep your little one happy in and out of the saddle, the JNR 20" is designed around comfort. The long wheelbase helps to make the bike more stable at high speeds and will reduce the impact of bumps and rougher terrain, while the increased standover clearance makes it easier to get on and off the bike. Pair this with the height-adjustable junior-size saddle, and you've got a performance machine that doesn't compromise on comfort.
Faster: Boardman JNR 24"
The Boardman JNR 24" is the fourth bike in the range, building on the design of the JNR 20" to deliver an increase in power and a larger size to push advancing riders even further.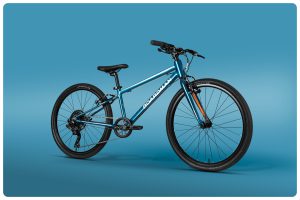 The lightweight triple-butted aluminium frame and fast-rolling Vee Speedster tyres encourage pacy and confident riding, with the knowledge that the bike will easily respond to their needs. The familiar V-brake system seen on the earlier models keeps your child in control and comfortable with stopping, with the same short-reach brake levers to make sure that they can stop themselves.
The boost in power for the JNR 24" compared to the 20" comes from the gearing, which is upgraded to a 9-speed groupset with an 11-41 tooth cassette. This wider range cassette gives your child plenty of options for tackling both on and off-road routes, whether they're scaling steep hills or picking up the pace on flat stretches.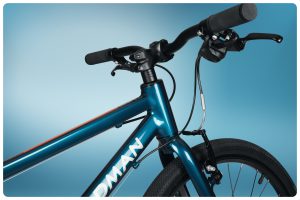 Now that your little one has got the power to take on longer and messier rides, the JNR 24" introduces rack and mudguard mounts on the frame to accommodate more versatile riding. They can stock up on picnic blankets and refreshments as the whole family embark on a long summer's ride, or they can take on the wet and mud of a winter day and fend off any excess grime.
Further: Boardman JNR 26"
The Boardman JNR 26" is the largest flat bar bike in the range, bringing together all the best features of the previous models and enhancing them for more daring riding. It's a premium adult bike, just in a smaller size.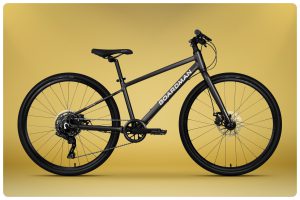 The sleek and lightweight triple-butted aluminium frame delivers unrivalled pace and handling, for a thrilling yet controlled ride. The hidden welds and matte black finish give a sleek and premium look perfect for any advancing cyclist, whether they're riding on or off-road.
With a 9-speed groupset and wide range cassette, the JNR 26" can tackle any terrain your child encounters, ensuring they have the right gear for every ride. A new premium feature for the 26" is the upgrade to the brakes: the mechanical disc brake provides unrivalled stopping power for even the trickiest of terrains, so they'll always be in control.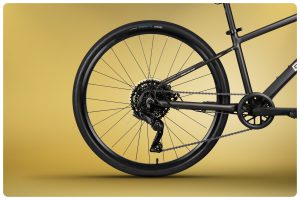 Like the JNR 24", the 26" comes equipped with both rack and mudguard mounts for ultimate versatility, and Vee Speedster fast-rolling tyres make for stable yet exciting riding. The JNR 26" is the culmination of the flat bar junior range, and a performance machine prepared for any adventure.
Further: Boardman JNR ADV 26"
For younger riders seeking a thrill, the Boardman JNR range finishes with the JNR ADV 26", which offers an adventure alternative to the hybrid-style JNR 26". The sportier shape and lighter weight make this bike perfect for wilder off-road adventures, and it comes packed with premium features.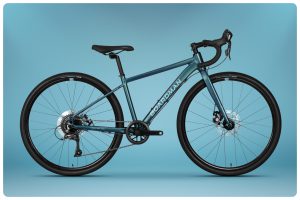 The JNR ADV 26" shares much of its design with the adult Boardman ADV range, to give the same thrilling experience to riders of any size. The ergonomic dropped handlebars give ultimate control and a comfortable riding position for all-day expeditions, and the triple-butted aluminium frame keeps everything light and responsive. Combine this with a slick paint job and hidden welds, and you've got a bike that combines top performance with stylish design.
The powerful cable disk brakes provide reliable braking every time for maximum control when it's needed most, and the wide range 9-speed cassette supplies plenty of gears for adventures on any terrain.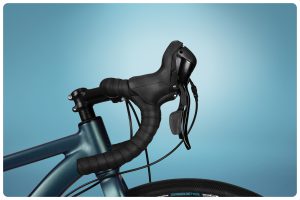 The Vee Speedster multi-surface tyres offer fast-rolling grip perfect for tarmac and light trails, and they're easy to swap should a ride call for a more heavy-duty option. This versatility can also be seen in the inclusion of both rack and mudguard mounts, so your child will be ready to take on all kinds of rides.
---
So, that's the new Boardman JNR bike range. They're built with the same quality and design you'd expect from the adult Boardman Bikes, just in a smaller size, and you can shop the whole range here.
If your child has outgrown their bike, or you're looking to upgrade, you can trade in their old Halfords bike and get money off a new one with the Halfords Bike Xchange.
The Bike Xchange scheme allows you to trade in your old Halfords bike for money off products & services, which you could then use to upgrade your little one's bike, or for any other of our products. It's a great way to both reduce consumption and keep your wallet happy. Find out more about the Halfords Bike Xchange here.
Halfords is here for all your riding needs, from kids' bike accessories and helmets to servicing and repairs. Just head over to Halfords.com, or pop into your local store where one of our experts will be happy to help.