It's not uncommon for kids to receive a new bike for Christmas – they're fun to ride, easy to handle, and look great under the tree. However, a brand-new bike can make a great present for grown-ups too, and there's no reason not to gift one to a friend or family member this year.
So, we've rounded up our top picks for the best bikes for adults this Christmas, covering a range of riders and their needs.
Carrera Vengeance Mountain Bike
Our top choice for gifting this year is the updated Carrera Vengeance Mountain Bike, a great pick for weekend riders and more experienced adventurers alike.
It comes kitted out with branded parts and features, including puncture protection tyres, reliable disc brakes for controlled stopping, and 16-speed gearing to make hill climbs easier.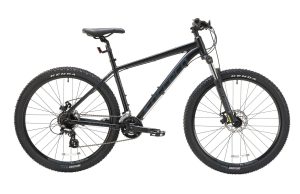 To keep riding comfortable, the Vengeance comes equipped with soft rubber handlebar grips and a memory foam saddle for easy and enjoyable riding all day.
Pendleton Somerby Hybrid Bike
The Pendleton Somerby Hybrid Bike is the perfect choice for relatives who enjoy casual cycling, with an upright riding position and relaxed handlebars for maximum comfort while cruising around town.
The low step-through frame not only looks elegant but also provides quick and easy dismounting, making it ideal for day-to-day riding, and the sprung leather-style saddle keeps longer journeys comfortable.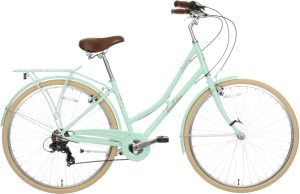 Alongside the stylish design, the Pendleton Somerby also comes with alloy V-brakes to provide consistent braking, and 7-speed Shimano gears offer simple shifting for urban riding. For ultimate easy riding, you can even have the bike built by one of our expert technicians – just tick "Build My Bike" when adding the bike to your online basket or ask in-store.
Apollo Phaze and Apollo Jewel Mountain Bikes
For casual and week-end riders, an Apollo mountain bike is the perfect gift. The men's Apollo Phaze and women's Apollo Jewel are our picks for bikes that you'll enjoy riding, but that won't damage your wallet.

Mixing comfort, durability, and value, the Phaze and Jewel bikes come equipped with everything you need for leisurely rides. 18-speed Shimano gears make for easy hill climbs, and the MTB forks with 60mm of travel offer a more comfortable ride.
Both bikes are comprised of a lightweight aluminium frame for agile movement and easy transportation, and the steel V-brakes will give ample control when you need it most.
Carrera Intercity Disc 9-Speed Folding Bike
A great gift for commuters, the Carrera Intercity Folding Bike is designed to be lightweight and easily transportable, without compromising on ride quality.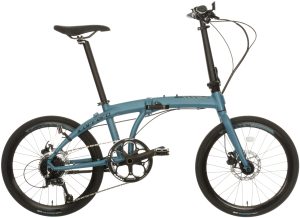 The frame is constructed from lightweight aluminium to make it both comfortable to carry by hand and easy to lift onto a luggage rail or into the boot of your car. No matter the weather on the way into work, the hydraulic disc brakes will have no problem supplying strong braking ability to make light work of stop-start commutes.
9-speed gears mean that any hills will be easily conquered, leaving you fresh and ready for the day ahead. This is the ultimate upgrade for any friends or family who dread the morning commute.
Voodoo Braag Mountain Bike
Famed for their market-leading designs, Voodoo are experts in creating the ultimate mountain bike experience, so gifting a Voodoo Braag is sure to go down well.
Starting with the alloy frame, it uses a modern mountain bike geometry for a sleek and smooth ride, whether you're getting to grips with the local trail centres or taking on single track.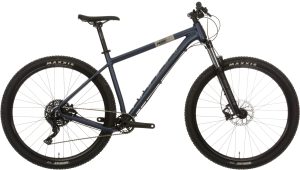 The 1x Microshift drivetrain is both lightweight and easy to use, and teamed with the wide-range 9-speed cassette, you'll always have enough gears to get over steep inclines.
When it's time to take on the downhills, you can be sure that the hydraulic disc brakes will provide ultimate stopping power and control.
Christmas bikes at Halfords
If you've got an old Halfords bike that you're no longer using, or you fancy treating yourself or a loved one to an upgrade this Christmas, why not trade in with the Halfords Bike Xchange?
The scheme allows you to trade in your old bike for money off a new one or anything else from our range of goods and services, from workshop tools and in-car tech to services and MOTs. Plus, we restore and sell these pre-pedalled bikes to reduce waste and offer your old bike a new lease of life. Any bikes that can't be resold are shared with our charity partners such as Re-Cycle, who then repair and donate them to African communities. So, you'll be saving money and contributing to some good causes.
You can read more about the Halfords Bike Xchange here.
---
With so many quality bikes in varying styles, disciplines, and budgets, there's never been a better time to gift a loved one a brand-new bike. Plus, you can trade in an old Halfords bike for money off a new one with the Halfords Bike Xchange, and you can lock prices today and pay later with Klarna. Pay in 12 instalments on adult bike orders over £199 with 0% APR.
You want Christmas for less, you want Halfords.