Do you remember learning to ride a bike? Most of us will have started out using a pedal bike with stabilisers.
Times have changed though. Balance bikes do away with stabilisers and pedals, and are a really popular (and fun) way to learn to ride a bike!
Read on to find out why a balance bike might be a great choice for your little cyclist…
What are the benefits of balance bikes?
Balance bikes teach balance
The key feature of a balance bike is all in the name! Balance bikes have no pedals or stabilisers, so your child must learn to balance, pushing their feet off the ground to move forward. A balance bike lets kids learn at their own pace, allowing them to put their feet down to stop the bike from leaning over (like stabilisers do).
Teach them to ride early with balance bikes
Balance bikes make a brilliant first bike and are excellent for helping small children master the basics of riding a bike. They're easy to understand, and there aren't any dirty moving parts like chains to catch little fingers or make a mess.
Riding a balance bike will help children become more confident with their balance and coordination, two of the most important aspects of learning to ride a bike.
Balance bikes are light
You might think of light bikes as something people use to show off to their mates, but it's really important for kids' bikes to be light too! A light bike means that they can pick it up themselves and it's much easier to ride and control.
You can use balance bikes almost anywhere
When your kids first start riding on a balance bike, they probably won't be going very fast or very far, but that's a good thing! For novice riders, balance bikes don't need a lot of space. That means your kids can use them in the garden or on the drive, and they can spend more time learning without needing a trip to the park.
Balance bikes are simple
Without gears, there's hardly anything on a balance bike that needs maintenance or that can go wrong. You don't have to worry about your kids taking too much care with a balance bike, and they're much safer for very young children too.
And that's why balance bikes are great for teaching your kids to ride! Is your little one ready to start life on two wheels? Take a look at our guide to teaching your kids how to ride using a balance bike here.
The best balance bikes
With balance bikes becoming such a popular way to teach your little one to ride a bike, Halfords offer a superb range of balance bikes that will delight your child and give them a great start on a bike of their own.
Here are our top picks of the best balance bikes out there:
Trunki Folding Balance Bike – 10" and 12" Wheel – Blue and Pink
The wonderful aspect of the Trunki Folding Balance Bike is that, you guessed it, it folds for easy transportation. Available in blue and pink and 10" and 12" wheels, this is a great bike to invest in if you're off on regular family adventures. It's lightweight which also has some advantages if you find yourself towing tired legs with the carry strap after a long day. The quick release seat post means you can adjust the bike as your child grows. With lots of personality in its design and the unique folding mechanism, this bike definitely stands out from the crowd.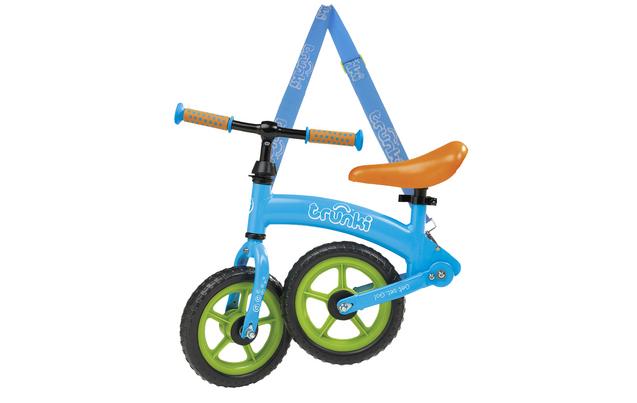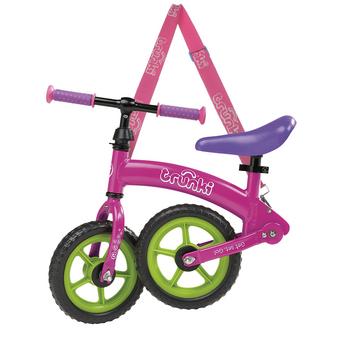 Apollo Wizzer – 10″ and 12" Wheel
Apollo Wizzer Balance Bikes are not only robust but they feature a built-in brake (12" only). This gives children time to practise using brakes to slow down and stop, rather than using their feet. Built to last, this bike can really take some knocks as your child learns, with air filled tyres for better grip and a strong, sturdy frame. Kids will be well set up to move on to a pedal bike after some time on their Wizzer.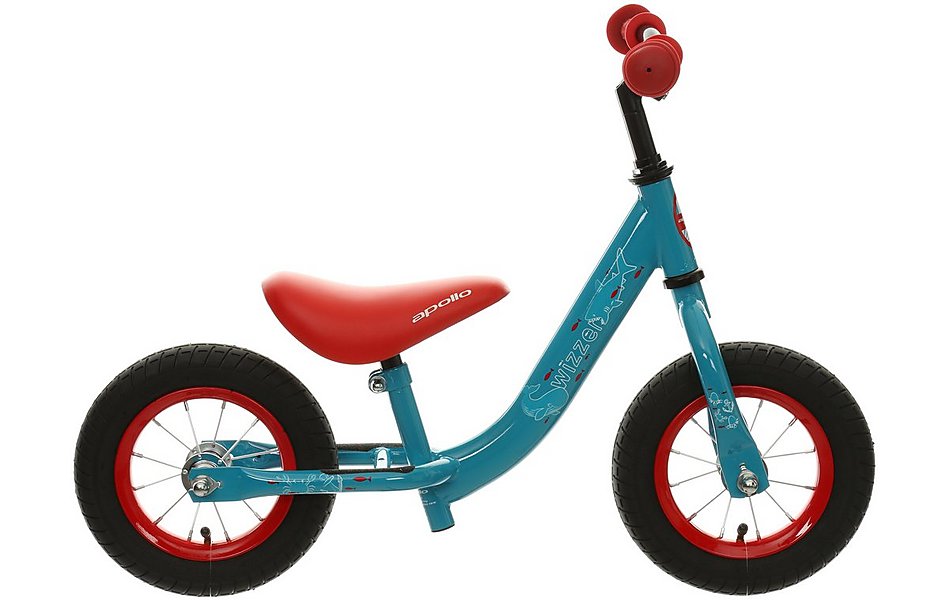 Pendelton Somerby Balance Bike – 12" Wheel
The classic style that Pendleton adult bikes are known for is clearly replicated in the Pendleton Somerby balance bike. It features a V-brake for reliable braking and a step-through frame for easy getting on and off. There's even a miniature wicker style basket for extra cuteness. Kids certainly learn to balance in style on their Pendleton.
Frozen 2 Balance Bike – 10" wheel
Elsa and Anna fans will love the Frozen 2 Balance Bike. Character graphics feature on a handlebar plaque and the tyres are nice and tough to avoid any punctures while your little one is practising. They might love it so much that they won't want to let it go…sorry, we couldn't resist!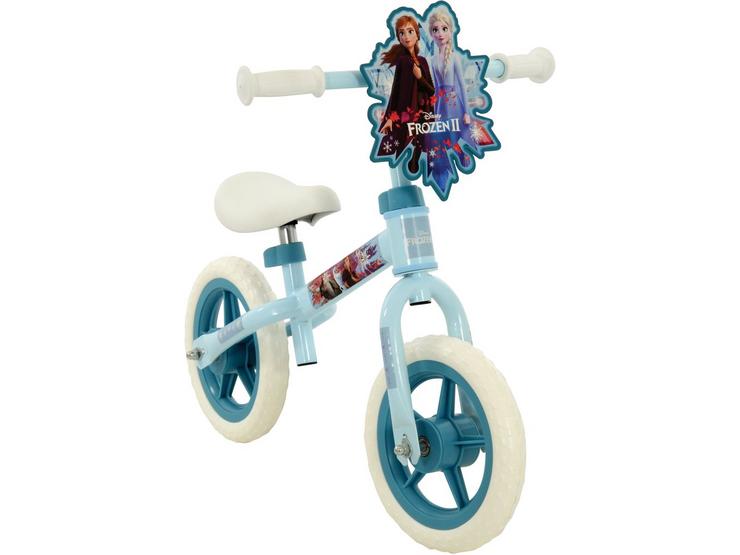 Indi Balance Bike – 10" wheel
The Indi Balance Bike is a great bike if you've got a smaller budget and is well designed for little hands and little legs. It's strong, durable and has puncture proof wheels. This is the perfect first bike for children looking to build their bike confidence.
View our full range of balance bikes over on Halfords.com. Remember, if you want the best balance bikes, you want Halfords.