Radio on, the wind in your hair, and an endless stretch of road before you – who doesn't love long summer drives? If you're anything like us, then you probably rack up the mileage in the warmer months with staycations, road trips, and days out giving you more reason to travel.
With all this extra driving, you'll want to be sure that your car is in perfect condition to get you to your destination. Here's 5 things you can do to get your car ready for the summer months.
1. Check your car's health
First things first, you need to know that everything's working. No one wants a mid-journey breakdown, especially in an unfamiliar area, so it's best to get everything checked out before any long summer drives.
Here at Halfords, we've got loads of free car checks for specific components in your car to make sure that everything's running smoothly. You can book these online and have them carried out by one of our expert technicians at your local garage. If you're concerned about your air con, brakes or battery health, or maybe you've experienced poor handling and want your tyres checked, we're here to help.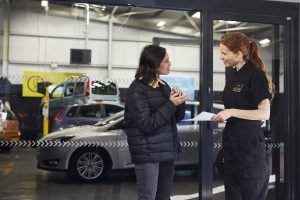 For a more comprehensive all-over assessment, we also offer both a free 5-Point Car Check or a £15 10-Point Car Check to either give you the peace of mind that everything's in working order, or to identify any problems that can be tackled before they get worse.
If we do find anything wrong, we'll talk you through all your options and any next steps. For a hassle-free solution, our Mobile Experts are on hand. Our talented mobile technicians can carry out a range of fittings and repairs such as battery replacements, windscreen wiper replacements, tyre replacements and dash cam fittings, either at your home or workplace, to get you moving again with as little hassle as possible.
2. Beat the heat
The UK weather isn't always reliable, but we can usually count on at least a few weeks of hot weather. To make sure you don't get caught out this summer, be sure to prepare your car for the rising temperatures.
The number one defence against the summer heat is of course your air con system, so you'll want to make sure that it's in full working order if you're going to keep cool on long drives this summer. As we mentioned earlier, you can pop into your local Halfords store for a free air con check to make sure that everyone's functioning normally. And don't worry if it's not – we can run an air con  diagnostic check in one of our garages to get to the root of the problem, and then recommend the best next steps.
Sunshades are another great way to beat the heat, shielding the interior of your car from direct sunlight and UV rays to both reduce any glare and keep the car cool. There are a few different types, depending on what you're after.
To make sure you return to a cool car after a day of exploring, a windscreen sunshade will block the sun to keep the interior temperature blissfully low, with a reflective material to deflect UV rays. For little ones in the backseats, sunny drives can prove irritating with sun glare and UV rays to contend with. Rear sunshades fit to the rear windows, in either a pop-up or roller style, to deflect the sun and keep your passengers happy and cool.
3. Take care of your windscreen
In the summer months, it's easy for dry dirt, dust, and pollen to be blown around by the breeze and cover your windscreen. No one wants to have to contend with a messy windscreen and reduced visibility when they're out on a long journey, so topping up your screen wash is our next recommendation. You can choose between ready mixed and concentrate, and you can either top up your reservoir yourself or pop down to your local Halfords and we'll do it for you for free.
In the same vein, you'll also want to make sure that your windscreen wipers are fully functioning, so that you're not caught out when you're rinsing off your windscreen or caught in a shower. Like most things, your wiper blades will suffer from wear and tear over time, so you'll need to clean and eventually replace them at some point.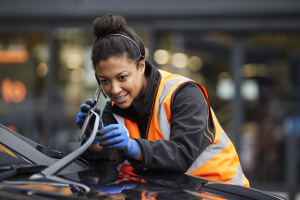 If it is time to replace your blades, why not give them an upgrade at the same time? Flat silicone blades are more durable, aerodynamic, and can deposit a hydrophobic coating onto your windscreen, to stop water drops spreading. Check out our vehicle registration number checker to find the appropriate wiper blades to fit your make and model of car.
With a full screenwash reservoir and fancy new wiper blades, you'll be able to safely navigate your summer journeys. Plus, if the rain does come, you're prepared for any showers. Read more about getting ready for wet summer weather on our blog here.
4. Get cleaning
Once everything's topped up and working like new, why not give your car a good clean to get it looking like new too! Cleaning everything out and washing off the remnants of bad weather means you'll be ready for whatever journeys summer throws at you, and regularly giving everything a good clean will help to keep your car running smoothly – as well as looking gorgeous in the sunshine.
Start with your exterior, and work inwards. Give everything a good blast with a pressure washer and snow foam to soak off the worst of the surface dirt, then go for the finer details. Get to grips with car shampoo, polish, waxes and ceramic coatings to really get the paintwork sparkling – and don't forget the wheels! You can find our guide on how to clean alloy wheels here.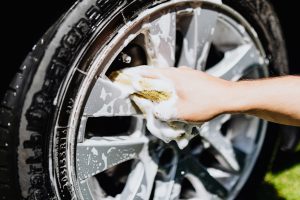 Be sure to tackle the inside too, to get rid of ant dirt, muck, and grime that's clung on from the colder months. Start by giving everything a good vacuum to remove the worst of the dirt, then get scrubbing! Make use of car upholstery restorers and leather cleaners to remove any stubborn stains from fabric and be sure to use a dedicated dashboard cleaner to get rid of dust and seal in the finish – it'll perform much better than your standard household polish. For the ultimate finish, don't forget to pop in an air freshener too! You can find more of our top tips for cleaning your interior here.
5. Join the Halfords Motoring Club
Our last way to prepare for whatever the summer throws at you is to join the thousands of customers already signed up to the Halfords Motoring Club, to access a range of amazing benefits and discounts that are designed to keep you moving, keep you safe and keep you saving.
It's free to join and you'll receive money off your MOT, a free car health check and a welcome voucher that can be spent on any Halfords product or service.
Or choose our Premium membership for a small monthly fee (or a one-off payment) to unlock exclusive member pricing on all motoring products and services online and across our stores, garages and Halfords Mobile Experts, as well as a variety of other benefits that will help you to keep moving for less.
With so much to enjoy, this is too good an opportunity to miss!
Join the Halfords Motoring Club today at www.halfords.com/motoring-club.
---
And there you have it! 5 ways to get your car ready for summer. If you need anything else for your adventures this summer, head over to Halfords.com to find out how we can get you road trip ready. You want summer driving, you want Halfords.