Nothing beats the excitement of a staycation holiday. With the car packed and playlist planned, all that's left to do is hit the road!
However, before leaving, you also need to plan for the warmer weather. If you or your car are unprepared, hearing 'are we there yet?' for a few hours will be the least of your worries! To help, we've pulled together our top tips for keeping you and your car in tip-top condition during long, summer drives.
Arrive fresh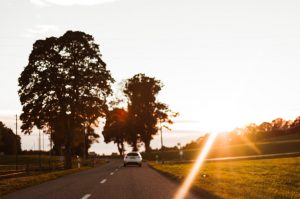 While we all love a road trip, there's no denying that it can quickly get stuffy on a hot summer's day – and that's when you'll really appreciate your air con!
However, on average, air cons lose 10% of their refrigerant each year. So, if you want your air con to keep you fresh on your yearly staycations, you need to keep it well serviced, and we can help.
Through our Free Air Con Check, we can test your air con's temperature and refrigerant, inspect all the key components, and conduct a leak test. And if the refrigerant levels do need topping up, we can do it for as little as £50, or we have all the products you need to recharge it yourself instore or online.
Traffic essentials
It wouldn't be a staycation if you didn't find yourself stuck in motorway traffic at some point. And with traffic reaching peak levels during these busy summer months, you can find yourself stuck bumper to bumper for long periods of time.
Of course, no one likes being stuck in traffic, but with a little preparation, it can be much more bearable.
For a start, make sure you've stocked up with plenty of bottles of water. And don't forget lots of snacks – after all, you don't know when you'll next reach a service station. When the traffic's really bad, you might need to cut the engine, which means no air con. That's when you'll be thankful that you packed a small fan. A great option, our Simply Motorised Handheld Fans are easy to store, so you can take one for everyone in the family.
Once you've escaped the traffic, take a moment to stretch your legs at a service station and enjoy some refreshing air. Sometimes, visiting service staycations can be a full on adventure, and we've created a list of our top 5 favourites here.
Cool refreshments
You've stocked up on water which will take care of hydration during your journey. But how are you going to store it? You won't find car-temperature water very refreshing. That's where a coolbox comes in handy.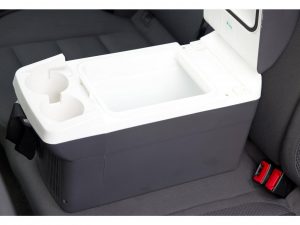 A great choice, the Halfords 8 Litre 12V In-Car Electric Coolbox has enough room for all your drinks, keeping them refreshingly cool throughout your journey. Plugging into your vehicle's 12V socket, the box can easily be secured using the rear seat belt. And it even has two integrated cup holders, so you won't need to worry about little hands dropping their drinks and making a mess.
Is your car ready?
That takes care of keeping you and your passengers cool and comfortable, but what about your car? Naturally, your car is more likely to overheat in warmer weather, but you can help prevent any unwanted trips to a garage by ensuring your car is topped up with coolant.
Engine coolant, commonly known as antifreeze, circulates around various parts of your engine, helping to dissipate heat. Without out it, your engine would quickly overheat, which could lead to extensive damage – the last thing you want during a staycation.
So, before heading away on your travels, why not book our Coolant Change service? In it, one of expert technicians will drain and refill your coolant before safely disposing of the old liquids. Or, if you fancy changing the coolant yourself, use our handy Vehicle Registration Number tool to find compatible coolants for your vehicle.
And don't forget other important checks too including your oil and screenwash levels plus your tyres. When checking your tyres, make sure there are no bulges or clear signs of damage. They should also be inflated to the correct pressure and the tread depth should be at least 1.6mm. Under-inflated tyres can affect stopping distances and handling while over-inflated tyres can lose traction. If you're unsure what to look for, book our Free Tyre Check.
Whatever your car needs, we have a wide range of checks and services, and you can also book our 10-Point Car Check in preparation for your journey.
Don't let a breakdown end your journey
No matter how well we prepare, vehicles still sometimes leave us stranded on the side of the road. Of course, you'll feel a lot better about the situation if you have breakdown cover.
With Halfords Breakdown Cover, you'll be prepared for anything. We offer five levels of cover and no matter which one you choose, you'll benefit from a range of exclusive Halfords benefits including a half-price MOT and 10% off servicing.
And that's not all! If you have bicycles, we'll cover them too. You should never head on your staycation without being covered and you can get a quote for Halfords Breakdown Cover here.
Set yourself for a lifetime of motoring
Don't miss out! Join the halfords motoring club today to access a range of amazing benefits and discounts that will help to keep you moving, keep you safe and keep you saving.
It's free to join and you'll receive instant benefits worth £35. Or upgrade to our Premium membership for just £49 (or £4.99 per month) to unlock 5% off member pricing on all motoring products and services online and across our stores, garages and Halfords Mobile Experts, as well as benefits worth £100.
With MOT deals, free car health checks, welcome vouchers and always-on discounts to enjoy, this is too good an opportunity to miss!
Join the halfords motoring club today at www.halfords.com/motoring-club.
---
Follow these tips and you can head off on your staycation journey safe in the knowledge you're prepared for any eventuality. Need some more staycation tips? Head over to our '5 ways to get ready for the ultimate staycation' blog.
And don't forget, you can find everything you need ahead of your staycation over on Halfords.com.
You want the ultimate staycation, you want Halfords!