What on earth do you buy the child who has everything? If a bike was last year's gift and they got a scooter the year before that, then you might be starting to run out of ideas (we certainly do at this time of year!). If you're looking for unusual gifts for kids this Christmas that they won't be expecting, then check out the following gift ideas that are a bit 'different' to the standard stocking-fillers.
6 unusual gifts for kids
1. Trunki Snoozihedz Seat Belt Pad
Seat belts, while an absolute necessity, aren't exactly the most comfortable things in the world and can soon chafe on little necks and shoulders. These super trendy, super comfy seat belt pads will provide young ones with a friend to cosy up with on long journeys. There's also a handy pocket for storing small toys, the perfect unique gift!
2. Apollo Firechief Kids' Bike Helmet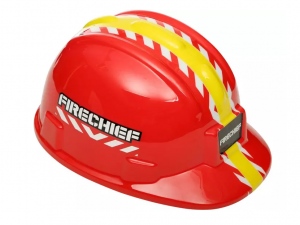 Convincing kids to wear a helmet when they're scooting or riding a bike can be tricky, but they'll be more than happy to be seen in this fun fire chief helmet. Complete with an adjustable fit system and a protective chin pad, it'll keep little heads safe and comfortable as they rush to the rescue.
3. Sullivan Big Wheeler Slider Trike
Got a little one who likes to stand out from the crowd? This Sullivan trike will help them turn a few heads thanks to its stunning mirrored electro paint finish. Perfect for little shredders, the big slick drifting wheels are designed for sliding. Plus, with an adjustable seat, they'll be able to enjoy this present for years to come.
4. Sullivan 12" Terra Firma Scooter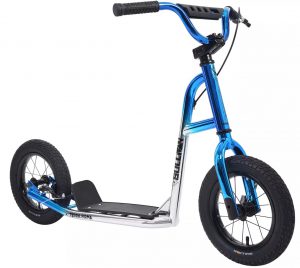 We know, we said we'd provide alternatives to a scooter or bike, but this is no ordinary scooter. Instead, it's an all-terrain, go-anywhere scooter that is fast, easy to ride and practical for all kids. Like the Sullivan Big Wheeler, it looks great too thanks to its cool mirrored electro paint finish. Just as importantly, the scooter is loaded with safety features including powerful V brakes.
5. Nerf Blaster Inline Kids Scooter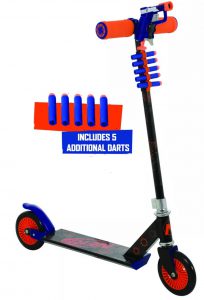 Following the theme of unusual scooters, this one comes with a nerf gun connected to the handlebars and 10 pellets.* Ideal for older riders who have mastered three-wheeled scooting and are ready for the next step, it's equipped with an anti-slip plate, a reactive rear foot brake and a cool design. You'll struggle to find a cooler present this Christmas.
6. Kids Bike Motorcycle Noise Maker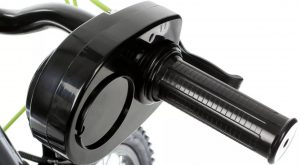 If you've got a mini Moto GP fan or have noticed your little one makes engine noises as they cycle along, then save their breath with this motorbike noise maker. Clipping onto any kids bike, this awesome accessory will allow them to rev up the 'engine' and get the same grunt as a mean motorcycle. It'll also let other road or path users know where they are too, handy for keeping everyone safe.
---
So, there it is, 6 unusual gifts for kids this Christmas. Now you've got no excuses for playing it safe with the same-old Christmas gifts. You can check out even more gift ideas for girls, boys or even big kids over on Halfords.com.
You want the best Christmas gift, you want Halfords.
*Blaster and pellets not to be used whilst riding.