A new bike is a classic Christmas gift, and for good reason – they're fun, durable, and get your little ones outside in the fresh air. And with Halfords, high quality, expertly designed bikes don't have to cost the earth.
To keep you, your kids, and your wallet happy, here are our picks for the best affordable kids' bikes.
For new riders
Apollo Wizzer Balance Bike 10″
Balance bikes are ideal for kids to start learning on, as they teach the importance of balancing on two wheels.
This one from Apollo is designed to accommodate small hands, and its sturdy steel frame and pneumatic tyres are sure to keep your little one safely on two wheels as they first learn to ride.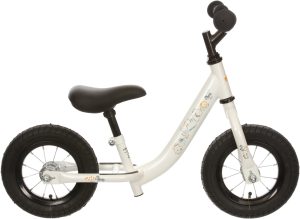 Outrider 14″ Bike
When it's time to introduce pedals, you can't go wrong with the Outrider Kids' Bike. It combines quality features with cool and stylish design to keep adults and kids happy.
The fully enclosed chain guard with striking racing patterns keeps your child's legs from getting scratched or dirty from the bike chain, and eliminates the risk of anything getting caught. Front and rear calliper brakes mean that they'll have all the stopping power they need as they begin to explore, and the stabilisers can be removed as your child grows more and more confident as a rider.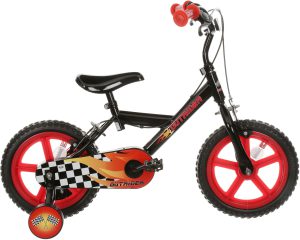 For developing riders
Apollo Firecracker Blue 16"
Aimed at children aged 5-9, the Apollo firecracker is the perfect step up as your little cyclists grow in confidence – and size!
With fun and fiery flame graphics on the frame, saddle and chainguard, your child will have endless fun racing around on its mountain bike-style frame. Plus, the Firecracker features an innovative speedometer which lights up as you ride, measuring both your speed and the distance you've travelled! A feature usually only seen on adult bikes, your child and their friends can now enjoy challenging each other to a race too.
As for safety, the robust steel frame and powerful V-brakes give you the peace of mind all this fun is happening safely.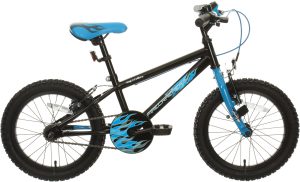 Apollo Outrage 18"
The Apollo Outrage is a great choice for your child's first mountain bike. Featuring front and rear V-brakes and a sturdy steel frame, you can be sure that they're in good hands as try out some messier riding.
The Outrage Kids' Bike is adapted from Apollo's range of adult mountain bikes, so its perfect for any aspiring trail riders who want to start getting a feel for the design of a real mountain bike. It is still tailored for children though, with a partial chain guard to avoid any fingers getting caught.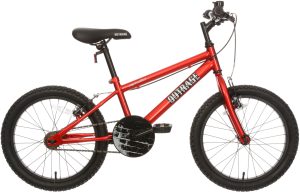 For experienced riders
Apollo Haze 20″ Bike
If your child is ready to get to grips with gears, then the Apollo Haze is a great option. This stylish and sophisticated bike has an easy-to-ride step-through frame, with reliable alloy V-brakes, a chainguard, and full mudguards to stay clean.
Shimano 6-speed gears are ideal for navigating hills and inclines, and the light-action Shimano Revoshift twist shift gear shifters allow for easy and efficient gear changes – perfect for getting used to using gears on a bike.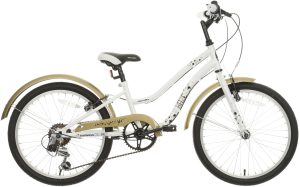 Apollo Vortice 24″ Bike
Perfect for tackling both on and off-road routes, the Apollo Vortice provides everything you need for racing along with friends. The Shimano 18-speed gears let you tackle any hills with ease, and light-action Shimano Revoshift twist shifters mean that flicking through the gears is a breeze.
When you need to come to a halt, the V-brakes and brake levers ensure firm stopping power so you can stay in the saddle safely.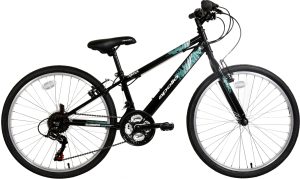 For the thrill seekers
X-Rated Quarter 20″ BMX Bike
If your not-so-little ones are keen to hit the skatepark, then a BMX bike is a great choice. The X-Rated Quarter BMX bike balances style and practicality to give a fun and safe riding experience, whether they're using it for pulling off stunts or for urban riding.
44:18 gearing means that you can build up the pace ready to take air, and quality V-brakes with resin levers give total stopping power for controlled riding.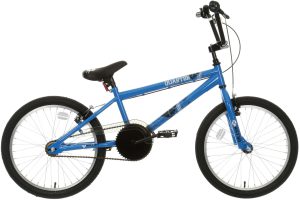 X-rated Exile 24″ BMX Jump Bike
The X-rated Exile BMX Jump bike is designed for taking to the air, with a 13" hi-tensile steel frame and strong alloy double wall rims.
The hardwearing BMX-style saddle and powerful V-brakes will keep you safe and comfortable both in the air and on solid ground, and the striking acid-green design is sure to turn some heads at the skatepark.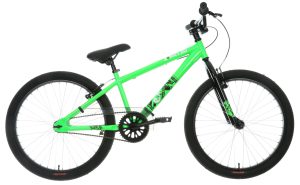 Christmas bikes with Halfords
We're always looking for more ways to help you save, especially in the run-up to Christmas. We've got plenty of offers and systems to keep your big day on track and on budget.
The Halfords Bike Xchange
You can save on a new kids' bike this Christmas with Bike Xchange, the trading system designed to save you money and care for our planet.
The Bike Xchange scheme allows you to trade in your old Halfords bike for money off products & services, which you could then use to upgrade your little one's bike, or for any other of our great Christmas gifts. It's a great way to reduce consumption, and keep both the planet and your wallet happy.
Lock prices today, pay later with Klarna
To help you spread the cost this year, you can lock prices today and pay later Klarna. If you don't fancy one lump sum, you can pay in 6 instalments on kids' bike orders over £99 with 0% APR.
---
There are plenty of quality, affordable bikes to choose from for your little ones this Christmas, and even more ways for Halfords to help you along the way. For more help and advice, pop into your local store where one of our experts will be happy to help.
You want Christmas for less, you want Halfords.