Cyclocross bikes are the perfect go anywhere, do anything machine. You can confidently ride cross bikes on the road, then take them off-road for fun and adventures. In this roundup, we give you five of the best places to use your cyclocross bike.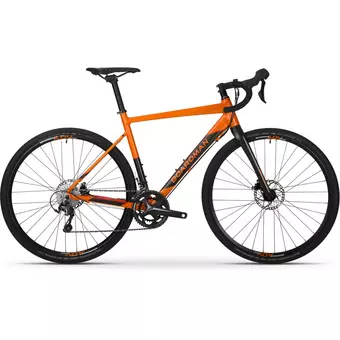 Where can I ride my cyclocross bike?
 Anywhere!
Cyclocross bikes may look like road bikes, with drop handlebars, 700c wheels and similar frames, but there are a few crucial differences. 
CX bikes have knobbly tyres and lower gearing, making off-road riding comfortable. Frames are likely to be metal and heavier than your road bike, to cope with the added stresses and strains off the trails and mountains. Most cross bikes come with reliable disc brakes to provide their stopping power, as they perform well in the wet and mud.
You'll find familiar Shimano and SRAM groupsets fitted to most cross bikes. Gear ranges are wider than your average road bike, which means you can tackle challenging inclines and lumps and bumps.
If you're looking for a selection of the best cyclocross bikes for sale, you'll find them at Halfords. We stock a range of cyclocross bikes and adventure bikes, and we provide a free bike build for all bikes over £250. Any bike less than £250 will be fully built and safety checked by an expert technician for only £10.
We've collated a few of our favourite gravel rides, but you can find hundreds at our Discovery Hub. You can see cycle routes from across the country, broken down into different difficulty levels. 
Cyclocross ride #1: The Forest of Dean
Nestled in a corner between England and Wales, the Forest of Dean is home to some of the UK's best mountain bike trails and picturesque country roads. In one ride you can enjoy off-road trails and then hit the road before tackling the fearsome Symonds Yat climb, which reaches a brutal 20% in places.
Cyclocross ride #2: London to Brighton
Created by race organiser and gravel bike fanatic Sven Thiele this 64-mile London to Brighton route will provide a challenge to you and your bike. It's not for the faint-hearted, but if you're looking for the ultimate CX bike test, this could be it.
Cyclocross ride
#3: Richmond Park
Road riders and mountain bikes can both enjoy London's Richmond Park, following in the tyre tracks of Olympic champion Bradley Wiggins. As well as a famous road route that's a favourite of riders from across the capital, if you head there on your cyclocross bike, you can enjoy the Tamsin Trail. This 7.35-mile circular route will provide a decent workout. 
You can extend the route into Wimbledon Common if you want a longer ride.
Cyclocross route #4: Harrogate to Ripley
The 4-mile Harrogate to Ripley route follows a disused railway line. The flat path is perfect for getting to grips with your new cyclocross bike while allowing you to soak up the beauty of this stunning corner of the country. You'll cross the iconic Grade 2 listed Nidd Gorge Viaduct and pass by the beautiful Ripley Lake. 
Cyclocross route #5: Anywhere and everywhere
A cyclocross bike makes the perfect all-year-round commuter, leisure bike and long-distance training machine. Built to perform in the harshest conditions, your cyclocross bike will stand up to it – rain, wind or shine. 
Wherever you're going and whenever you're riding, your cyclocross bike will do the business!
---
To explore our full range of cyclocross bikes, head over to Halfords.com.
If you want the perfect bike, you want Halfords.