A tradesperson isn't a tradesperson without their trusty tools. But as much as we love our tools, they have a sneaky habit of disappearing from time to time and leaving us empty-handed. Sure, you can replace them, but then you find the design's changed, the tool's not quite as good as your old one and your matching set doesn't quite match anymore… sound familiar?
While Halfords doesn't offer a counselling service for the pain of losing a favourite tool, we do offer smart and cost-effective solutions with our Halfords Advanced hand tools – all of which come with a Lifetime Guarantee. You can even purchase replacements if you've lost one from the set! It's an extensive list, ranging from huge socket sets containing breaker bars to a modular tool set range designed to keep your toolbox organised and looking sharp.
Modular trays
So where do you start? Well, we'd recommend the modular tray range. These bespoke kits are housed in laser-cut foam to sit snugly in your toolbox, so they're a great choice for experienced mechanics wanting to refresh or upgrade their tool kit, or for the apprentice wanting to start from scratch.
There are multiple kits to choose from, including three socket sets in 1/4", 3/8" and 1/2" drive that come complete with ratchets and extensions. There's a 1/2" drive impact socket tray that comes with a power extension for use with impact guns, as well as plier, screwdriver, and numerous spanner sets too.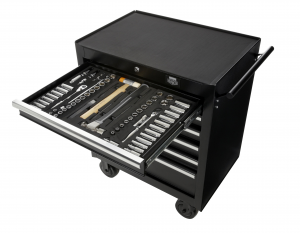 The beauty with these modular kits is they're designed to fit straight into the range of Halfords storage chest and cabinets. We also sell a handy storage case that's designed to help carry your favourite three modular trays around or will stack neatly next to your socket sets should you choose more.
Torque wrenches and breaker bars
To enhance your tool kit, it's worth considering the torque wrenches on offer, which vary from the 3/8" drive with a range of 12–60Nm to the largest 1/2" drive with a range of 60–300Nm. All Halfords Advanced torque wrenches come complete with a Declaration of Conformity (previously known as a Calibration Certificate) and can be recalibrated on an ongoing basis.

If its pure leverage you're after, there are several breaker bars available in the Halfords Advanced range including the 24" long 1/2" drive bar. They're great value and come with that all-important Lifetime Guarantee too!
Socket sets
Should you long for a second all-purpose tool kit to keep in the boot of your car, look no further than the Halfords Advanced metric socket set range. The 200-piece socket and ratchet spanner set is a beautiful thing. Alongside a wide range of standard and deep 6-point sockets, it includes an 18" breaker bar for those stubborn nuts, and colour-coded nylon coated alloy wheel nut sockets are a nice touch too. There's also a range of long and short bits, in hex, torx and spline, which is far superior to what's been available in the past.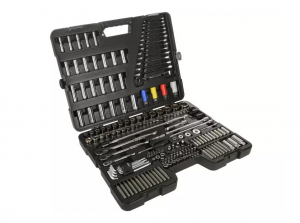 It's worth noting that these kits have revised 100 tooth ratchets, so they're extremely smooth to use (which is a marked improvement on the 45 tooth options offered by most suppliers). With an average rating of 4.9 out of 5 on Halfords.com, it's clear that our socket sets are a popular choice for experienced tradespeople and apprentices alike.
Tool kits
Another favourite is the Halfords Advanced 121-Piece Mobile Car Maintenance Tool Kit. This really is the 'take anywhere' kit and having one in the boot of your car will make you ready for anything. Within the 121 pieces, you'll get a core range of sockets and spanners, as well as screwdrivers, a ball pein hammer and pliers. You could probably do almost 90% of jobs on a car using this kit – and none of the tools will be left unused.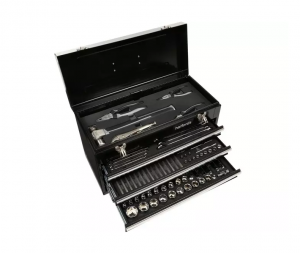 As for the specialist jobs, well we've got a solution for that too. We offer six EV modular tool kits that are specifically designed for work on electric vehicles. They're insulated and individually tested to 1000V (the only shock is how well they perform!). We've given these Halfords Advanced status too, so you'll get to enjoy the standard Lifetime Guarantee.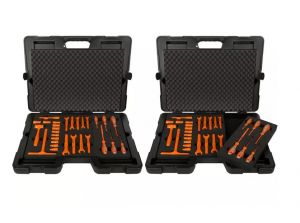 Introducing the Halfords Motoring Club
Don't miss out! Join the Halfords Motoring Club today to access a range of amazing benefits and discounts that are designed to keep you moving, keep you safe and keep you saving.
It's free to join and you'll receive money off your MOT, a free car health check and a welcome voucher that can be spent on any Halfords product or service.
Or choose our Premium membership for a small monthly fee (or a one-off payment) to unlock exclusive member pricing on all motoring products and services online and across our stores, garages and Halfords Mobile Experts, as well as a variety of other benefits that will help you to keep moving for less.
With so much to enjoy, this is too good an opportunity to miss!
Join the Halfords Motoring Club today at www.halfords.com/motoring-club.
---
Now that you've put together the perfect trade tool kit, it's time to put it to good use and show it off. Why not explore our full range of tools over at Halfords.com?