Ready to take the plunge and buy a new e-scooter? Great choice! Here at Halfords, we sell a wide range of e-scooters for every type of rider.
And there are many other reasons why you should buy an e-scooter through Halfords. Here are just a few…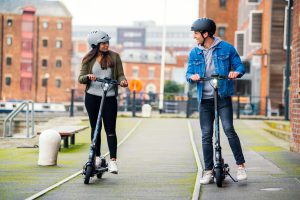 Top e-scooters
Where else could we start? The most important thing when buying a new e-scooter is, well, the e-scooter!
And here at Halfords, we sell a wide range of electric scooters from top brands like Carrera, Indi and Xiaomi.
This includes the newest range of Carrera e-scooters, the Carrera impel is-1 2.0 and the Carrera impel is-2 2.0.
For every type of rider
Our range caters for every type of rider. If you want comfort and a smooth ride, check out our Carrera impel is-1 2.0 and Carrera impel is-2 2.0 electric scooters. Both have anti-puncture pneumatic wheels which reduce the risk of punctures and cushion the ride for added comfort. They also benefit from long ranges, so you can enjoy epic adventures without having to worry about a drained battery.
More interested in power? The Indi EX-2 boasts a powerful 350W motor which easily conquers hills up to 15%.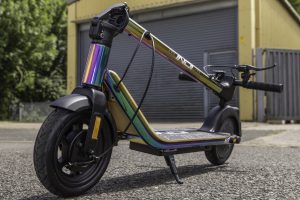 So, whatever you need, we've got it covered.
And at a variety of price points
And we even have e-scooters at various price points, starting from as little as £150.
Don't fancy paying the cost upfront? No problem! We offer Klarna finance which allows you to lock prices today and pay later by spreading the payments over a period that suits you. Buying an e-scooter has never been more affordable.
In-store and online
Buying an e-scooter through Halfords couldn't be easier either. With over 350 stores nationwide, you won't have to travel far to find your dream e-scooter.
Or you can simply order online over at Halfords.com. Whichever option you choose, it's quick, convenient, and you'll have your new e-scooter in no time.
Must-have accessories and spares
Every e-scooter needs top e-scooter accessories. And we've got that covered too.
From safety accessories like helmets and locks to handy phone mounts, our range has everything you need. We even offer bundles with the e-scooter, accessories and E-scooterCare all included, like the Xiaomi Mi 1S bundle. It comes with the impressive Xiaomi Mi 1S e-scooter, Lazer One Helmet, Halfords 23cm D Lock and Cable lock, plus E-scooterCare.
Market-leading experts
So, we've got a range of top e-scooters and accessories. But why else should you buy your e-scooter from Halfords?
Well, for a start, we're market-leading experts. And not only for e-scooters but for all types of e-mobility (just check out our electrification hub!).
We understand the importance of e-mobility, so we're as passionate about e-scooters as you are. And to help enhance your e-scooter experience, we've got lots of content from maintenance guides and the latest updates on electric scooter law through to handy videos.
You can check out our wide range of how-to guides and advice articles here.
E-scooterCare Packages
When you buy an e-scooter through Halfords, the service doesn't end when you walk out the door.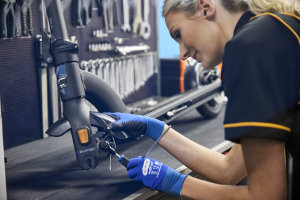 Our E-scooterCare package helps to keep your e-scooter in tip-top condition. The package includes puncture protection, unlimited e-scooter puncture repair, unlimited brake adjustments, 10% off accessories and parts, free accessory and parts fitting, unlimited safety checks, tyre inflation and pressure checks, electrical contact cleaning and firmware updates. That's a lot packed into one package!
We also provide a range of individual e-scooter repair services including:
Our Free E-scooter Health Assessment
Tyre/tube replacement
Brake service
Brake pad replacement
Any work is completed by one of our expert technicians, so you get peace of mind that your e-scooter is in the hands of the experts.
---
When you buy an e-scooter through Halfords, you get the complete package, and you can shop our full range of e-scooters over at Halfords.com.
And don't forget to keep your new e-scooter in tip-top condition with our E-scooterCare package.
You want to buy the best e-scooter, you want Halfords.
Legal warning:
It's currently illegal to ride a privately owned e-scooter on a public road, pavement, cycle lane or bridleway. Privately owned e-scooters can only be ridden on private land with the permission on the landowner.
Customers should be aware that if they use a private e-scooter illegally, they could face a fine and penalty points on their licence, and the e-scooter could be impounded.