When it comes to car journeys, only one thing matters: getting there safely.
Luckily, no matter what you may encounter on your journey, you can always rely on Halfords to help get you where you need to be. Whether your car needs essential servicing or must-have products, we are here to help.
Add tech to your ride
Believe it or not, there was a time when getting from A to B meant relying on a paper map. We don't know about you, but we're relieved that those days are gone, and we can now travel with the ease of a sat nav.
The Garmin Drive 52MT-S with UK Maps 5" Sat Nav is one of our favourites, as it provides up-to-date maps for both the UK and Ireland – so there'll be no more getting lost on country lanes. Just as importantly, the device provides live traffic updates when connected to a smartphone so that you can reroute around any traffic jams.
Simple menus and larger buttons make it particularly easy to use, with the spoken turn-by-turn navigation guiding you like a friend! Helping create the perfect journey, it also provides TripAdvisor ratings for hotels, restaurants and many more attractions.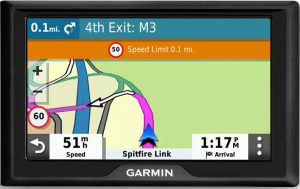 Be prepared
Nothing ruins a car journey quite like a mechanical issue. However, if you're well prepared, many problems can easily be solved so that your journey can continue.
One essential piece of equipment every car should have is a lithium jump starter such as the Halfords Advanced Lithium Jump Starter. Small but high in power, this mini jump starter can start a 12V vehicle up to 2L. Easy to use, store and recharge, the device can easily fit into a glove box, ready for when you need it.
With battery failure being one of the top reasons to call out breakdown services in the UK, the device is an ideal way to avoid being stranded.
Your vehicle's tyres also need that extra care. Make sure that they're inflated correctly using the Halfords Rapid Digital Tyre Inflator. The Holts Tyre Weld is then a great back-up option for if you suffer a puncture. Filling the tyre with a water-based foam, it seals punctures and inflates your tyre. A great alternative to fixing a puncture on the side of the road – especially in bad weather!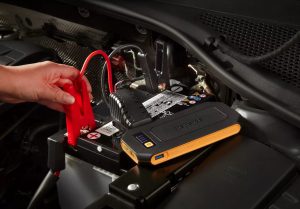 Upgrade your car
Many of us make lots of car journeys every week, and each of them could be easier and safer with a few well-chosen upgrades. Some of the best upgrades you can make are to your bulbs, wiper blades and battery.
Designed to last longer and provide exceptional illumination, our range of Ring Pro bulbs are a great place to start. Ideal for nights and gloomier days, they safely illuminate you and the road ahead.
Another great upgrade is your wiper blades. Underperforming wiper blades can make driving unsafe, as they fail to adequately clear the windscreen. And even in the warmer months, the UK has its fair share of downpours, so it's best to be prepared. Luckily, here at Halfords we have an extensive range of wiper blades. This includes our range of silicone wiper blades that are proven to last twice as long as a standard rubber wiper blade and are exclusive to Halfords. You can easily find which of our blades is compatible with your car using our handy vehicle registration tool.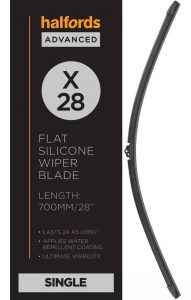 Perhaps the most important upgrade of all is your battery. You want a battery you can rely on, which is why the batteries we offer come from the best brands, including Yuasa. As if that wasn't enough, all of our Yuasa batteries come with a 5-year guarantee.
Safe storage
For those long journeys, leave yourself plenty of space in the car by safely storing everything you need in a roof box.
The Halfords Advanced 470L Roof Box provides easy loading from either side of the car thanks to a dual-side opening system. It's quick and easy to mount to roof bars and has a max load capacity of 75kg.
If you plan on taking bikes with you, the Halfords Rear High Mount 3-Bike Bike Rack allows you to mount up to three bikes on the rear of your vehicle. It comes fully assembled with an advanced ratchet system, making it easy to fit to the carrier and fold flat.
Use our vehicle registration number tool and we can tell you which of our bike racks are suitable for your car.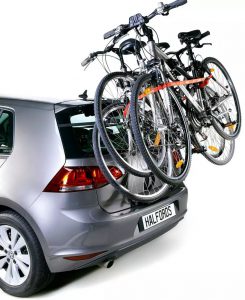 Free servicing
It's always reassuring to know that your car is in a healthy condition. If you want peace of mind that your car will safely get you where you need to be, you need one of our car checks.
The first option is our Free 5 Point Car Check. In this, one of our technicians will assess your vehicle's headlight and brake lights, wiper blades, the health of the battery and the condition of the windscreen. You'll even get a free MOT due date reminder. All for free.
With over 650 stores and autocentres nationwide, booking a winter car check couldn't be easier. You can find your nearest Halfords autocentre here.
For a more comprehensive check, you can upgrade to our 10-Point Car Check. Covering all of the above, one of our technicians will also check the depth of the tyres, tyre inflation, the oil level, top up the screen wash and check the AdBlue and coolant levels.
Halfords Motoring Club
Or why not join the Halfords Motoring Club? It's free to join and you'll receive money off your MOT, a free car health check and a welcome voucher that can be spent on any Halfords product or service.
Or choose our Premium membership for a small monthly fee (or a one-off payment) to unlock exclusive member pricing on all motoring products and services online and across our stores, garages and Halfords Mobile Experts, as well as a variety of other benefits that will help you to keep moving for less.
With so much to enjoy, this is too good an opportunity to miss!
Join the Halfords Motoring Club today at www.halfords.com/motoring-club.
Join the Halfords Motoring Club
WeFit
Helping you complete your journey isn't just about providing you with the best tech and services. We also want to make installing new products and tech to your car as easy as possible.
That's why almost everything in this list is available with our added WeFit service. Through WeFit, we offer the additional service of installing your devices and products to your car for you, all for a small extra charge. It's a quick and easy way to get your vehicle set-up and ready to hit the road!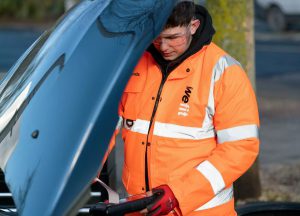 ---
To discover our full range of services and MOTs, head over to Halfords.com. You can find many more motoring essentials here.
Remember: if you want new tech or products for your journey, you want Halfords.