There's nothing worse than having a great ride interrupted by issues with your bike. The odd larger job is bound to pop up now and again, but many common issues are easily preventable with a bit of routine maintenance.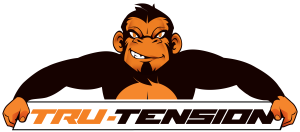 So, we've teamed up with our friends at Tru-Tension to take you through some common motorcycle problems and how to prevent them with routine care, so you can avoid unexpected stops and focus on your ride.
We'll also be pointing out opportunities to use the unbeatable range of Tru-Tension motorcycle maintenance products available at Halfords along the way.
Neglecting your chain
Knowing how to adjust, clean, and lubricate a chain is a vital skill for any rider. Not keeping on top of tasks like this can quickly become a problem, reducing both the quality of your ride and the lifespan of your bike.
A neglected chain can be a real recipe for disaster when it comes to motorbikes, not only impacting rider experience but also exposing a rider to potential dangers, so it's important to keep up with regular chain checks and maintenance. There are a few ways to keep your chain working for longer, from cleaning and lubricating to regular checks.
Not cleaning your chain
First thing's first, it's vital that your chain is kept clean, as leaving it to gather mud and other debris from roads and tracks can wear the teeth on a chain's sprocket. Unnecessary wear and tear can reduce the lifespan of your chain and is likely to result in a bike needing more frequent chain replacements.
How often you need to clean your chain will depend on the type of riding you're doing. In short, more mud equals more frequent cleans, so be sure to keep up with your cleaning regime if you're riding in poorer conditions. To break through tough grime and dirt, you'll want a specialised chain cleaner. Tru-Tension's powerful PrimeShine Chain Cleaner is ideal, protecting against contaminants and corrosion whilst providing a sparkling clean.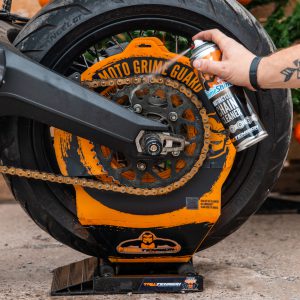 Not regularly lubricating your chain
To keep your ride smooth, the connection between your chain and bike sprockets needs to stay seamless, and regularly lubricating your chain is the best way to keep clunkiness at bay. A flush connection between elements makes for a smoother ride, as well as reducing corrosion, friction, and general wear.
Many people overlook the importance of lubricating a bike chain, when in reality it's an easy way of preventing troublesome motorcycle problems – especially with the help of Tru-Tension's high-performance range of Chain Lubricant, Chain Wax and Tungsten Chain Lube. They're formulated to apply thinly for maximum coverage before setting to a thicker, durable lubricating layer to reduce fling.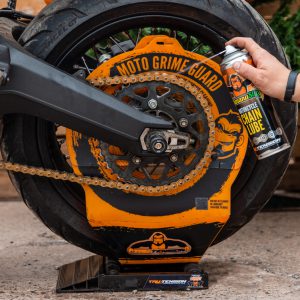 It's important to note that there is such a thing as over-lubricating. While an under-lubricated chain allows too much metal-on-metal contact, an over-lubricated chain can be a magnet for grit and dirt, so try and find a happy medium.
Protecting vital components when cleaning and lubricating your chain
As any rider will know, contaminated brake pads and rotors can be a disaster. The cost to refresh brake pads and rotors can be steep, not to mention the danger of compromised braking ability.
Therefore, ensuring that your brakes are protected whilst cleaning and lubricating is essential. Luckily, Tru-Tension has just the tool to keep your brakes guarded and eliminate excess mess. The Motorcycle Grime Guard Range slots easily behind your rear sprocket to ensure that no overspray compromises your braking ability.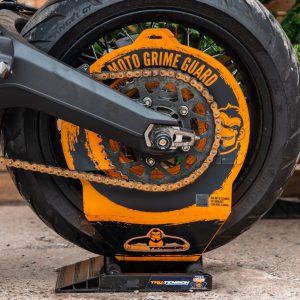 Not carrying out regular chain checks 
Carrying out routine checks on your bike's chain is key to extending the lifespan of both the individual parts and your bike as a whole. Not only can you run into problems if your chain isn't clean or lubricated, but it also needs to be adjusted correctly to avoid any mishaps.
On the one hand, a loose chain may start skipping sprocket teeth and tugging. On the other, a chain that's too tight will restrict your power and force, halting your motion. For an easy way to alter the tension and alignment of your chain, Tru-Tension's Chain Monkey Chain Tension and Laser Monkey Wheel Alignment tools are here to help!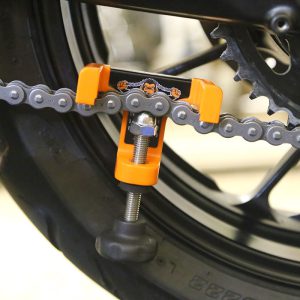 Not carrying out basic checks
Failing or forgetting to carry out basic checks on a motorcycle is one of the most common motorcycle mistakes. From tyre checks to brake checks, even tightening bolts and screws, it all adds up to impact the health of your bike.
Cable checks are also essential – without maintaining and lubricating cables, they'll wear faster and can fray or snap over time. Lubricating cables can be tricky, but Tru-Tension have a simple solution: Cable Monkey allows easy access to your cables for maintenance, pushing fresh lubricant down the sleeve of the cable. Combined with TT78 – Multipurpose Spray, your cables will be clean, healthy, and protected. Simple precautions like these can be what separates a safe ride from a dangerous one.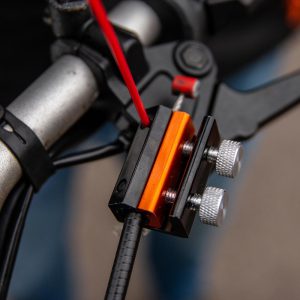 Not carrying out tyre checks
You often hear about checking the tyre pressure on your car, but motorcycle tyre pressure is just as important. Failing to regularly check the tyre pressure on your motorcycle can have serious consequences; not only will it reduce the life of your tyres, it can also compromise the safety of a rider.
Tyre pressure that's too high or too low can severely impact the handling of a motorcycle, as well as making it easier for tyres to overheat. The Laser Monkey is ideal for tyres too, as a correctly aligned wheel will reduce the chance of uneven or excessive wear on your tyres.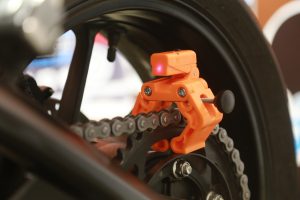 Not carrying out brake checks
It's always crucial to check that your brakes are working effectively, as worn-down brakes can seriously compromise both your safety and ride quality.
The Tru-Tension PrimeShine Brake Cleaner is ideal for tackling brakes with a build-up of excess grime, removing dirt and contaminants from brake components to optimise your braking performance.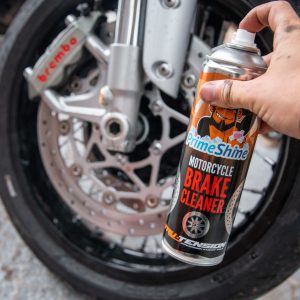 Not tightening bolts and screws
The rapid vibrations experienced by a motorcycle can easily cause bolts and screws to become loose and failing to tighten them back up can reduce the structural integrity of your bike.
Regularly feeling for loose bolts and listening out for rattling noises that may indicate some screws in need of tightening can help protect a rider from hazards caused by this mistake.
Not looking after your paintwork
Paint can be one of the most eye-catching features of our bikes and is often what sets them apart from the crowd. However, even the best paintwork can be subject to the elements over time – that's where the Graphene Bike Detailer comes in.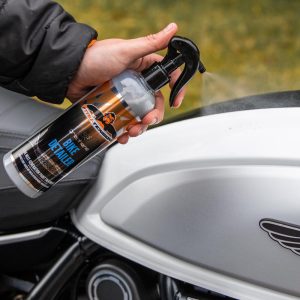 Graphene Bike Detailer by Tru-Tension is a world-leading formulation, developed to provide an unrivalled high-gloss finish that also acts as a protective layer. Quick and easy to apply, the simple "spray and wipe" method leaves your paintwork glistening.
Once applied, the cutting-edge Graphene blend creates a hydrophobic coating which reduces dirt build-up and makes future cleaning much easier. Graphene helps to protect paintwork by creating a super slippery surface to reduce water and dirt build-up, while the complex blend of waxes provides an unrivalled, streak-free shine with a depth of colour, allowing you to get the best life out of your paintwork.
Not taking care of your protection
It's not just your bike that needs regular attention – motorcycle leathers can pick up a lot of wear and tear over time, so it's worth paying attention to their maintenance too. We all want to make sure that our leathers are in good condition – when they're not, they become more prone to cracking and splitting, which can reduce the effectiveness of the leather in the event of a crash.
Tru-Tension has developed a leather protection range that not only cleans the fabric but also protects the leather and restores it. Check out Tru-Tension's Leather Clean and Leather Protect to bring your leathers back to life.
---
Motorcycle maintenance with Tru-Tension
To keep on top of all things maintenance, and to help get the most out of your bike, take a look at the Tru-Tension range of bike cleaning and maintenance products available at Halfords. With a wide range of products to cater to all your bike's maintenance needs, Tru-Tension and Halfords are here to keep you on the road for longer.
For tailored guidance about selecting the products that are right for you and your bike, head over to Halfords.com or pop into your local store where one of our experts will be happy to help.