Watching your child learn to ride a bike is an exciting milestone. If you're at the stage where you're looking for a first bike for your little one, it's important to choose one that meets their needs and, more importantly, one that they will enjoy riding!
With so many kids' bike options available, it can be a challenge to know what bike will be right for your little rider. There are several points to consider when looking for the perfect first bike. Keep reading to discover what to look out for on your bike search.
Finding the right bike size
The first thing to think about when buying a first bike for your child is that it's suitable for their age group. On halfords.com, all our kids' bikes display age and height ranges, so you know if the bike is appropriate for their age group. To make things easier, take a look at our guide on finding the right size bike for your child to see everything you need to know at a glance.
What type of bike?
There are several different options that you can choose for your child when beginning their cycling journey; a standard pedal bike, a balance bike or a tricycle (also known as a trike). Each one has its own set of benefits, with many options and styles available.
Pedal bike
A standard pedal bike could be a great option for your child, as they can start with stabilisers and remove these as they build their confidence. Halfords has a wide variety of pedal bikes for children of all ages where stabilisers can quickly and easily be attached and removed.
There are also various designs and colours, so you can be sure there's something to suit their style and personality. Here are a few of our favourites…
Best kids' pedal bikes
Apollo Twinkles Unicorn 14" Kids Bike (age guide 4-7 years)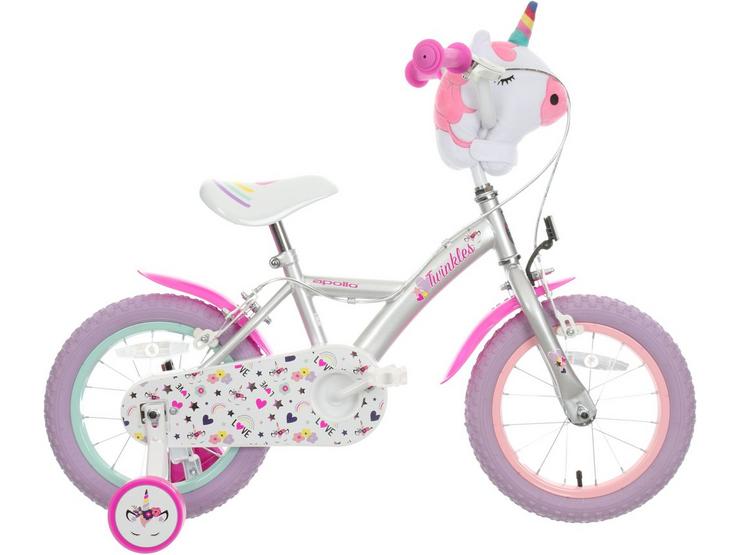 If your little one loves sparkles and unicorns, then the Apollo Twinkles Unicorn Kids Bike is the one for them! They'll love learning on this fun, vibrant ride that's perfect for embarking on magical adventures. The washable plush unicorn head makes for the ideal riding partner. The full chainguard will protect fingers and clothing, so you can rest assured they'll be safe and secure.
Monster Truck 12″ Kids Bike (age guide 3-6 years)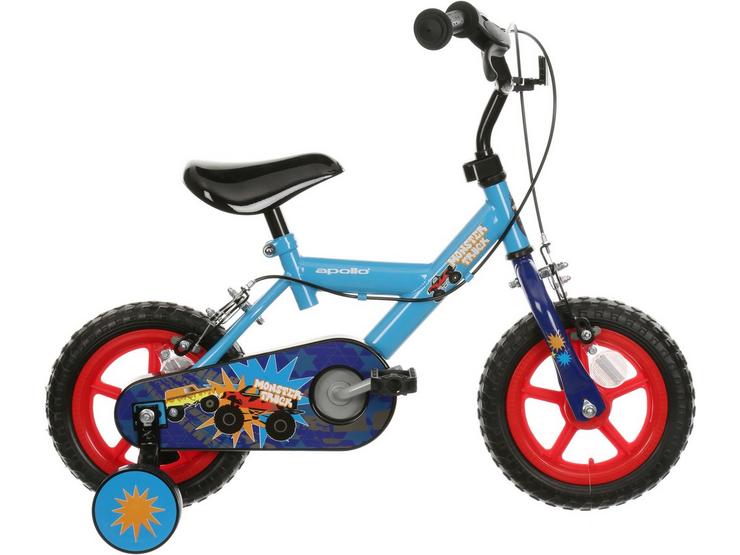 The Monster Truck Kids Bike is perfect for little ones who are keen to whizz away on a bike with a cool design. Featuring tyres with puncture proof foam, a robust steel frame and a full chainguard, this is a safe and study bike that will make learning to ride a fun experience.
Apollo Cyber Light Up 16" Kids Bike (age guide 5-9 years)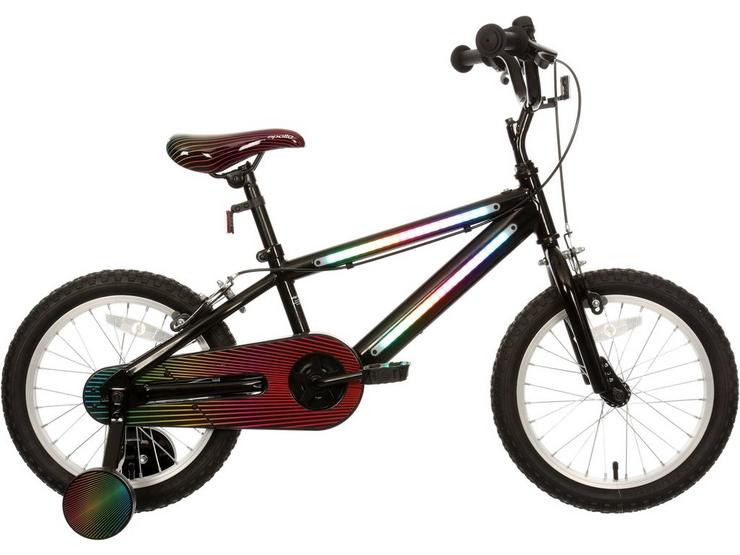 The Apollo Cyber Light Up Kids Bike is ideal for children between the ages of 5-9 years. The LED light-up panels will ensure they look the part as they build their cycling confidence. The lights can be switched to different modes, so they can adapt to suit their preferences. Featuring powerful V-brakes and a sturdy steel frame, the bike is both safe and stylish for young riders.
Balance bike
For children between the ages of 1-5 years, a balance bike is a great alternative option to a traditional pedal bike. It's become an increasingly popular choice with balance being one of the most challenging skills to master while learning to ride a bike. With a wide variety of fun balance bikes available, it's a fun way for kids to learn to ride at their own pace.
Best balance bikes
Apollo Wizzer 12" Balance Bike (age guide 1-5 years)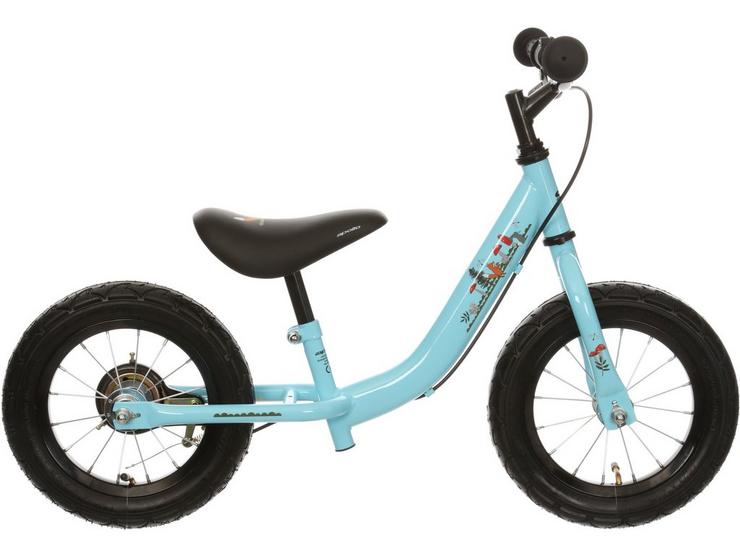 The Apollo Wizzer is a great option for little ones looking to take their first step into the cycling world. The saddle is fully adjustable so can be enjoyed for several years. They can also master the art of braking thanks to the band brake, while the pneumatic tyres provide improved grip.
Carrera Cosmos 12" Balance Bike (age guide 1-5 years)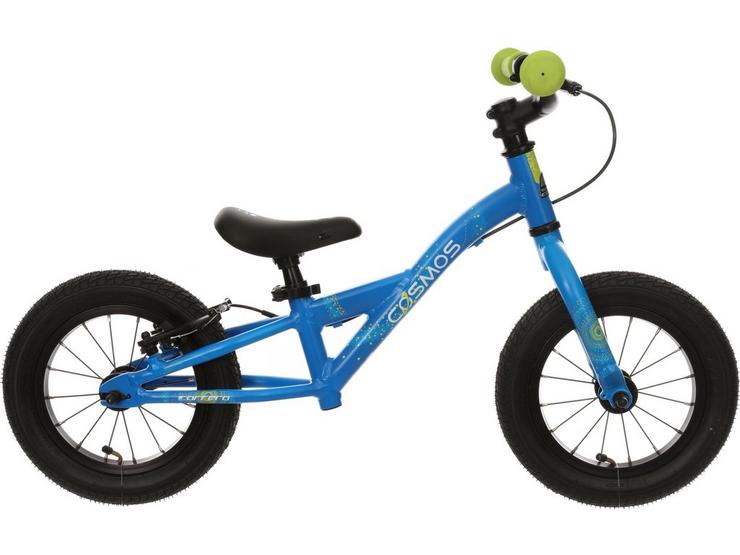 The Carrera Cosmos Balance Bike is carefully designed for young riders with features including an adjustable seat post and a comfortable saddle. They'll be well equipped for their adventures thanks to the air-filled rubber tyres and mini V-brakes ensuring they ride smoothly and safely.
Boardman Junior 12" Balance Bike (age guide 1-5 years)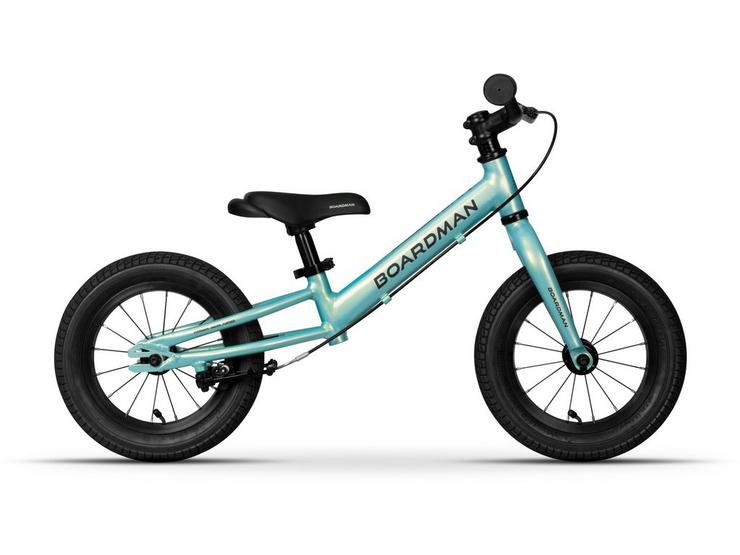 If you're after a smart, sleek balance bike to launch your little ones' cycling journey, look no further than the Boardman Junior 12" Balance Bike. The lightweight frame makes it easy to transport, while the Vee Speedster tyres help reduce bumps and vibrations. The rear V-brake has a short reach lever that is designed for little hands so they can come to a stop with ease.
Trikes
And finally, while not technically a bike, a trike could be a great option to begin your little ones' cycling adventures. As the name suggests, a trike contains three wheels, meaning they can safely sit stationary without the risk of toppling over. It's a great option to help develop their motor skills, providing a stable and comfortable riding experience.
Best trikes
CoComelon My First Trike (age 2 years+)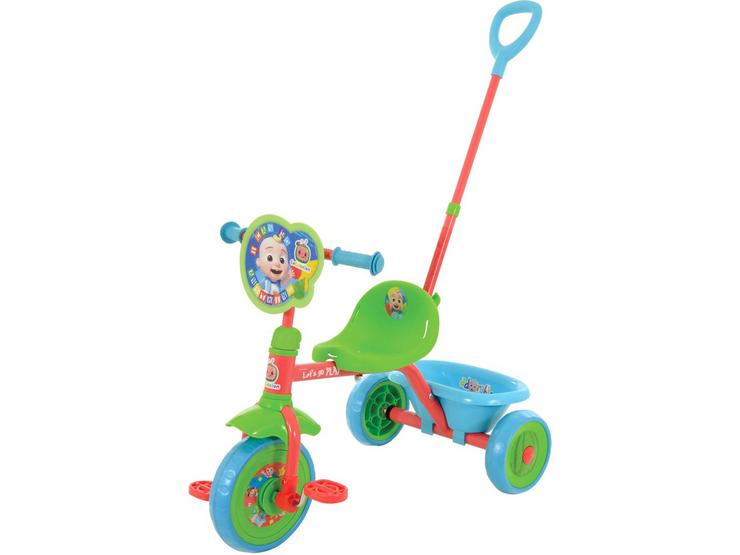 If your child loves CoComelon, this is the trike for them! This is a great choice for kids who are finding their feet when it comes to riding. It features all their favourite characters, and it contains an adjustable parent handle for guidance. As they become more confident, the handle can be removed.
Paw Patrol My First Trike (age 2 years+)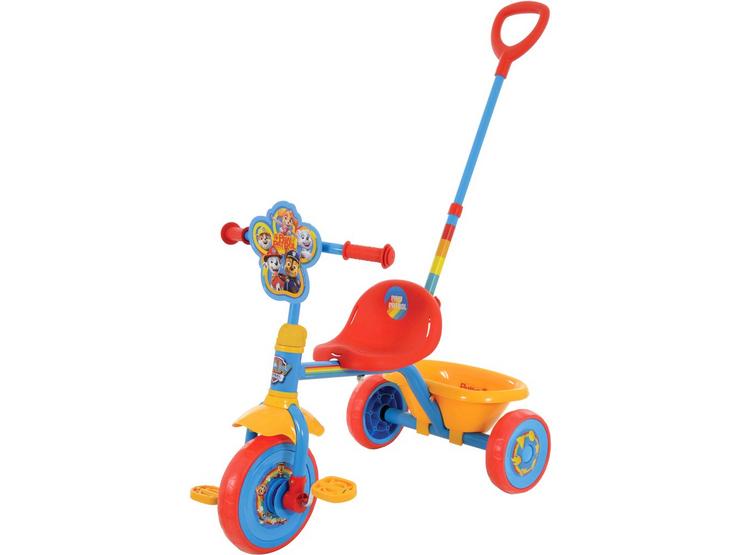 The Paw Patrol My First Trike is another fantastic option for little ones as they build their pedalling and co-ordination. The front mudguard prevents little riders from getting too messy while the removable rear bucket is perfect for storing their favourite toys.
Chillafish Bunzi Trike (age guide 1-3 years)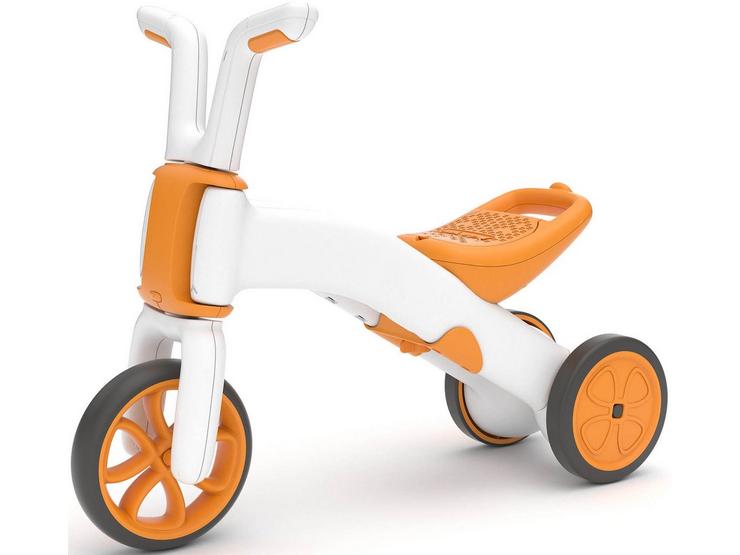 The Chillafish Bunzi 2 in 1 Trike is a great option that is both a trike and a balance bike in 1! It can easily be changed from 3 wheels to 2 wheels with no tools needed – perfect for advancing their cycling journey whenever they are ready. It comes in a variety of colours, so there is something to suit every child.
What is your bike budget?
It's important to assess what you want to spend when it comes to buying a kids' bike. Thankfully, bikes for kids come in prices to suit all budgets. On halford.com you can filter results by price so you can easily see what's available in your range. Take a look at our blog on the most affordable kids' bikes, covering children of all ages, if you need some more inspiration!
We hope this has provided some insight into what to look out for when choosing your child's first bike. Shop all our kids' bikes over on halfords.com and help your little one take their first step into the world of cycling today!