Cozy N Safe are a multi-award-winning child car seat manufacturer, formed in 2006. Their car seats have won awards from the likes of Mother & Baby, Made for Mums, Dads Network, Bizziebaby and has even been featured on the BBC show Shop Well for Less.
The ethos of Cozy N Safe is to make comfortable and secure child car seats without compromising on safety, quality, research, and development of new technologies. The brand's motto, 'without compromise', ensures you get the best car seats at affordable prices.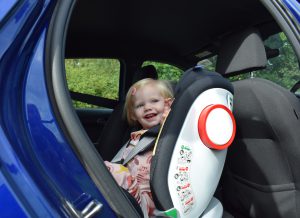 All Cozy N Safe's car seats have extra deep padding, soft-touch luxurious materials and comfortable recline positions that are sure to provide happy travels for your little ones. The safety of your child is, and will always be their number one priority, which is why every seat is tested rigorously to meet the latest car seat regulations.
Halfords are pleased to announce that we will now be featuring two of Cozy N Safe's latest car seats in our stores and online.
The Cozy N Safe Morgan i-Size 360° Rotation Car Seat
The award-winning Cozy N Safe Morgan Car Seat was only launched last year but has already snapped up the Best New Product Award 2021, voted for by an independent board of the UK Baby Products Association.
The innovative seat is packed full of ground-breaking features and functions to make parents' lives easier and children's lives more comfortable and safer. The easy-to-reach one-handed 360° spin feature has been designed to be the smoothest of all spins. The spin also locks off at 90° to give even easier access to your child.
The Morgan is also equipped with a seamless recline feature that allows you to pick the perfect recline position for your child, providing over 50° of recline. Say goodbye to set positions and jerky motions when trying to recline the seat when your little one drifts off.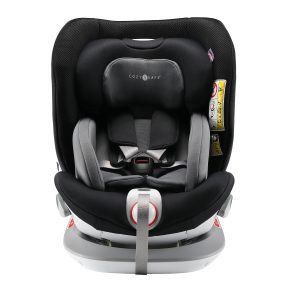 These combined features ensure your baby is not disturbed, allowing them to sleep more easily. The Morgan also features extra deep padding, modular newborn inserts, pop outside impact protection, adjustable headrest, and 5-point harness. This car seat is suitable from birth all the way up to approx. 6 years old (40-125cm).
Designed with i-Size in mind, the car seat can be used rear-facing up to 87cm or approx. 15 months. Then, with the pull of a lever located on both sides for your convenience, the seat will spin so your child can forward face when the time arises.
This car seat can be fitted into most car makes and models using the Isofix and top tether and/or the vehicle 3-point belt. All car seat covers are easily removable and washable at 30°C. The Morgan i-Size packs features, functions, and innovations that combine both style and comfort.
The Cozy N Safe Augusta i-Size 100 – 150cm Car Seat
The Cozy N Safe Augusta Car Seat features grown-up styling and soft-touch materials which growing kids are sure to love. It contains an amazing 10 headrest positions to ensure your growing child is always comfortable when on the move.
The headrest also has ultra-deep padding and triple-layer shielding to protect little heads in the event of a collision but also helps provide support if they doze off. The ultra-deep padding also extends down the back to the base which features deep memory foam providing the best possible travel experience for your little passenger.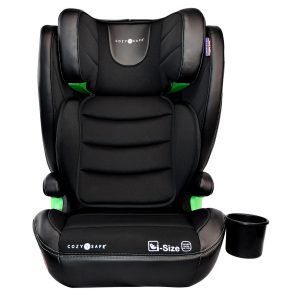 The Augusta i-size has been designed to fit any child, no matter their stature. The seat comes complete with a modular support cushion that will adjust automatically when the headrest is raised. The cushions' sides can be removed while keeping the back in place to help support all children – the back can also be removed to accommodate your child as they grow.
This car seat also comes with a cup holder that can be fitted on either side, which is perfect for drinks or snacks on those longer journeys. Made to fit in almost any car, installation takes seconds with the extendable Isofix connectors and/or the vehicle belt. All the covers are easily removable and washable at 30°C.
---
Discover the full Cozy N Safe range on Halfords.com and in-store today to find the perfect car seat for your child.