It's set to be a bumper year for staycations, with 75% of people more likely to holiday at home according to a recent survey by Bridgestone tyres*. With 75% also now preferring to travel by car when they go on holiday, we thought it was the perfect time to take a look at those unique places that most staycationers are likely to pass during their journey: service stations.
There are around 100 motorway service stations in the UK, offering food, facilities, shops, fuel and more. Here are five that regularly appear towards the top of ranking lists and show that a service station can be more than just a quick pitstop.
Gloucester Services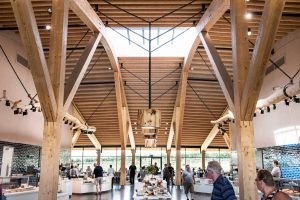 Location: M5, between J11A and J12
Operated by: Westmorland
Opened: 2014 (northbound), 2015 (southbound)
Gloucester Services, along with its sister-site Tebay (more on that below), has won multiple awards and is redefining what it means to be a service station. Not only has the exterior of the site been designed to blend beautifully into the landscape, with artificial hills, grass covered-roofs and floor-to-ceiling windows, but the interior is an eye-catching mix of wooden beams, open space and artisanal produce.
In terms of food, you won't find any familiar chain stores here. Instead, Gloucester boasts a farm shop, deli counter, butcher's counter, fishmonger and kitchen that sell fresh produce from independent, local businesses.
Facilities include toilets and showers, free Wi-Fi, free cash points and even a sign-posted dog walk for four-legged friends. There's also the obligatory petrol station, cunningly built into an artificial hill, and three hours of free parking. There's really nowhere better to pause on a journey down the coast to Somerset, Devon or Cornwall.
Find out more: https://www.gloucesterservices.com
Tebay Services
Location: M6, between J38 and 39
Operated by: Westmorland
Opened: 1972 (northbound), 1993 (southbound)
Tebay Services was where it all began for Westmorland. The first family-run motorway services in the UK, Tebay is located on a working farm in one of the most picturesque areas of the north of England and is a great place to take a break as you make your way through Cumbria.
Like Gloucester, the award-winning Tebay Services focuses on selling fresh food from local businesses (with much of the produce coming from the farm itself) and has been designed to complement the landscape around it. One particular talking point is the huge duck pond that lies just beyond its floor-to-ceiling windows, offering visitors a lovely view as they enjoy their food.
The site has developed substantially over the years, adding a hotel and caravan park to the northbound side as well as a farm shop, kitchen and more. Today it's got similar facilities to Gloucester, ample parking and a petrol station, and has become a real destination for those travelling on the M6 – as well as a TripAdvisor Travellers' Choice 2020 award winner.
Find out more: https://www.tebayservices.com/
Beaconsfield Services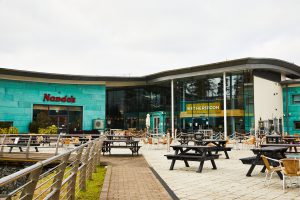 Location: M40, J2
Operated by: Extra
Opened: 2009
Located just outside London, Beaconsfield Services is open 24-7 and is the perfect stopping point before you tackle the infamous M25 ring road. While it can be considered more of a traditional service station than some on this list, Beaconsfield is a great example of how traditional can be done well.
The large main building contains an impressive number of chain shops and food outlets including McDonald's Nando's, Starbucks, M&S Simply Food, WHSmith and Greggs, which ring a central food court. There's also large lakeside terrace to the side of the main building and plenty of landscaped grounds and preserved woodlands to enjoy.
On the facilities side, there's a lot to admire. You've got ample parking and award-winning toilets and washrooms. There's outdoor seat and a great play area for kids. Add in one of the largest petrol stations in the country, EV charging points and an Ibis Budget hotel, and it's easy to see why Beaconsfield Services ticks so many boxes.
Find out more: https://extraservices.co.uk/locations/beaconsfield-services/
Norton Canes Services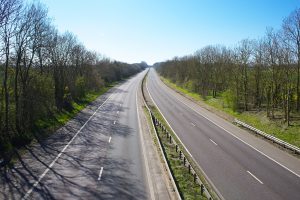 Location: M6 (Toll), between J6-7
Operated by: Roadchef
Opened: 2004
Another service station that's open 24-7 is Norton Canes Services in the Midlands. While Norton Canes can be found on the traditionally quiet M6 Toll, it's become one of Roadchef's busiest and most popular locations.
The company initially described Norton Canes as 'the new era in motorway services' and has shown a dedication to that motto with several large-scale renovations and extensions over the years. More recently, Norton Canes has focused on becoming Britain's greenest motorway services as part of their 'zero to landfill' promise and is making great strides in that direction.
Today, Norton Canes offers a variety of top chain restaurants and shops like McDonalds, Costa, WHSmith, Spar, Chozen Noodle and Krispy Kreme. The central building has an unusual wave-like shape and the surrounding area has been carefully landscaped to give visitors plenty of scenery to enjoy. You'll also find all the usual service station facilities plus extras like EV charging, meeting rooms, free water and a hotel – perfect for that mid-road trip break.
Find out more: https://www.roadchef.com/locations/norton-canes
Cairn Lodge Services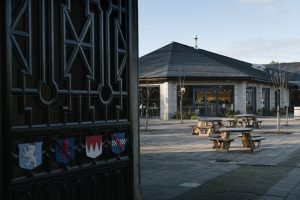 Location: M74, between J11 and J12
Operated by: Westmorland
Opened: 1994 (as Happendon Services)
Westmorland returns to our list with Cairn Lodge Services in Scotland, which the company took over in 2014. It's the smallest of the service stations on our list and so has an understandably smaller number of facilities, but it follows the familiar ethos of other Westmorland service stations by prioritising fresh food and locally sourced produce.
The surroundings are also fairly unique, as there's a dramatic gothic gateway standing on the site. It's said to be all the remains of an abandoned attempt to rebuild Douglas Castle in the 1700s and is what gives the service station its name and logo.
Cairn Lodge underwent a major renovation in 2018-2019 to bring it in-line with the other Westmorland stations and it now boasts bright and fresh interiors that make the most of natural materials, as well as a farm shop, kitchen and coffee bar. If you're heading up north towards Glasgow, then it's well-worth making time for a visit.
Find out more: http://www.cairnlodgeservices.com/
Before you go
Free car checks
Make sure your car is in tip-top shape before you set off on your staycation. Here at Halfords we've got a number of free car checks that you can take advantage of, including our Free 5-Point Car Check, which covers five key areas of your vehicle.
Another really important consideration for the summer season is your air conditioning. After all, the last thing you want to do is switch on your AC only to hit in the face by a blast of warm air! Our Free Air Con Check is a great place to start as it will help to identify any issues or if your refrigerant level needs topping up.
Halfords Motoring Club
Go a step further than a free check and join the Halfords Motoring Club to access a range of amazing benefits and discounts that will help to keep you moving, keep you safe and keep you saving.
It's free to join and you'll receive money off your MOT, a free car health check and a welcome voucher that can be spent on any Halfords product or service.
Or choose our Premium membership for a small monthly fee (or a one-off payment) to unlock exclusive member pricing on all motoring products and services online and across our stores, garages and Halfords Mobile Experts, as well as a variety of other benefits that will help you to keep moving for less.
With so much to enjoy, this is too good an opportunity to miss!
Join the Halfords Motoring Club today at www.halfords.com/motoring-club.
Tyres
According to Bridgestone's survey, 27% of people sometimes or never check their tyres before a long-distance trip, which can prove pretty dangerous. Don't be part of that 27% – get your tyres checked before you go.
If you find you need any replacements, then we can even come directly to you at home or at work thanks to our mobile fitting service. Safe and contactless, this service can be booked online on a date and at a time that's convenient to you.
Next day fitting is even available when booked before 6pm the previous day (subject to slot availability), so we can come to the rescue if you get an unexpected flat tyre just before your staycation departure date.
Travel accessories
No staycation journey is complete without some travel accessories. There are loads we could talk about, from breakdown essentials to in-car entertainment, but we're going to focus on a couple of items that will come in particularly handy during the summer.
A set of side window sunshades will help to keep passengers on your back seat cool under the summer sun, while front and rear windscreen sunshades will help to keep your car cool when you've stopped off at one of our recommended service stations.
A pair of sunglasses will protect your eyes against bright sunlight and enable you to focus on the road ahead. Look out for 100% sun protection to block harmful UV rays and polarised lenses to help defend against glare as well as direct sunlight.
For some great tips on driving on hot and sunny days, check out our recent blog article on the topic.
---
Now that your car's prepared and your motorway rest stops are sorted, it's time to set off for the ultimate summer staycation!
If you want motoring services and staycation essentials this summer, you want Halfords.
*Survey commissioned by Bridgestone in the UK, April to May 2021, 2,000 respondents
Header image courtesy of Westmorland Limited.