The UK has a rich motoring history, littered with iconic brands and cars, and few can match the prestige of Caterham. Unique trailblazers, they're the name behind the Caterham Seven, a kit car that's a favourite among petrolheads and enthusiasts up and down the country.
Throughout their illustrious history, the beating heart of Caterham has remained firmly in the realms of motorsport. They've conquered speed records, beaten a £1 million Bugatti Veyron around the Top Gear track, and even started their own Academy Championship back in 1995.
In 2020, the first nationally recognised top-tier Caterham racing series was introduced with the Caterham Seven Championship UK. With such an impressive history, we were keen to get onboard, and Halfords Advanced tools are used by all Caterham mechanics in the championship. Now, as we head into the second year of our partnership, we caught up with Caterham's mechanics to find out more about life in the pitlane, and to find out how Halfords Advanced tools are helping keep race cars out on the track.
Life as a Caterham mechanic
In most motorsports, every team has its own set of mechanics who are all responsible for preparing and repairing the cars. In the Caterham Seven Championships, things work a little differently.
Instead of servicing a couple of cars, the Caterham mechanics repair every car in the race. Every aspect of being a mechanic is intensified as they never know what the next car coming to them has instore – and every driver relies on them to get their car back on track.
"Our days usually start at 7am as we have to get the garages ready for the day's work," says John Killick, a Caterham mechanic. "Then, the rest of the day is spent repairing any damaged cars, and it can be anything from a basic refitting of wings to a complete gearbox change. It's a matter of seeing what car comes in next and repairing the issues as quickly as possible so the driver can get back in the race!"
And with the championship notorious for its action-packed racing, the mechanics are always kept on their toes!
"The racing is so close – you get a lot of overtaking, contact and cars spinning and going off the track. It's well worth a watch," says Joe Marsh, another mechanic and fan of the sport!
Tools for the job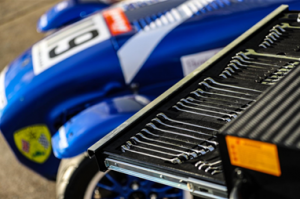 With so much pressure, it's important the mechanics have high-quality tools that they can rely on – and Halfords Advanced tools haven't let them down!
"Using Halfords Advanced tools gives you added confidence while working on the cars, knowing the quality and tolerances of the tools is up there with the best," says Joe. "You know you are going to get the job done quickly without any problems."
Organisation is key to a successful garage too, and Halfords Advanced tools offer the complete solution with a range of modular trays and convenient kits that keep all the mechanics' tools neatly arranged – something John believes has made a huge difference.
"We no longer have to look through all the drawers for a certain tool as they're all located in the foam tool holders which makes it easier to find the one you need – important on hectic race days when you need to get a car back out on the track as fast as possible!".
Durability, precision and performance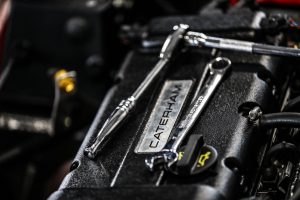 But what exactly makes Halfords Advanced tools so good? It's all in the design, with every tool built to be durable, precise and to perform to the highest level. Combined, they provide the kit to get the job done!
And no matter if you're a mechanic for Caterham or a motoring enthusiast, having the best tools for the job like those in the Halfords Advanced range is critical.
"Having the right tools for the job is very important as substandard tools can damage the car by slipping and they can even break," says Alex Betts, another of Caterham's professional mechanics.
Or, as fellow mechanic Darren Phillips puts it, using incorrect tools could lead to "snapped studs or a lost wheel!".
Continuing into the second season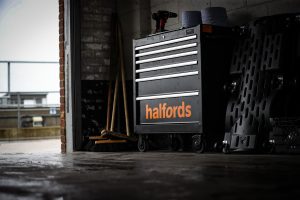 The first season of the Caterham Seven Championship was a huge success, and the second season is already proving to be just as exciting! That's why we're delighted that our Advanced tools are being used throughout Caterham's five championships once again, and just as importantly, the Caterham mechanics are delighted too!
"Halfords Advanced tools are high quality and look the part, and they've helped raise our profile in the paddock", says Darren.
If you fancy watching Caterham's mechanics and our tools in action, the 2021 championship is already underway, and you can catch every round of the action live on Caterham's social channels. And if Joe's excitement for the next season is anything to go by, it's set to be a cracker!
"I can't wait to see what happens in this season's championships as there are so many top drivers, it's anyone's championship!"
---
We're delighted our Halfords Advanced tools will be helping get race cars back on track once again this season.
And don't forget, it's not just mechanics who need high-quality tools and you can find the full range of Halfords Advanced tools over at Halfords.com.