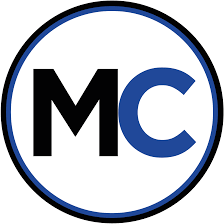 Guest blog by MotoClean
MotoClean is disrupting the motorcycle cleaning and maintenance game. When we found that the existing products on the market didn't quite meet our needs, we took matters into our own hands.
As bike lovers, we had one clear but very difficult task…to create a range of products that we were happy to use ourselves. We're confident that we've achieved our goal, designing all of our products to offer you the quality and performance you need to care for your motorcycle whether you ride on or off road, competitively or for leisure.
In our first year alone, we've already been featured in many of the leading industry magazines, been nominated as the exclusive partner of a British Championship racing series and are now stocked at Halfords. We're pretty chuffed that people are believing in our products as much as we do.
Here's a closer look at these products and how together they form the perfect motorcycle cleaning and maintenance solution.
Four steps to finish
Step 1: Dirt Wash Motorcycle Cleaner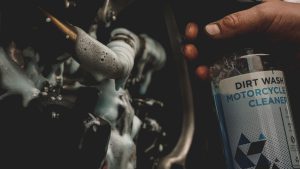 Our MotoClean Dirt Wash Motorcycle Cleaner has been designed using the latest technology on offer to deliver the best cleaning performance for your motorcycle. This game-changing formula will effortlessly cut through dirt, grease and grime to give you the quick and easy clean you want.
We think we've struck gold with our hybrid gel formula, which sprays beautifully out of the bottle for great coverage yet also clings to the surfaces of your bike to ensure maximum dirt penetration. Once rinsed off, a dirt-repellent layer is left behind which helps to slow down future dirt build-up. If the dirt-repelling doesn't do it for you, then we hope the high gloss finish does!
Did we mention that we achieved all of this while keeping the product free from nasties? You won't find any phosphoric acids, salts or solvents in there and it's fully biodegradable too. Powerful cleaning with sensible ingredients to look after your motorcycle.
Step 2: Maintenance Spray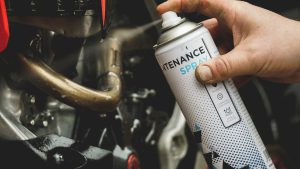 The MotoClean Maintenance Spray is your ultimate all in one multi-use spray! We made sure it packs a punch, and can clean, lubricate and protect the areas you need it to.
Not only does it reduce friction and enhance the durability of moving parts, it also provides a protective coating to repel moisture and prevent rust. We think we've performed a minor miracle by delivering such a sparkling gloss finish that is totally non-sticky – but we'll let you be the judge of that!
Step 3: Chain Lube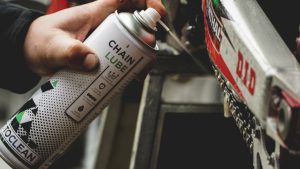 The MotoClean Chain Lube is designed to improve the performance, durability and lifespan of your chain by providing constant lubrication, even in those hard to reach areas.
Make sure you give the dual function nozzle a try, as this allows you to get the product flow you need to penetrate the core of the chain. Press the nozzle down halfway for reduced product dispersal where you require precision, or go for a full press for maximum product flow!
The spray's resistant to high temperatures and water, and provides a protective coating to prevent rust and corrosion.
Step 4: Brake Cleaner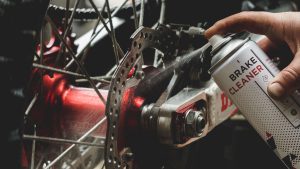 The MotoClean Brake Cleaner is designed to quickly remove all contaminants, including stubborn dirt, dust, carbon and oil build-up. It's straight to the point and does the job right!
Our Brake Cleaner is fast drying and leaves no residue behind, so you can either leave it to evaporate or wipe it away with a clean cloth.
Get the optimum braking performance from your motorcycle by ensuring your brake components are fully clean and ready to bring you to a stop.