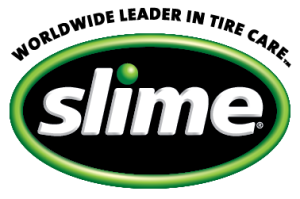 Your tyres spend their whole life touching the road, so it's unsurprising that they can pick up the odd puncture along the way.
If you do get a flat tyre, don't panic – Halfords and Slime are here to help.
Slime have been experts in puncture sealants for over thirty years, and their Smart Tyre Puncture Repair Kit is ideal if you're faced with a flat tyre – it'll seal the puncture so that you can safely travel to your local Halfords garage to get it repaired.
Getting a puncture
How do I know if I've got a puncture?
A flat tyre is usually easy to spot with your eyes, but what if you're driving? Well, there are a few warning signs to look out for to alert you to a punctured tyre while you're on the move. These include:
Difficulty steering or handling the car
Excessive sway, shuddering or wobbling
Pulling to one side
A ticking or clacking noise (this could mean that something is embedded in your tyre)
If one or more of these develop rapidly, then you've probably got a puncture. However, the gradual onset of these symptoms is more likely to be a different tyre issue – that could be a drop in tyre pressure, a leaky valve, or a tyre misalignment. If you're concerned about the condition of your tyres, pop into your nearest Halfords garage where we can perform a Free Tyre Check to make sure that everything's safe and functional.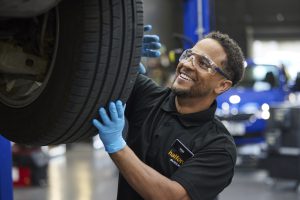 Can I treat the puncture myself?
If you pick up a flat tyre whilst you're driving, then you can temporarily repair it so that you can drive to your nearest garage for a permanent fix.
Thankfully, with the Slime Smart Tyre Repair Kit, this is a simple process. The easy-to-use repair kit gives you an alternative to a spare tyre, meaning you can patch up a puncture in under 15 minutes without removing the wheel.
In the kit, you'll get a bottle of Slime Emergency Tubeless Sealant to plug the puncture and a tyre inflator that can plug straight into your 12V accessory. All you need to do is remove the valve core with the included tool, squeeze the sealant into your tyre, then replace the valve core and reinflate the tyre.
The Slime sealant locates and instantly repairs punctures up to 6mm in diameter, and its water-based formula means that it's environmentally friendly and easy to wash away. Plus, the tyre inflator is handy for other inflatables and comes in a zippered bag for easy storage in the boot.
Can punctures be permanently repaired?
While extremely useful for getting you to a garage, the Slime Emergency Tubeless Sealant needs to be removed after 3 days or 100 miles, so it's only a temporary measure.
However, most punctures can be permanently repaired at your local Halfords garage if the tyre is otherwise in good condition. We can repair a tyre puncture if:
The puncture is less than 6mm in diameter and is in the middle three-quarters of your tyre's width
The tyre hasn't had previous repairs
There's no damage to the sidewall and shoulders
The tyre is in good condition, with no significant deterioration and a tread depth of at least 1.6mm
A punctured tyre cannot be repaired if:
The tread depth is illegal (below 1.6mm across the central 75% of the tyre)
The side wall or outer tread is damaged
The tyre tread is worn, or the rubber is cracked
The tyre has been damaged by driving on it while flat
If any of these conditions apply, the tyre will need to be replaced.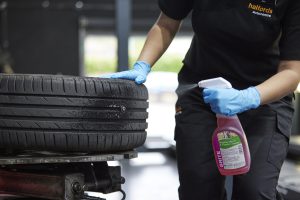 If your tyre is suitable to be repaired, you can book our Puncture Repair service at your nearest Halfords garage to get you moving safely again. If you can't get to a garage, or just want the convenience of not having to leave your house, let us come to you. Our Halfords Mobile Experts can repair your tyre at home or at work, at a time to suit you.
Our Experts can carry out a variety of car services to keep you moving, and you can check them out at Halfords.com.
Can run-flat tyres be repaired?
Run-flat tyres are designed to allow you to keep driving after a puncture for a limited number of miles and at a lower speed. This is thanks to the unique construction that retains pressure even when the walls are pierced, meaning you can drive home or to the nearest garage.
They're completely safe, thanks to the reinforced sidewall that is still able to support the weight of your vehicle even after the tyre has deflated, without further damaging your wheels or compromising your safety. All run-flat tyres come with manufacturer's guidelines as to how many miles and at what speed you can drive once you've got a puncture, so be sure to consult this first.
The only downside to these tyres is that they can't be repaired if you do pick up a puncture. This is because it's impossible to assess whether the sidewall has been damaged, so it would be unsafe to repair the puncture and potentially leave other damage untreated. So, we would always advise that you purchase a new run-flat tyre rather than repairing your old one.
What do I do if my tyre can't be repaired?
If the damage is beyond repair, then it's time for a new tyre. Here at Halfords, we're experts in fitting and maintaining tyres, with over 600 garages nationwide to get you moving again.
We stock a huge range of tyres, both premium and budget, to suit every make and model. To find the perfect fit for your car, simply enter your registration into our online tool to explore your options.
If you don't fancy leaving the house for your new tyre, or need to fit it around your job, why not let us come to you at your home or workplace? Our Halfords Mobile Experts can replace your tyre at the office or right on your driveway, 7 days a week, so you can relax and let us do the hard work for you.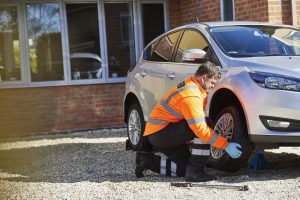 It's also worth noting that it's recommended that you replace tyres in pairs, as you're more likely to maintain even wear and ensure a smoother and safer driving experience. So, if you've got another tyre that's looking worse for wear or is nearing the end of its life, it might be worth replacing the two together.
Tyre sealants
You may be more familiar with puncture protection fluids and tyre sealants for bikes, but there are also variants that can be used in your vehicle's tyres to treat flats. Slime's range of easy-to-use sealants are the perfect solution to punctures.
Post-puncture sealant kits
A post-puncture sealant like the one found in the Slime Smart Tyre Repair Kit is injected into your tyre after a puncture, to plug the hole and allow you to reinflate your tyre. This should give you enough time and mileage to get home or to the nearest garage for a repair.
Almost all new cars come with tyre repair kits like these rather than a spare wheel since it's a quick and easy way to mend the puncture before you get to a garage. To make sure you're never caught out on the road, it's worth replacing this kit, or simply the sealant bottle, if you've had to use it (or if your original one has expired!)
The Slime Assist Car Tyre Sealant is ideal as it's likely a lot cheaper than the manufacturers' replacement, and e. It can be used with any tyre inflator, and you don't even need to remove your tyre's valve core – just connect the sealant's hose to your tyre, and your inflator to the sealant bottle, and the air will push the slime straight into the tyre whilst reinflating it!
These sealants can be really useful to deal with the immediate problem of a puncture, but they're not long-term solutions. You'll need a permanent repair or replacement to keep on the road safely, so book in for a puncture repair or tyre replacement at your local Halfords garage or with our Mobile Experts for quality service you can rely on.
---
So, to deal with punctures quickly and efficiently, Slime and Halfords are a perfect partnership. You can find the range of Slime products online at Halfords.com, or in your local store.
For all things tyres, including maintenance tips, tyre legalities and more, you can check out our Tyres Help & Advice section on Halfords.com.